Mr Neeraj Kumar, Director General, Prisons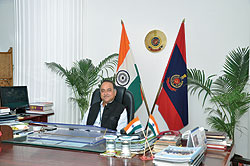 Mr Neeraj Kumar has shown a genuine conviction for reforms
"We are focused on empowering inmates through education"
The DG Prisons spoke to India Empire's Sayantan Chakravarty on a range of issues
What has been the priority issue for you in Tihar?
It has to do with education. There is a direct linkage between illiteracy and unemployment and even underemployment. We have decided to strike at the very root. In less than a year we have brought down the illiteracy levels from 40 per cent among inmates to 5 per cent. We tied up with the National Literacy Mission Authority and started a literacy programme titled "Padho Aur Padhao" (first learn, then teach). If we keep aside the floating population in Tihar which is there for very short durations, the jail will become the first fully literate jail in the country. Literacy just does not mean learning up the alphabets in English or Hindi, it means acquiring the ability to read and write at a certain speed, the skills to add and subtract using 3-digit numbers, multiplication, and division. Numerical skills also mean that a person can open a bank account, start reading numbers at bus stops and other public places, and generally feel more enabled to function on his own. Inmates can start reading newspapers.

Education is undoubtedly very empowering. While on the education drive, have you encountered any emotional moments inside Tihar?
Yes. We came across a man who was writing the name of his son. He had never known what the written name of his son looked like. He was very emotional after having written his son's name down, for the very first time. Being literate implies that they are able to write letters to family and friends and that's an emotional experience.

Are you stepping up the educational drive?
Yes. Our efforts do not end at making Tihar literate. Now the inmate has options to pursue his studies. We have tied up with the National Institute of Open Schooling and opened sub-centres in all jails where inmates can pursue a range of educational programmes. The NIOS provides them with a structured curriculum, and books and stationery free of cost. They are issued certificates on successful completion of the programme. The Indira Gandhi National Open University has a subcentre in Tihar that allows inmates to complete their class X or class XII studies. There are inmates who are pursuing post graduation studies. Inevitably, there is a certain reaffirmation through education. We have found the maximum enthusiasm for education inside the women's jail. A literate woman has an influence across generations. Once free from prison, she can help children and grandchildren at home.

Tihar inmates are now bagging jobs…
Since mere education will not help, the second initiative we have taken is to find a job for convicts. For recruiting firms in Delhi, this has meant a huge mindset shift. After all you are dealing with people who have been socially stigmatized. We have been able to bring about this shift with the help of the Department of Social Work at IGNOU. They helped locate and bring in corporates for recruitment. When the first lot came in, others followed. We've always told recruiting firms that they should simply meet the candidates, there is absolutely no compulsion to recruit. When absolutely satisfied, some firms end up selecting candidates. The other significant factor that helps recruiters is that since the employee from Tihar has a stigma attached to him, he works that much harder to prove himself. He knows that one slip would jeopardize his career. By and large we've had positive feedback from employers who have recruited Tihar inmates.

How do you distress and relax inmates?
Yoga and meditation has been there in Tihar for some time. We have added more schools of Yoga. We have a music room that provides space to people to sing and dance. Music is therapeutic and we do not provide cheap music, instead what is provided has a classical base. We have introduced the concept of a Semi-Open prison during some days in a month. Those who've proven good conduct and those who've done almost 80 per cent of their time are allowed to step outside the prison and work in different places on campus. By allowing them to work this way, we also realize that some of them can walk out of jail if they want. But nobody does so. They have proven track records of returning to prison after having done three paroles and three furloughs.

You do face pressure from high-profile political prisoners and their relatives…
I cannot deny that there is pressure, it is a part and parcel of this job. But we ignore it completely. Every prisoner is treated at par, there are no favourites, no separate importance is given. Sometimes relatives and friends drop in at odd hours and want to meet the political prisoners, and we just ask them to return. We cannot have double standards at all, each prisoner is watching what others are getting, or not getting, and comparing with himself. But we do take enough security precautions, we ensure that high-profile prisoners are not assaulted and do not come to any harm. They are treated just the way every other inmate is treated. The same level of officer attending regular inmates attends a high-profile prisoner. It is natural for them to expect some special treatment, but there is none.

What kind of diet do you have in Tihar?
The diet is equal for both undertrials and convicts. This is a strictly vegetarian jail, unlike some prisons in other parts of the country where fish and lamb is served as well.

What kind of segregations of inmates do you practice?
First time offenders are lodged separately from repeat offenders. We take these precautions as they are a must to maintain safety and discipline within the premises.

How do you check the age of offenders who may turn out to be juveniles?
The age-check is done at several levels. Firstly, it is done by the police itself at the time of the arrest. Then the magistrate has a look at the accused before sending him to Tihar. At Tihar, we have our own first examination. If we feel that the accused may be a juvenile (below 18), we subject him to a ossification test whose results take about 15 days in coming from the Deen Dayal Upadhya hospital. In March, an order was passed by the Delhi High Court stating that those who may turn out to be juveniles should be kept separately within the adolescent jail itself, which is meant for 18 to 21 year olds. A number of inmates are sent to juvenile homes after the ossification tests. As part of the order we'll have a separate juvenile ward within the adolescent jail.

The really poor inmates, do they sometimes fear the freedom they would get after their release?
It is rare that people want to stay back in Tihar after serving time. They value their freedom above all else. But there are some cases like when we came across a man who wrote to his wife asking her not to apply for his bail as he was getting a free bypass surgery done while lodged in Tihar. There are handicapped people who break down and cry when they are relieved. They are accustomed to a helper (sahayak), and they believe they will be unwanted by their families.

On TJ's…
By creating a franchise, we are trying to increase demand of our products and also ensure more jobs for inmates. This is part of the larger reforms process that we value at Tihar. We are tying up with Delhi Metro to get more outlets for TJ's at their stations. We are also talking to various departments of the Delhi Government to cater to their demands. We have an order for over 1,20,000 desks and benches for schools run by the state Government. We are supplying files to courts. Now we are asking the health department to place orders for blankets and bedsheets with us for hospitals run by the Delhi Government.