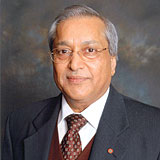 THE RISING SUN
Dr Rami Ranger, founder Chairman of Sun Mark Limited, won the Queen's Award for Enterprise in the U.K. for the third year running in 2011, a record. At a function held at the Grosvenor Hotel in London in October, acting high commissioner of India, Mr Rajesh Prasad said Dr Ranger had done NRIs proud by winning the award for the third year in succession. As accolades flowed, we decided to chronicle a child of India's partition who has made it big in the U.K. after starting a business with a mere two pounds in a shed
Dr Rami Ranger Making a mark
Rami Ranger, MBE, FRSA, is a rare example of someone who from humble beginnings has achieved so much in business, politics and society. After graduating from Punjab University in 1971 he arrived in the UK where he initially worked in the fast food industry. It was in 1987 that he started his company Sea Air and Land from a shed with a capital of just £2. He is also the Chairman of Sun Mark Limited. Today, they are two of Britain's fastest growing companies. Sun Mark received the Queen's Award for Export Achievement 1999 and the Queens Award for Enterprise 2009, 2010 and 2011.

He is the founder member of the Hindu Forum Britain that was set up to unite all the different Hindu organisations in Britain under one umbrella so they could project a cohesive voice in British government departments. He was the first to organise a prestigious Hindu Ball in London to celebrate Indian culture and its contribution in enriching British society. The ball helped the local population understand about India and Hinduism.
| | |
| --- | --- |
| | Dr Rami Ranger presenting the Queen's Award cufflinks to British Prime Minister David Cameron |
Besides running his hugely successful businesses, Mr Ranger is also involved in a host of social and political activities. He is the general secretary of the British Asian Conservative Link and director general of the Parliamentary Friends of India. A staunch proponent of Asian participation in public life, Ranger has made spectacular contribution to the uplift of Asians in the UK. In fact, Mr Ranger's multi-faceted personality helped him assume responsibilities of various philanthropic bodies.

Mr Ranger is the chairman of the British Sikh Association that promotes interfaith dialogue. This was set up to stop the extremist Sikh organisations from representing the Sikh point of view in Britain. He has vigorously argued with these extremist organisations that the Sikh religion was formed to defend the unity and integrity of India and not to break her up. When Sikh Gurus never claimed a separate kingdom for themselves, then why should his followers have to demand a kingdom for themselves? Mr Ranger as a patron of the India Association helped raise £100,000 for research on AIDS and cancer for the Northwick Park and St. Marks Hospitals in Harrow.

Mr Ranger set up the British Asian Conservative Link to make Asians more publicly and politically spirited and to encourage them to take part in the decision marking process. Due to his efforts, the Conservative Party, which previously had no Asian representation, has now started giving Asians safer seats in Parliamentary elections. While currently there's one MP of Asian origin, in the next election there will be at least three or more British Asian members of Parliament.

As a patron of the Shaheed Nanak Singh Foundation, he is working to encourage British Indians to become more public and politically spirited. Mr Ranger set up the foundation in memory of his illustrious father by pledging £1 million. It honours those who honour India by dedicating their lives for India's unity and integrity. The foundation will lobby hard in the right quarters to get due representation of Indians in government departments as advisors, non-executive chairmen, head of Quangos and in the foreign service. It will encourage Indians to come forward and be more publicly and politically spirited in order to improve social cohesion in Britain.

Despite that fact his father was a victim of Partition, Mr Ranger has built strong bonds with people of Pakistani origin in the UK. Soon after the 2007 bombings of the London Underground by British Pakistanis, he realised there was an urgent need to reach out to the Muslim community which was feeling isolated and dejected. He realised that Britain cannot move forward by leaving any section of its population behind. He recruited prominent Pakistanis in Britain and launched the Pakistan, India & UK Friendship Forum. The forum proved to be an instant success and thousands of Pakistanis and Indians are now celebrating what unites them in Britain.

AWARDS GALORE

Over the years, Mr Ranger has been conferred a slew of awards and recognitions, including the Asian Business Award by Asian Voice Newspaper; a doctorate by Preston University in Wyoming, US; the Indian Association's Award for Community Service by Mrs Sarah Brown, wife of UK Prime Minister Gordon Brown; and Pride of India Award by the Punjabi Society of British Isles.

Mr Ranger is a member of the Memorial Gates Commemoration Committee which keeps the memory of the fallen soldiers of the Commonwealth alive. He is a patron of the India International Foundation which celebrates success of Indians in Britain.

He is also the patron of the Ethnic Minority Business Group supporting ethnic businesses in Britain; vice-president of the Punjabi Society of the British Isles promoting Punjabi culture in Britain; joint secretary of the Friends Circle International promoting social cohesion in Britain with chapters worldwide; chairman of the British Sikh Association promoting interfaith dialogue and understanding.

UNWAVERING DEDICATION

Most people would be happy to fill just one of the shoes Mr Ranger wears. So how does he manage to run a business empire and contribute time, energy and resources for a diverse range of activities that benefit people?

In order to excel there must be a dynamic force, and what force could be more potent than unwavering dedication to one's work? Sure, it's precisely this attribute that has made Mr Ranger one of the most enterprising NRI entrepreneurs in the UK.

But more than anything it's his integrity that has found him many an admirer. Not surprisingly, his honesty extends to his business. He is learnt to have once said: "Our business philosophy is—We don't succeed if our customers do not succeed." And true to his words, he has always strived to keep his customers happy and assured when it comes to quality and timely delivery of goods and services.