Tremendous Potential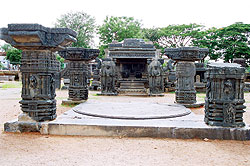 The Department of Tourism commissioned a study by Price Waterhouse Coopers in 2009 regarding the potential of tourism in the State. The study revealed that there is enough potential in the state to reach the figures of 327.62 million domestic tourist arrivals and 1.86 million international tourist arrivals by 2015. Similarly, the State can target 611.88 million domestic tourist arrivals and 3.73 million international tourist arrivals by 2020. This can be possible if the state continues to maintain 24 to 25 % share of the domestic tourism market and 14 to 15% share of the international tourism market in the country. In order to do so, 2020 in Tourism infrastructure (hotels, resorts, etc), basic infrastructure, marketing and promotion, human resources development, and others. It is expected that while the State Government will make priority investment in the critical gap areas, a major chunk of the required investment will be forthcoming from the private sector.

Andhra Pradesh has tremendous potential to become one of the foremost states in the tourism map of the country. Practically everything that people who visit India to see and experience can be seen and experienced in Andhra Pradesh alone. It is not an exaggeration to say that Andhra Pradesh is the essence of Incredible India. Andhra Pradesh has a very rich heritage, monuments, forts, palaces, nature, hills, wildlife, beaches, mighty rivers, beautiful water bodies, holy pilgrim centers for all religions, a strong Buddhist tradition, and festivals, besides items of modern entertainment, an exquisite cuisine, fascinating handicrafts and textiles, etc.

Between 1998 and today, there is a sea change in the nature of tourism activities, priorities and organization, and also in the investment culture and norms. Newer ways of engaging the private sector has come into being. A policy should reflect these new and emerging trends and should be updated to provide competitiveness to the state. With the new tourism policy, the state of Andhra Pradesh should expect to benefit in the following ways:

1. Position the state competitively for attracting private sector investments in Tourism and Hospitality sectors
2. To promote inbound tourism in all potential destinations of the state, and not just to few destinations like Tirupati, Hyderabad, Visakhapatnam, Puttaparthi, etc.
3. To target the incentives to the private sector better as per the State government's priorities in terms of geographical areas and tourism products
4. To maximize the potential of Hyderabad city to promote new tourism products
5. To give adequate focus to Aam Aadmi Tourism, Rural Tourism, Eco-tourism, Adventure tourism and Safe and Responsible tourism
6. To focus on maximum generation of employment in the sector by development of Human Resources through capacity building.