Please tell us about your family background.
We came from Jadra in Surat. My grandfather came to Reunion Island from India when my father was only six years old. I was born here, at Saint Pierre. We have been able to build a successful marble, furniture and home décor business over 40 years. We have representatives in Mumbai, Delhi and Jaipur. It is a family business, and our family comprises 80 people. My nephew looks at the financial aspects of business. We have built a company of annual turnover of euro 50 to 60 million, and valued at nearly euro 500 million. We have 8 shops, 25,000 sq metre facility for three manufacturing units. Considering that my father arrived with 2 euros in his pocket, and I started with one 20 sq metre shop at Saint Pierre, we haven't fared too badly.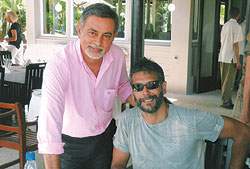 Yousuff with actor Milind Soman
What are your links with India?
It is a motherland. I am in love with India. I even went to watch the World Cup cricket final in Mumbai. We have been going back to my family village regularly. And Mumbai is a beautiful city. India, irrespective of the origins of my parents, is a fantastic country! The public has a faculty of wonder about many things. I like that spirit. There are constantly bubbling. India for me is a land of wisdom, a land that cannot get caught up in corruption, and has to move ahead to lead the world.

Please tell us about your businesses.
Many business owners lock themselves up in their offices. They are in their ivory towers and are unaware of reality. I do not want to sleep. I like to be in contact with the clients to know their desires and their needs. Despite the crisis faced by many companies, we do not give up. We work with the family. It is true that it is not evident for some families to get along and stay together in business. There may be some friction. But with my brother, we share something extraordinary. Our father once made us sit on a chair and said: 'I do not want you to get angry for more than an hour'. This promise is in our memories. You do not want to be angry. For one hour, it's not worth it. My nephew Mohamed Faizal already takes care of the management group. It is very important for our company to think over. My other nephew, Reschad Mohamed, is at the business school at La Reunion. He has the stuff to hold the group.

On charity…
We have given hundreds of thousands in charity, and will continue to support charity. It is something that we will continue to do, to improve the lot of those who are underprivileged.