MAJOR CUTS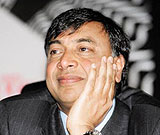 Mr LN Mittal
Arcelor Mittal, the world's largest steel-maker, ArcelorMittal, has achieved its target of saving $ 3 billion (Rs 16,500 crore) in 2010 through various cost-cutting measures in the first half of the year itself. "At the end of the first half of 2010, we had achieved annualiszd sustainable cost savings of $ 3 billion, meeting our 2010 full-year target of $ 3 billion," the company said in its half-yearly report emailed from Luxembourg, where it is headquartered.
The company produced 73 million tonnes of steel in 2009, amounting to an 8 per cent share of global steel production.
---
RARE HONOUR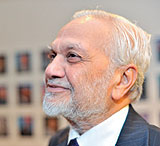 Lord Bhikhu Parekh
Renowned NRI academic and peer Lord Bhikhu Parekh has been named one of the "great British Political Philosophers of the 20th century" by the prestigious Political Studies Association of UK.
75-year-old Parekh now joins the distinguished company of well known philosophers such as Harold Laski, Isaiah Berlin, R H Tawney and Michael Oakeshott.
Lord Parekh was recognised for his "seminal contribution" to the study of multiculturalism, identity and political philosophy.
---
GOYLE WINS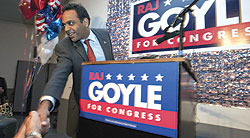 Mr Raj Goyle
Indian-American, Mr Raj Goyle, has won a primary from Kansas State to bag Democratic party's nomination for the November Congressional elections, becoming the latest candidate from the community to join the race for the House of Representatives.
Mr Goyle, who has made jobs and the economy his campaign's focus, vowed "to eliminate the tax breaks and loopholes that reward companies for shipping our jobs overseas.
---
WOO THE ZOO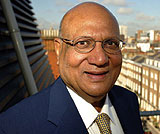 Lord Swraj Paul
British Government should provide appropriate funding for Zoological gardens, a location for family-building and reinforcement, as part of efforts to preserve life rather than destroy it, NRI industrialist Lord Swraj Paul has said.
"For a significant segment of our population, this is probably the only access and connection they will ever have to the other species with whom we share this planet," he said. Yet zoos in the UK, "unlike museums, receive no direct government funding."
---
CRACKS RIDDLE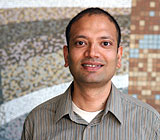 Mr Vinay Deolalikar
An Indian-origin IT wizard in the US claims to have solved one of the most complex mathematical problems that could transform the use of computers.
Vinay Deolalikar, who works at the research arm of Hewlett-Packard in California, says he has solved the riddle of P vs NP, one of the seven millennium problems set out by the Massachusetts-based Clay Mathematical Institute as being the "most difficult". If his claim is proved correct, Deolalikar will earn a whopping $1 million prize, the Daily Telegraph reported.
The P versus NP informally asks whether every problem with a yes-or-no answer whose solution can be efficiently checked by a computer can also be efficiently solved by a computer.
Deolalikar claims to have proven that P, which refers to problems whose solutions are easy to find and verify, is not the same as NP, which refers to problems whose solutions are almost impossible to find but easy to verify.
---
BOARD BERTH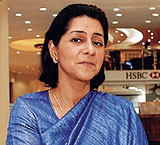 Ms Naina Lal Kidwai
Hongkong and Shanghai Banking Corporation Ltd (HSBC) has inducted Naina Lal Kidwai into its Asia-Pacific board.
Kidwai, who is now the country head of HSBC in India, will join the board with effect from October 1. A press statement from HSBC today said her appointment would be subject to regulatory approval from the Hong Kong Monetary Authority.
Her appointment as a director on HSBC's Asia-Pacific board comes a month after the bank agreed to buy the Indian retail and commercial banking business of Royal Bank of Scotland. Kidwai has been with HSBC since 2002. She will, however, not be the first Indian to be on its Asia-Pacific board. While Zia Mody is now on this board, N.R. Narayana Murthy is on the board of HSBC Holdings, the holding company of the group.
The Asia-Pacific region is crucial for HSBC. Comprising nearly 21 countries, it contributes around 50 per cent to the bank's profit before tax.
---
REFUND ORDER
In a case of deficiency in service, the South Goa consumer disputes redressal forum recently directed HDFC bank to refund an amount of Rs 6,26,458 lost by an NRI customer from his savings account, as the bank failed to block the account after he lost his ATM card.
The forum has also ordered the bank to pay the complainant, Savio Fernandes, a consolidated compensation of Rs 10,000 and an additional Rs 5,000 towards costs of the case within a period of 30 days.
The bank has to refund the amount with an interest of 12% per annum from the year 2008 till the actual realization of the amount.
The complainant's woes began when he lost his bag in the USA in January 2007. The bag contained all his documents of banking transactions with HDFC's and ICICI's branches in Margao, Fernandes claimed.
The complainant immediately informed his mandate holder, his father Roque Fernandes, to get his savings bank account with HDFC and ICICI duly blocked so that his accounts would not be operated by those who could have taken possession of his lost bank documents, the complainant pointed out to the consumer forum.
Accordingly, the mandate holder approached both the banks and was promised that the accounts would be blocked.
However, when the mandate holder went to HDFC to withdraw some amount on February 12, 2007 he was told by the bank that the account showed a debit balance as the amount had been withdrawn.
---
NRI ACCOUNTS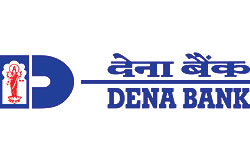 Public sector lender, Dena Bank has dipped interest rates on its non resident external (NRE) and foreign currency non resident (FCNR (B)) dollar denominated deposits.
The bank has revised interest rate on NRE rupee term deposit having a maturity period of 1 year to less than two years to 2.79 per cent from 2.92 per cent earlier. Deposits having tenor of two years or more but less than three years will now fetch 2.49% as against 2.72% earlier.
For deposits having tenor of three years, the rate will be 2.82% as against 3.08% earlier.For FCNR (B) and resident foreign currency (RFC) US dollar-denominated deposits, the interest rate has been lowered to 2.04 per cent from 2.17 per cent for a period of one year and above but less than 2 years.
The interest rate will now be 1.74% from 1.97% for deposits maturing in two years or more but less than three years. For tenor in the range of three years and above but less than four years, the new rate is 2.07 per cent against 2.33 per cent earlier.
The rate is 2.43 per cent as against the earlier 2.71 per cent for maturities of four year or more tenor but less than five years.
---
PROTECT NRI WOMEN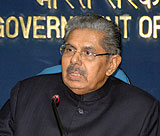 MOIA Minister Vayalar Ravi wants deserted NRI brides protected by law
The approach of the Ministry of Overseas Indian Affairs in addressing these issues has been to create awareness amongst prospective brides and their families on the precautions to be taken before entering into marriages with overseas Indians. Accordingly, the Ministry has issued guidelines and launched awareness cum publicity campaign through print and electronic media. The Ministry has published guidance booklet on Marriages to Overseas Indians, distributed multi-lingual pamphlets, conducted seminars, telecast scrolls on TV, audio-visual spots on TV etc In addition the Ministry extends financial /legal assistance to Indian women in distress through credible NGOs in certain countries and an assistance of US $ 1,500 is provided per case to enable NGOs empanelled with Indian Missions/Posts concerned abroad for taking steps to assist the woman in documentation and preparatory work for filing the case abroad.
National Commission for Women (NCW) was nominated by Government as a coordinating agency at the National level for dealing with issues pertaining to NRI marriages. The NRI Cell of the NCW helps in facilitating effective action on the complaints of NRI deserters by coordinating with the relevant agencies, spreading awareness regarding risks and legal safeguards, publishing a report on the "Nowhere Brides", networking with foreign NGOs to give better support system to the deserted women and coordination with Indian Embassies and High Commissions in foreign countries for relief to the deserted women.
This information was given by the Minister of Overseas Indian Affairs, Shri Vayalar Ravi in a written reply in the Lok Sabha today.
---
NRI VOTING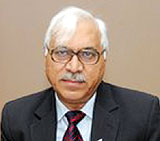 Chief Election Commissioner SY Quraishi
The Election Commission is discussing the various "logistical issues" to make voting rights "practical" for non-resident Indians (NRIs), the Chief Election Commissioner (CEC) SY Quraishi has said. Various issues like whether voting would be postal or whether the voter has to be present at the voting counter need to be sorted out. As the government is in favour of voting rights to NRIs, the commission is trying to make it practical, he added. Quraishi said the poll panel was considering proposals for transforming the voter identity cards into bio-metric ones.
---
GOA UNIV CHAIR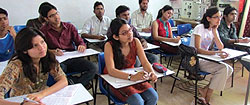 The University Grants Commission (UGC) has agreed to create a chair for diaspora studies at the Goa university, Goa non-resident Indian (NRI) commissioner Eduardo Faleiro said Tuesday.
He said at a press conference here that the university had been asked to draft a proposal for creating a diaspora studies chair and send it to the UGC to expedite the process.
'The study of population migration in all its diverse aspects is one of the most fascinating areas of research at present. A large number of universities abroad have this facility,' Faleiro, a former minister of state for external affairs, said.
'However, the Goan diaspora in particular and the Indian diaspora in general constitutes significant communities worldwide. None of our academic institutions have facilities for focussed research and teaching on this subject,' he added.