Dr Neeraj Patil, Mayor of London borough of Lambeth, has said that the secret of his success lay in being true to himself and never forgetting his roots. "The secret of my success is being true to myself. I have never forgotten my roots", said the 40-year-old. Dr Patil belongs to Gulbarga district, considered economically less forward in the Indian state of Karnataka. He was on a visit to Bengaluru after his win. Being of Indian origin, he said he was often asked questions about the country he prefers, to which his reply was "India is my biological mother and Great Britain my adopted mother."

Addressing students at a function organized by an engineering and management institute, he said running an election campaign in London or Karnataka was no different as issues are the same—healthcare, education, better governance, housing and infrastructure. Dr Patil, a medical consultant in Accident and Emergency Medicine and national general secretary of Labour Party's Ethnic Minority Task Force, said he was guided by the Indian philosophy of just focusing on his work without worrying about the fruits of the labour during campaigning.

The secret of winning elections, said Dr Patil who did his MBBS from M R College Gulbarga, migrated to Britain in 1994 and joined Labour party in 1997, was based on "3 Ms" -- Message, Medium and Messenger. "Everything depends on what is the message you want to give the people: It should be a message that unites and is positive. You need a messenger that is credible and people can trust and you need a medium which is under your control like speeches, party literature and those that you don't control."

He said both India and Great Britain had their own share of good and bad politicians and things were no different there. He said the Indian political system needs to ensure the right political recruitment, correct funding mechanism and a good mechanism to check there were no electoral malpractices. On issues like terrorism, he said Western democracies had committed the biggest mistake by abandoning the so called 'universities of terrorism' they created in Afghanistan to fight Russians. "Once the Russians left, these were abandoned and it was the biggest mistake by Western democracies." He mentioned that the recent warning by British Prime Minister David Cameron on terror was an important message to some who are not part of the government and were not allowing democracy to prosper in Pakistan. Sending a message was the right thing to do.

On racism, he said institutionalized racism is still an issue in UK and admitted there are 'glass ceilings' for Asians and blacks. However the Labour Party's track record had shown it has given a fair opportunity to all segments, he said. He said there had been a change in UK which now has 35 per cent people of non-native origin. He said he hoped "UK would one day have a black or Asian as Prime Minister."

"Kohinoor diamond should be returned to India"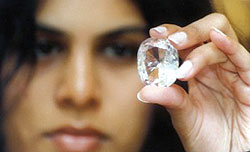 NRI doctor and Mayor of London borough Lambeth Neeraj Patil had told journalists in India a couple of seasons ago that the return of the famous Kohinoor diamond to the country would be a good gesture.
The 105 carat Kohinoor diamond—once the largest known diamond in the world—was mined in India, but was seized by the East India Company to become part of the British Crown jewels on the proclamation of Queen Victoria as Empress of India in 1877. Since it has been the property of the British crown.
Dr Patil's statement came soon after Prime Minister David Cameron had claimed that the gem could not be returned to India, as the move would set an unworkable precedent.
Dr Patil said: "As far as Kohinoor is concerned, my political mentor Mr Keith Vaz and I hold the same opinion. I think Kohinoor belongs to India and it should be returned. I am very much in favour of Britain returning the diamond as a good gesture."
Labour MP Keith Vaz had previously stated that it would be "very fitting" for the Kohinoor diamond to return to the country in which it was mined..