Contrary to the ethnic identity of "Little India", fewer immigrants live in the area compared to the Toronto CMA as A whole. Moreover, Chinese, rather than South Asians, are the largest visible minority group. South 17 Asians (a group that encompasses an enormous array of diverse ethnic, linguistic and religious affiliations) are the second largest group, followed by Blacks, South Asians and Filipinos.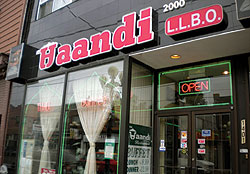 Demographic changes were associated with racial and ethnic tensions and anxieties about cultural transformation. A prominent manifestation of these tensions and anxieties was the establishment of a local chapter, with a Danforth mailing address, of the National Rights Party, a white supremacist political order based in Georgia, USA. The group distributed pamphlets and recruitment materials. The Ku-Klux Klan (KKK) opened an office at 1439 Dundas St. East and incited hatred against Jews, 'eastern' religions and 'blacks'.
Disputes about parking spaces emerged between South-Asian merchants and local residents. In light of these disputes a 'South-Asian' merchant sent a letter to the Ontario Human Rights Commission complaining about the verbal harassment of one of his co-ethnic patrons by a resident over a parking spot (Historical Collection, 1978). These tensions surfaced again later when someone posted signs on telephone poles, proclaiming "Gerrard Forever!" to resist the proposal to rename Gerrard St. East to Mahatma Gandhi Boulevard (Brouse, 2005).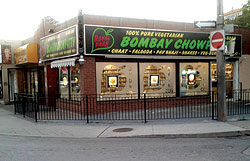 The commercial trajectory of the area changed dramatically in 1972, when Gian Naaz, an immigrant from India, rented the then-defunct Eastwood Theatre, which had a capacity to seat 750 viewers, and started showing 35 mm films in Hindi and other South-Asian dialects. Mr Naaz had previously shown 16mm films in rented school auditoriums, and found financial supporters and partners by going door to door to establish the movie theatre and acquire the rights to show films. He reportedly said that he "wanted a place where Indians could meet socially and where women would have a reason to wear saris" at an establishment close to downtown. Due to the success of his enterprise, Naaz was able to buy the theatre in 1974 for $10,000 and named it Naaz Theatres. The building also contained 8 commercial units.
The Naaz Theatre stimulated commercial development along Gerrard St. East, between Woodfield and Coxwell, reversing the local economic decline of prior years. In particular, it attracted other Indian and Pakistani businesses and more recently Sri Lankan and Bangladeshi enterprises, which gave the area its distinct commercial identity.
The Indian restaurant Skylark (now Nitya Cuisines of India), across the street from the Naaz Theatre, reportedly opened in 1974. Among the early stores that were attracted by the Naaz Theatre was Milan's Department Store, which sold a variety of items including saris and paan.
The conversion of a former I.P.A. store into Amitabh Shopping Mall, named after the famous movie actor Amitabh Bachchan, received considerable local and media attention. The mall contained six take-out restaurants and numerous stores, rented mostly to tenants of East Indian origin. Although this particular mall did not survive, the general area continued to attract ethnic businesses.
By the 1980s, "Little India" was firmly established. The area contained approximately 100 South Asian shops and restaurants and received an estimated 100,000 tourists in 1984, including visitors from as far as Detroit5. A proposal suggested the closing of Gerrard St. between Woodfield and Gerrard to automobile traffic during the summer months or on weekends. The South Asian business identity was further boosted when the City of Toronto approved the Gerrard India Bazaar Business Improvement Area (BIA) between Craven Rd. and Woodfield Rd. in July, 1982.
In the last two decades, the ethnic commercial area has experienced several challenges. In Toronto's suburbs, such as Brampton and Mississauga where many immigrants have recently settled, stores and malls are increasingly catering to this clientele, while suburban movie theatres have discovered Bollywood. These developments have drawn customers away from Gerrard St. In addition, technology and telecommunication advancements enable immigrant families to see movies and receive cultural programming at home. Affected by these developments, the Naaz Theatre closed in the late 1990s; only a small mall remained in the building. Furthermore, the SARS outbreak and the racial and religious profiling at the Canada-US border that followed the attacks of September 11, 2001, caused a dramatic drop in the number of visitors from the USA.
Local ethnic businesses are increasingly seeking to attract a "mainstream" Canadian clientele and are exploring corresponding urban design strategies. The bazaar celebrates Muslim Eid, Hindu Diwali, Sikh Vaisakhi, as well as Christian Christmas. This strategy also includes an annual street festival that attracts 50,000-100,000 visitors who spend more than an estimated $2 million.