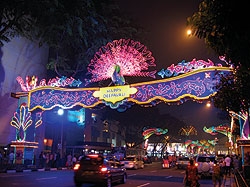 Little India is an ethnic neighbourhood found in Singapore that has Tamil cultural elements. Little India lies east of the Singapore River—across from Chinatown, located west of the river—and north of Kampong Glam. Both areas are part of the urban planning area of Rochor. It is more commonly known as Tekka in the local Tamil community.

Little India is distinct from the Chulia Kampong area, which, under the Raffles Plan of Singapore, was originally a division of colonial Singapore where Tamil immigrants would reside under the British policy of ethnic segregation. However, as Chulia Kampong became more crowded and competition for land escalated, many ethnic Tamils moved into what is now known as Little India. (The Chulia Kampong district no longer exists as a distinct area.)

The Little India area developed around a former settlement for Tamil convicts. Its location along the Serangoon River originally made it attractive for raising cattle, and trade in livestock was once prominent in the area. Eventually, other economic activities developed, and by the turn of the 20th century, the area began to look like a Tamil ethnic neighbourhood.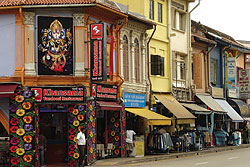 Although ethnic Tamils no longer tend to stay solely segregated in one place as previously arranged under the modern People's Action Party (PAP) policy of racial harmony, for the sake of cultural heritage, many of their commercial or cottage industry units are concentrated in Little India. Tamil-dominant commercial zones are also found in HDB estates. This neighbourhood has the patronage of people of all races who wish to eat or buy something specific to Tamil culture, such as curry or Tamil clothing. One of the more prominent examples of cross-cultural patronage (besides those eating out in the area) is that many Chinese parents go to shops in Little India to grind rice to make congee for infants. Here shops have machinery primarily meant to grind spices into powder for use in Tamil cuisine. Little India resembles India in many respects, including road construction and sanitation, differing sharply from the rest of Singapore's other districts.
Serangoon Road is the main commercial thoroughfare in Little India. It intersects Rochor Canal Road and Bukit Timah Sungei Road. Along Serangoon Road is the Tekka Centre, the Tekka Mall, the Little India Arcade, Serangoon Plaza, and the Mustafa Centre (on a side-road). Farrer Park Fields is located in the district. Several Hindu temples, mosques, and other places of worship include Foochow Methodist Church, Kampong Kapor Methodist Church, Sri Veeramakaliamman Temple, Angullia Mosque, Sri Vadapathira Kaliamman Temple, Jalan Mosque, and the Central Sikh Gurdwara. The Abdul Gafoor Mosque, built in 1859 and named after a Tamil lawyer's clerk, features Arabian and Renaissance-style architecture. Its prayer hall, decorated with Moorish arch-work, displays a tableau featuring the history of the Islamic religion. The Sri Srinivasa Perumal Temple, along Serangoon Road, features a high gopuram (tower), and was built in 1855. The Buddhist Sakyamuni Buddha Gaya Temple, also along Serangoon Road, was established by Thai monk Vuthisasara in 1927. Leong San See Temple is dedicated to Guanyin, the Chinese Boddhisattva of Mercy.
Little India's Petain Road, named after French Marshal Philippe Pétain (who was later convicted of collaboration with Nazi Germany), was built in 1916 on a drained swamp, and features examples of Singaporean Chinese architecture.
Little India is, as the name promises, the center for the large Indian community in Singapore. While a rather sanitized version of the real thing, Little India retains its distinct identity without degenerating into a mere tourist attraction and is one of the most colorful and attractive places to visit in Singapore. The North-East MRT line's Little India and Farrer Park stations, near Serangoon Road, are convenient entry points into the area. Bugis station on the East-West line is also within walking distance.
Getting taxis in Little India can be difficult, especially on weekends. It's best to either book by phone or head to the major roads on the edges to flag one down.
Get around: Little India's main drag is Serangoon Road, which starts at Rochor Canal Road and continues northward to Serangoon itself. The action is tightly concentrated a few blocks on either side of the road, and can be easily covered on foot.
Little India's primary attraction is the town itself. Here too you can find the brightly painted shophouses that are an icon of Singapore, but now most of the Tamil signs have almost disappeared and have been replaced with Hindi, Bengali and other Indian scripts. Stores hawk saris and gold bangles, spices and incense waft in from the doorways and Bollywood's latest soundtracks blare from every other alley.
Sri Veeramakaliamman Temple, 141 Serangoon Road is Little India's busiest and oldest temple, dating back to 1881 — although the present structure was completed in 1986. The temple is particularly busy on Tuesdays, Fridays and Sundays. The most extreme thing to do in Little India is to join the festival of Thaipusam, held yearly during the full moon in the lunar month of Thai (usually January/February). Male devotees attach ornate shrines to their flesh with piercing hooks known as askavadi and walk across town in a day-long procession. Female devotees would usually just carry a pot of milk on their head and join the procession. The procession starts from Sri Srinivasa Perumal Temple in Serangoon Road and proceeds to the Sri Thandayuthapani Temple on Tank Road.
Around Deepavali, the Hindu festival of light, Serangoon Road is festively decorated (with lights, of course!) and open-air markets are set up to sell Deepavali goodies. Like Thaipusam, the exact date is set by the lunar calendar, but it takes place in October/November and is a public holiday. Near the beginning of Deepavali, the fire walking festival of Thimithiis is held, where many male devotees will walk across a platform of burning coal. Though the actual fire walking takes place at the Sri Mariammam temple in Chinatown, the procession starts at the Sri Srinivasa Perumal Temple in Serangoon Road and makes its way to Chinatown early in the morning where the fire walking commences.
Also at this time, every Sunday evening half-a-million workers from the subcontinent turn up in Little India to hang out on their day off. Most of the crowd is friendly enough, but at times things can go a bit out of control. There is enough security though at such times to take care of any eventuality.