"Work For Masses And The Classes"
BUILD ON TRUST, TRANSPARENCY AND COMMITMENT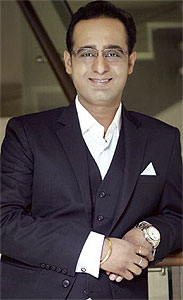 MR TARUN SHIENH: the Real estate guru
For most young real estate developers in India, Tarun Shienh has become an iconic figure. A true professional and a knowledgeable and respected person in the real estate fraternity, he is a well known face to scores of people across the Delhi - NCR Region. He is the CMD of the Premia Group whose hoardings dot the skyline—an indication that he has firmly established himself. He possesses rich experience in Finance, Investment and Real estate Services Management. He has been instrumental in establishing 3 real estate brands in a short span of just 5 years, a remarkable achievement. His name features on the cover of the prestigious INC. India 500 fastest growing companies. Ranked among the top 25 young entrepreneurs by Mail Today, a leading daily, Mr. Shienh has headed a sales team of 2,00,000 plus employees at a leading financial firm. He has an unbridled drive and passion for conceptualizing ideas, systematic planning and innovation, and implementation for the benefit of every stakeholder. That, in fact, is his business philosophy. The real estate fraternity acknowledges him as 'The Real Estate Guru' for his singular contribution for creating high quality urban real estate projects.
It would be no exaggeration to say that Tarun is a brand name in himself and has inspired millions of Indians with his extraordinary vision and sound business acumen. India Empire's Consulting Editor Yogesh Sood caught up with Tarun Shienh, mostly to figure out his future plans and growth direction, his mega projects, including the Premia Corporate City
How do you perceive the trend in demand of real estate in Delhi-NCR region at present?
The real estate market in NCR has developed at a very fast pace during the past few years. Today, the market offers tremendous opportunities to developers, buyers and investors. Currently there is a huge demand in the region, which will be there till 2018. There are a number of factors contributing to this trend, the primary factor being the development of the Yamuna Expressway. It has changed the way Noida and Greater Noida is viewed by investors and given a host of opportunities for developers to fulfill the demands. Though large scale construction activities are going on in the area, these projects will not be able to meet the entire demand. We need many more new projects and concepts to come into the market. In keeping up with the soaring demands, we at Premia Group are also buckled up for the task. At this juncture, we are not only looking at a demanding market, but an intelligent one as well. This has kept us on our toes and inspired us to be at our creative best. Today, the dispensable income for households has risen considerably, enabling people to look for investment options. Travelling abroad is becoming cheaper. In fact it is more affordable to travel to Bangkok or Singapore as compared to Goa. This has got people in direct contact with the western standards of living and hence they have started to demand the same kind of amenities. By 2018, we plan to be widely known, not just across NCR but across the country for our projects and expertise. We strive to be known for our innovative capabilities and are currently directing all our energies towards the achievement of this goal.

Managing such a big show in real estate - What are the sources of investment and how do you handle them?
Premia is an organization built on transparency and trust. Yes, I admit, we are currently operating on a large scale and moving ahead at a feverish pace and that requires massive funding. The sources of these funds are multiple. We are an organization that thrives on the trust people have put in us. Moreover, I, as a professional, have earned a lot of faith over my long career and there are lots of influential and capable people who have confidence in my abilities. Throughout my stint in the financial sector, I have always been involved with a lot of HNI clients. It is during this tenure that I cultivated relationships that are helping me now. All my previous organizations like HDFC, Bajaj Allianz and Max New York are organizations excelling in managing portfolios of high-end clientele. Over the years, I have developed strong bonds with my clients across these organizations and still continue to do so. These clients are now some of the major investors in Premia group's growth. They have seen me grow over the years and understand that when I am putting myself behind something so religiously, it has got to reap rewards. It is this trust that becomes the source of part of our funding. Besides this, a lot of our clients and existing investors recognize the future of Premia as a bright one. Seeing the positive face of Premia, they have joined hands with us and are investing in the World Class Projects we are developing. The investors are putting their money with us because they know they will grow with Premia's success. In addition to this, there are several other sources like Debt funding, Banks, Real Estate Venture Capitals and REITs and Customer advances through which we are able to raise funds to sustain our multiple projects. Most importantly, we have repeat customers which primarily mean that our existing customers are repeatedly investing with us which also reflects the level of customer satisfaction that we have been able to provide. We are amongst the very few players.
---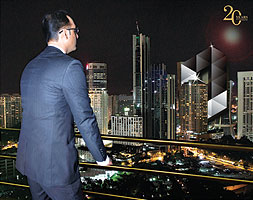 LOOKING INTO THE FUTURE, FEET FIRMLY IN THE PRESENT
---
What have you brought to Premia Group that makes it stand proudly where it is today?
The day I joined the organization, I was very clear in my thought process. We had to deliver with trust, transparency and quality and had to add value to our customers' portfolio. Today whatever we have done or delivered in the market has been very well appreciated. We have faced quite a few challenges but have very successfully overcome them. We have gone through good and bad times and have today emerged as a leading real estate company delivering outstanding projects to its customers. While keeping our creative instincts to be the prime focus, we have added some aspects that are held important by clients such as being straight forward and honest. Another thing I have inculcated in the Premia work culture is respect for deadlines. If we don't honor timelines, we will never be able to achieve the success we desire and deserve. Customer handling has been my forte for as long as I can remember and this is another major thing I have laid stress on here too.

What is the key to Premia Group achieving such phenomenal success in such a short span?
The key to Premia's success lies in the way things are handled here. We have a culture of complete transparency, whether it is in the case of customers or our own personnel. We also bank largely on the professionalism we exhibit whilst carrying a business transaction. Our basic intent is to add value to the customer's portfolio and make them visualize their investment growing. The same is the case with the projects we undertake. We, at Premia Group, are not ones to shy away from responsibility and that remains one of our major strengths. Our success story underlines the importance of consumer-centric business strategy and gives strength to our values of honesty and strong client-relationships. We cultivate a relation with our clients that has trust in its base and this helps us scale new heights with every new project delivered. Though it has not been long, we have carved a niche in the market for Premia Group through our strong business practices and are in every mood to hold on to it.

You are now showing the same expertise you displayed whilst in the financial sector. How do you manage that?
In my early days as a beginner in the business arena, I had a very determined approach to learn all the positive aspects of every business process and I was eager to put my knowledge to good use. I was extremely unambiguous about what I wanted to imbibe from the industry I worked in. I always had my eyes set on where I wanted to land up in life. I began my career with the FMCG sector. I was also involved with the IT sector and have seen the great times when this sector was rising. We were into software exports and were also developing portals in India. When the industry went down I decided to enter the financial world where I worked with some of the leading names of the industry. One of my biggest criteria here was to work with companies that had a very professional way of doing things and where I could learn the intricacies of the trade such as customer satisfaction and customer service.

What is the way forward for Premia Group?
Though our progress in Real Estate has been tremendous, it is not the only area we are exploring. We would be diversifying into a number of new areas including the financial, banking and power sector. We are also planning to enter the infrastructure sector in a big way and would be building some exceedingly state-of-the-art highways. We are already making our presence felt in the solar sector and would soon be taking up some initiatives in the sector. By 2015, the business community would see us venturing into three or four more sectors. We have decided to expand our horizons and explore newer and more challenging walks of business as we have the correct vision, attitude and expert

You seem to be creative person. How do you channelize your creative energies?
Well, I have always been interested in writing. I believe that if you want to achieve something big in life, you have to be an all-rounder. To realize this vision I educated myself on various subjects available in the market. I am a B.Com graduate and have done my MBA. I am also a PGDM in financial management. We believe in integrity and take our responsibilities towards the investors very seriously. My products are aimed at the society in general and not towards any particular segment. In a nutshell I would say, 'I work for the masses and the classes.'
I am also doing my part for society via CSR activities and contributions in educating children who come from poor families and do not have the means to attend school.

What makes 'Premia Corporate City' a preferred destination for investors and what does it offer to receive such widespread appreciation?
In this project of ours, everything is unique. I wanted to create value for my investors and customers and adopted a very unique approach in building the project. We have hired two architects, one who understands the Indian situation and the other able to give our projects an international edge on the lines of the development that is taking place in Singapore. The reason for having two architects was to create a masterpiece, one that will catch the imagination of investors and bring us the due appreciation. We have strived long and hard for the project to be one-of-a-kind and finally, we have been able to achieve precisely that.

With the NCR buzzing with Real Estate activity, what would you suggest is the best place for a potential buyer?
Greater Noida is currently the best destination for living. It has excellent connectivity and the facilities, amenities and infrastructure are absolutely remarkable. The region is today referred to as 'Singapore of India' due to the outstanding infrastructure, projects and the standards of living that it offers. It is a class apart from the common notion of Indian cities and townships. Here you do not see loose power lines hanging over your head, or water flowing out of taps and going waste. Everything has been taken care of here. It is possibly the best avenue for an investment in Delhi/NCR right now. It is well organized and not crowded, there are vast expanses of green, the accessibility is taken care of and the proposed metro line to the region makes it even more of a favorable destination to live in.

Being "The Real Estate Guru", any pointers you would like to share with the investors of future?
While investing, every aspect of the property must be wisely scrutinized. You should thoroughly analyze the good as well as the not so good aspects of the project. Be aware about the intentions of the developer and when you buy your property you should always think of the future, say some five to ten years ahead. Buying a cheap product today would not necessarily give you the right kind of appreciation in the future. But the right intention of the developer and the qualities of the project would give you higher returns.