Premia Group has emerged as of India's most trustworthy, bankable, and fastest-growing real estate groups, thanks to the vision and astute young leadership of its chairman and managing director, Mr Tarun Shienh.
It is a Delhi-NCR headquartered real estate group that focuses on delivering innovative real estate projects. The group's projects are well acclaimed, masterful, one-of-a-kind, and value adding. In the premium segments there is a hint of luxury and ultra luxury component introduced.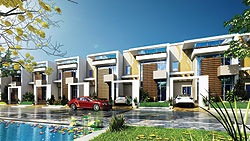 The group is coming up with the India's 1st Corporate City (Premia Corporate City) at Greater Noida West. The Premia Corporate City II, to be known as the Crown of Noida, is slated to come up at Noida's Sector 62. Several other projects across India are lined up. The Premia projects promise to be a complete corporate and shoppers destination in coming years with an unmatched range of services, facilities and amenities that will meet world class standards. The group strives to meet and deliver "highest levels of quality standards" in all of its projects and commitments with key stakeholders, i.e. clients, employees, investors, and the community.
CURRENT PROJECT DETAILS
PROJECT I
India's 1st Corporate City—Premia Corporate City.
Location: Greater Noida West.
Total Land Area: 15 acres.
Total Constructed Area: Approximately 1,500,000 square feet.
Open Area: 70 per cent including lush green environment.
CONCEPT
Corporate parks, cyber cities, IT park, office-cum-residential complex, corporate office hubs and commercial complex are the familiar terms for everyone with many upcoming real estate projects delivering the ideal retail, residential and office spaces. Corporate City concept is the latest trend in the industry where every service, amenity and facility for corporate houses and MNCs will be provided at a single location.
KEY FEATURES
From luxury 5-star hotel, world class retail mall, corporate offices, serviced studios, amusement park, 5-star clubs, world class gym and spa to 3-tier security, business centre, banks, ATMs, swimming pool, lawn tennis court, badminton court, basketball court, common conference room facilities, exclusive lobby, golf course, round-the-clock coffee house, kids zone, banquet hall, 24 x 7 power back up, creche facility, cultural food court, room service, cultural food court, convertible work stations, theme-based restaurants, you can find almost everything at the Corporate City. Adding to the advantage of Premia Corporate City is its ideal location, world class infrastructure facilities, and close proximity to business, cultural and economic hubs, connectivity via roads, railways and proposed metro.
Imagine advantages and returns for someone who invested in Nehru Place, Connaught Place, Cyber City or even Nariman Point when these were launched. Premia Corporate City at Greater Noida West in coming years will be the next 5-star corporate address and preferred shopper or corporate destination.
KEY CONSULTANTS
With leading landscape consultants from Hong Kong, the concept design developed by internationally acclaimed designers from Singapore and award winning architect all making for a flawless Master Plan and Blue Print, Premia Corporate City makes a lot of business sense.
# Concept Design Architects: Design 3 Team (Singapore)
# Landscape Consultant: ADI Ltd (Hong Kong)
# Architect: Space Design Group (India)
# Leasing Partner: Elevate

PREMIA ADVANTAGES
Premia advantage offers:
Location Advantage—next to an international school, fully developed lush green belt in front of the project, two minutes by car from Noida, three minute from Sector 62 Noida, adjacent to the corporate hub and five minutes from the Yamuna Express Way, five minutes from proposed railway stations, and 17 minutes drive from Delhi. A metro station has been proposed adjacent to the project.
Investment Advantage—12.5 per cent assured returns, rental income, capital appreciation.
Facility Advantage—executives at offices can relax, stay back, shop, bank, use creche, dine and disco. Visitors from outstation can stay at the 5-star hotel or at the serviced studio apartments. High employee motivation and least hassles as all facilities are within the complex, including 24 x 7 power supply, round-the-clock 3-tier security, 70 per cent lush green open area surrounding the project.

---
PROJECT II
Crown of Noida—Premia Corporate City 2
Location: Sector 62, Noida

CONCEPT
It will offer a plethora of facilities for the first time in Noida including corporate offices, retail shops, banks, ATMs, theme-based restaurants, multiplex.
This is the most apt location for all. It is in the vicinity to all the major locations in the city. This is a great plus point. Premia is working on every detail to make this corporate city look classy and luxurious. Experts have planned a perfect layout and selected the finest designs for each building or structure within the premises. With minute detailing of each design, selection of the best quality material to build and selecting luxurious finishing, Premia has made every effort to make this a perfect destination for corporate houses. By selecting to invest in Crown Of Noida "Premia Corporate city 2", Premia believes one has made the right decision. One can be rest assured that best of services and the best real estate worth is being provided for every bit that is spent. Premia maintains transparency in transactions and builds long-term customer relationships with trust and quality.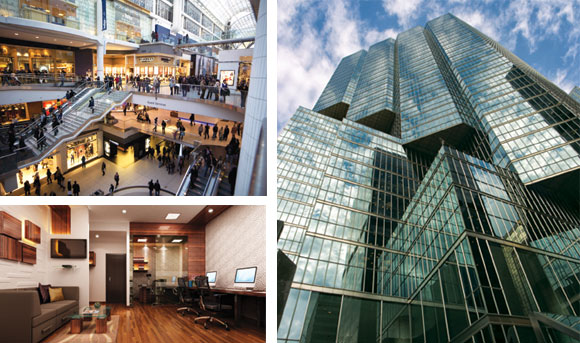 KEY FEATURES
# 3-side open plot.
# Business Centre.
# Indoor water park.
# 4-lane bowling alley.
# Indoor virtual golf.
# Theme-based restaurant.
# Banks.
# ATMs.
# Bar lounge and discotheque.
# Indoor swimming pool.
# International standard gym.
# Water treatment park.
# Cineplex.
# Food court.
# Other attractive facilities.

MAJOR PRODUCTS ON OFFER:
# Corporate offices.
# Retail mall with retail shops.
# Restaurants.
# Food Court.