Patels on top
Patels have a presence in almost every national cricket side. Over the years, they have represented India, England, New Zealand, Kenya and Canada. Not to mention the clash of two Patel 11s in a club match in England. So what are these Patels up to?
By Rakesh K. Simha
FEBRUARY 22, 1992 was a day that shocked and awed the cricketing world. In Auckland, in the opening match of the World Cup, New Zealand surprised defending champions Australia by opening the bowling with off spinner Deepak Patel. Chasing a modest target of 248 runs, the World Champions were thoroughly bamboozled by this opening gambit and crumbled to a 37 run defeat. During the tournament, Patel took seven wickets at just over 23 as the Kiwis—always difficult to play on their wind-swept home turf—went unbeaten until the semi-finals. Patel's feat was copied by several bowlers from other countries, in an effort to confuse the opening batsmen.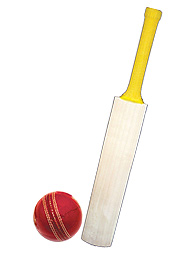 Forget Lillee, caught Willey, bowled Dilley in the gulley. How about Patel, caught Patel, bowled Patel? It's happened more often than you think. While the World Cup down under made Deepak Patel famous, over the years, Patels have represented India, England, New Zealand, Kenya and Canada in cricket. They have also turned out for local leagues in several other countries such as Zimbabwe and South Africa.
Currently, the hottest property in English cricket is the fast rising Samit Patel. In an ODI series in August, Samit was the star for England with an exceptional allround performance in only his fourth ODI, scoring 33 to help repair a stuttering innings and guide England to 296 and then taking 5 for 41 as the South Africans slumped to 170 all out in reply. Patel took five of the final six wickets to fall to become the first England spinner to take five wickets in an ODI since Ashley Giles in Delhi in 2001-02, and the first in England for 25 years.
Back home while Parthiv may never make it back into the national team, he is still going strong. The 17-year-old boy who became the world's youngest Test gloveman has had several ups and downs in his career and come back a stronger cricketer. Having opened for India in Tests, he can be the ideal second opener. And having led Gujarat, he is the pride of the Patels.
In a extraordinary cricket match played in London in 2001, all 22 players were called Patel. Umpire Roy Higgins was left scratching his head when each man introduced himself as Mr Patel
Below is a list of some of the other leading Patels in play, in and outside India. While most of them would be hard pressed to make it to the Indian team, one thing's for sure. A Patel XI could prove a handful for the likes of Zimbabwe and Bangladesh.
Brijal Patel has played 31 ODIs for Kenya primarily as a middle-order batsman. He's also a useful spinner and good fielder.
Malhar Patel, a middle order right hand batsaman, has found middling success in the Kenyan squad.
Munaf Patel always had the pace but never had the consistency of a champion. Now his career is showing an uptick after the Sri Lanka ODI series.
Jeetan Patel has to fight to stay in the New Zealand 11 as the off spinner slot is taken by captain Daniel Vettori. That he retains his place shows his class.
Ashish Patel from Canada bucks the trend. Instead of the slow stuff, this 33-year-old paceman likes to hurl his thunderbolts where they count—at the batsman's jugular.
Timil Patel is a handy performer with bat and ball. With his leg-breaks, he claimed 17 wickets last season at an average of only 18.64.
Niraj Patel came to notice for his nerveless, match-winning cameo for Team Rajasthan against Mumbai Indians in the IPL.
Akhil Patel is Samit's brother and a slow bowler of great promise. Plays for for Derbyshire, England.
Perhaps the biggest passel of Patels was at an extraordinary cricket match played in London on July 19, 2001, where all 22 players were called Patel. The astonishing Sunday League match took place between Yorkshire LPS and Amarmilan in Bradford.
Umpire Roy Higgins knew he was in for a long day when he strolled onto the cricket field to find all 22 players shared the same surname. Poor old Higgins was left scratching his head when each man introduced himself as Mr Patel.
Fortunately one of the scorers, Amit Patel, was on first name terms with each player and helped to resolve the situation. Amit confessed: "I was shocked. Some players even had the same first four initials so everyone's names had to be written in full."
LPS club secretary Ishy Patel said all the players knew each other well and often socialised together. "A lot of the players are related and there were even two brothers playing against each other, Magun for us and Surindra for them," he said. "Twice before we've played and there were 21 Patels lining up against each other, but on this occasion our regular wicketkeeper, who is not called Patel, had to go to London for work."
Of course, there was the danger of the most important thing being forgotten amidst all this history—the score.
It was a close-fought affair which eventually ended in a 31-run victory for, you guessed it, the Patels.
—With inputs from Nupur Handa in London.