The year was 1996, and Jyoti Basu, once the undisputed champion of the Red citadel in India, was being billed as a future prime minister of the country. He missed the job, by a whisker, but the communist parties collectively were having a fine run then.
Fifteen years since that high, the Red fortress has been stormed. There is a new dawn, and Bengal has awakened to a new resolve. Mamata 'Didi' Banerjee has thundered, and the voters have given their verdict in her favour, decisively. The communists and their once-useful vision are no longer good enough for modern India. It seems they have gone past their expiry date. Resoundingly, they have been banished at the polls singlehandedly by giant slayer Banerjee. Making a comeback for them, at least in West Bengal, seems like a very remote possibility. Kerala too has turned a new chapter, edging out the Left to vote back veteran Oommen Chandy.
A Left Front coalition led by the Communist Party of India (Marxist), or CPI-M, had ruled the eastern Indian state for more than three decades without a break and the end, when it came, was brutal.
From 176 seats in 2006 state polls, the CPI-M share plunged to just 40, as the regional Trinamool Congress and its firebrand leader Banerjee stormed to power with 184 seats. At the same time, the communist administration in the southern state of Kerala was thrown out and replaced by India's ruling Congress Party—albeit by a far slimmer margin.
"No one needs the communists anymore," said Debraj Sen, a political science professor at the Presidency College in Kolkata, the West Bengal state capital. "Their legacy is one of endless strikes, corrupt unions, and lethargy in introducing reforms."
| | |
| --- | --- |
| BEING THE CHANGE: Promising to administer Bengal with honesty | |
Their language may have been taken straight from Marxist-Leninist textbooks, but India's communists always stood apart from their counterparts in Soviet-era Eastern Europe, China or Cuba. While reflexively anti-capitalist and anti-American, their policies were inevitably tempered by operating in a parliamentary democracy rather than a totalitarian state.
As a result, the Indian Communist Party emerged largely unscathed from the global upheaval that followed the fall of the Berlin Wall and the collapse of the Soviet Union. And in 1996, after an inconclusive general election, the late CPI-M leader Jyoti Basu came within a whisker of becoming prime minister at the head of a centre-left coalition—a prospect that prompted the headline "Red Star Over Delhi" in one national newspaper.
But the party's central committee decided not to participate in the government—a move that Basu later described as a "historic blunder".
Since first coming to power in West Bengal in 1977, the communists had relied largely on the support of farmers who feted the party for giving land to some 2.5 million rural poor under India's largest distribution scheme, breaking the hold of West Bengal's land-owning elite.
But as land shortages grew with farms being divided among families and unemployment climbed, the government shifted gear and sought to bring back factories to the region. This brought them into direct conflict with their core supporters, as angry farmers protested efforts to buy up their land for industrial activity.
In 2008, the giant Tata group pulled out of a project to build the world's cheapest car in West Bengal, even though the plant it had been constructing near Kolkata was 90 percent complete. The decision followed a month of violent demonstrations by activists and evicted farmers who complained they had been forced to give up their land for a pittance.
"They always made silly political mistakes, ignored public opinion and failed to find a middle ground between Marxism and capitalism," said D.K. Ray, an independent political analyst living in Kolkata. Ray—who is researching material for his book "The Communists and Labour Movement in India"—says the Left stayed in power thanks to its historical record of labour movements and land reforms. "But at the later stage they completely messed it up. They destroyed everything they had created. And they seem to have (had) no clue on how to chart their future policies," said Ray.
Senior CPI-M official Niloptal Basu said that "accumulated problems" had led to the rout, and was non-committal on where the party would go from here. "We have to go back to basics," he said.
But for many, the "basics"—in terms of the tenets of Marxism-Leninism—are what renders the Communists obsolete in what is now the word's second fastest-growing major economy. "Terms like 'dictatorship of the proletariat' and 'class struggle' are outdated now," said Raghuram Chaudhari, an industrialist living in Kolkata for over four decades. "It's time for the communists to shut up shop and let us get back to business."
CANADIAN BENGALI NRIS HAIL VICTORY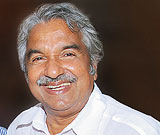 Oommen Chandy
Hailing Mamata Banerjee's historic victory over the Left Front in West Bengal, Bengali NRIs in Canada wanted industrialisation of the state to top her agenda.
Toronto-based Molly Banerjei said, "People in West Bengal have voted against decades-old corruption and oppression. They have voted for hope and a brighter future. They have voted for change. Her biggest challenge will be in attracting industry back to West Bengal."
However, she struck a note of warning to Mamata. "It will be prudent of her not to take her voters for granted. They want to see results."
Jay Sarkar, president and chairman of Sartrex Corporation, said, "It is about time. West Bengal needed a change and change has occurred. The new Government must move swiftly to ensure people's concerns are heard."
He said Mamata "must work for new ideas,innovation and creativity in order to move West Bengal out of the dark and bring energy to the people. "I wanted to set up an industry in West Bengal and am still working towards that. But I was afraid of the situation in West Bengal. Hopefully, the situation may be better for industry now." Tapan Sen, an IT professional who came to Canada 28 years ago, said he welcomed the change of guard at Writers' Building, but was skeptical about Mamata's vision for the state.
"Change was needed badly because the CPM was not performing, but I have not seen Mamata perform either. I don't know how she has handled the railway ministry. And her stand on the Nano plant was just unacceptable. Hopefully, she will change her thinking now as the state needs industry back." For Rathin Ghose, who left West Bengal 50 years ago to settle in Canada more than three decades of CPM rule have 'ruined West Bengal.' Recounting the 'damage' inflicted on the state by CPM rule, Ghose told IANS: "Because of corruption under CPM rule, all industries fled from the state. All airlines used to touch Bengal, but they too left."
Congratulating Mamata, Ghose, who is the founder of the Prabasi Bengali Cultural Association of Canada, said, "It was just unimaginable whether the Left Front will ever be routed. But Mamata has done it. People trust her and she must now show a vision by bringing industry back to the state."
BACKGROUND
There was a time when poverty forced her to become a milk vendor. That was the only way she could help her widowed mother bring up her younger siblings. Those difficult years steeled Mamata Banerjee, whose decades old one-point agenda - of ousting the Communists from West Bengal - finally became a reality. From being her party'' solitary member in the previous Lok Sabha and winning only 30 of the 294 seats in 2006, it has been a fascinating but roller coaster ride for a woman who founded the Trinamool only 13 years ago after quitting the Congress.
The daughter of a freedom fighter father who died when she was young, Banerjee could hardly enjoy her salad days as she had to fend for her family. For a while, she worked in a milk booth as a vendor-attendant. Her baptism in politics came in the 1970s as a stormy petrel of the Congress students wing Chhatra Parishad, which played a key role in wiping out the Maoists from Kolkata then. With a postgraduate degree in arts besides degrees in law and education, Banerjee was mentored early on in politics by Subrata Mukherjee - now ironically one of her followers in the Trinamool.
Banerjee, however, remained largely unknown outside of West Bengal until 1984 when she worsted CPI-M stalwart Somnath Chatterjee in Jadavpur - in her maiden Lok Sabha contest. There has been no looking back since. In 1991, she joined prime minister P.V. Narasimha Rao'' ministry but was unhappy because the government was indifferent to her proposal to develop sports. She lost the portfolio in 1993. Once Banerjee realised - and said so - that the Congress did not really wanting to take on the Communists in West Bengal, she quit the party and formed the Trinamool Congress.
Some felt she had committed political harakiri. She courted the BJP from 1998 to 2001, supped with the Congress in the 2001 assembly polls, and again dated the BJP-led alliance in 2001-06 as she looked for ways to defeat the Left. In between, she was the country'' railway minister twice (1991 to 2001 and for a few months in 2004). Despite becoming a cabinet minister, Banerjee continued to live in her single-storey house in a dingy lane close to the famed Kalighat temple in Kolkata. Her attire was always the same: cotton saris, a ''hola'' bag and cheap rubber chappals.
Outside of politics, Banerjee dabbles in painting, she is a also writer with several books to her credit. She is a good cook whose chicken and aar maachh curry have won wide praise. Secular to the core although deeply religious, Banerjee - a Brahmin - organises an annual Kali worship at her residence and herself distributes prasad to all and sundry. And one who plays the synthesiser deep into the night, Banerjee, who choose not to get married, is known to hit the bed only at the crack of dawn.
Today, she has the opportunity to open the doors of progress and let a new dawn enter Bengal.