BANKING


SBI to bring NRI services in UAE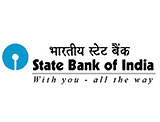 India's largest lender, State Bank of India (SBI) will introduce services for NRIs in the United Arab Emirates (UAE) for the first time in the history of its operations in the west Asian country. According to the CEO of the SBI's Dubai International Financial Centre Branch, Debajyoti Ray Chaudhari, the bank will provide facilities including opening of NRI accounts, marketing of SBI products, and providing information to clients and other services. SBI's license in Dubai was upgraded to Category 1 in the year 2009 from the initial Category 4 license, allowing the bank to expand its operations significantly. By launching the services for NRIs, the bank will be able to provide all facilities that a representative office can extend, Chaudhuri added. SBI Managing Director and Group Executive (National Banking Group) A Krishna Kumar launched the bank's NRI services. SBI has its presence in Bahrain and Oman with full banking licenses, while operations in Saudi Arabia have already started with a branch in Jeddah.

---

Bank of Singapore Still Focusing on Existing Markets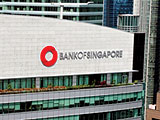 Bank of Singapore is focusing on its existing markets despite getting approval to operate in London. The bank is operating under the OCBC bank branch license in London, and can use the Bank of Singapore brand to offer private banking services.
It will focus on the non-resident Indian (NRI) segment, which is the bank's third largest segment behind South-east Asia and greater China clients. It also has offices serving the NRI segment in Hong Kong, Singapore and Dubai.
Mr Renato de Guzman, chief executive of Bank of Singapore, said, "We are not diverging from the existing markets. We are very clear on what markets we want to (be in). We are not going to the United States; we are not going to go to Latin America. We are very happy with the markets we are operating in right now".
---
USA GREEN CARD


US visa regime needs to think differently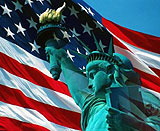 According to a new study, professionally qualified Indians may have to wait as long as 70 years to get their Green Card in the US, amid growing concerns that the current country-specific quota policy poses a major hurdle in attracting talent from countries like India and China.
"Our system for allowing employers to sponsor skilled foreign nationals for permanent residence (a green card) is plagued by inadequate quotas that result in years of waiting and frustration," the Washington based National Foundation for American Policy (NFAP) said in a report.
An October 2011 NFAP study analysed the employment based green card backlog and produced findings that should give pause to policymakers.
The study concluded, "A highly skilled Indian national sponsored today for an employment based immigrant visa in the 3rd preference could wait potentially 70 years to receive a green card."
"The two factors that have caused the long waits for employment based green cards are the 140,000 annual quota, which is too low, and the per country limit on employment based preference categories, which restricts the annual number of green cards for immigrants from one country to 7 per cent of the total. This, the NFAP analysis noted, means that skilled foreign nationals from India and China, who make up most of the applications, wait years longer than nationals of other countries.
A number of lawmakers, policy makers and politicians here have been demanding removing this country-specific cap on the Green Card as well as on H-1B category of visas.
"We must stop telling American companies that they cannot hire the high-skilled workers they need. By making it difficult for them to obtain temporary and permanent visas for high-skilled workers, the federal government is slowing growth and worse, promoting the outsourcing of American jobs," New York Mayor, Michele Bloomberg, said early this year.
"Caps on green cards are set by countries, so Iceland actually gets the same number of visas as India. That may be fair to those two countries, but it's certainly not fair to American business and to Americans," Bloomberg said.
"We should end these arbitrary limits and end the cap on the high-skilled H1-B visas. Let the marketplace decide. It is basic free-market economics, and both parties ought to be able to get behind it," he had said.
---
RECOGNITION


Accolades for Rami Ranger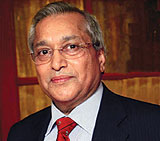 Dr Rami Ranger, founder chairman of Sun Mark Limited, was described as a role model after winning the Queen's award for enterprise for the years 2009, 2010 and 2011. At a function held at Grosvenor Hotel in London in October, Dominique Grieve, attorney general to the British government, congratulated Ranger on his outstanding achievement.
Acting high commissioner of India to the UK, Rajesh Prasad told the 800-strong gathering, including Lords, Baronesses and 40 MPs, that Ranger has done NRIs "proud" by winning the award for the third year in succession.S P Hinduja, chairman of the Hinduja Group, told Ranger "we are proud of you. You have shown to the world what Indians can do.
"Indian-origin MP Keith Vaz complimented Ranger for building "international links, not only with India but also with several Asian countries." Lord Dollar Poppat said Ranger is a "shining example and role model" to youngsters. Ranger stated, "I feel humbled by the kind words and sentiments expressed by people of such high caliber and standing. I thank founders of India who gave us a secular and democratic Constitution where equality for all is enshrined regardless of race, religion or gender. As a result, we are taught to use merit instead of race or religion to surge ahead." He added that it was due to his Indian upbringing that he could receive honours from the Queen five times on merit, four times for business and once personally for community service. "This was only possible because of the British sense of tolerance and fair play," he said.
caption: Rami Ranger
---

Sikh soldiers to be honoured in UK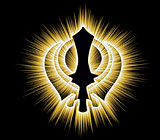 Sikh soldiers who fought with British troops in conflicts around the world will be honoured in the UK by showcasing the 'Khanda', which is one of the most important symbols of Sikhism, and reflects the sacrifices and contribution of the Indian-origin community. The charity organisation that raises funds for soldiers who served or are serving in Britain's armed forces will honour Sikh soldiers this year by including the Khanda in its annual Poppy Appeal. The appeal is organised annually by the Royal British Legion, and is held on 'Remembrance Sunday', which this year falls on November 13. In this year's appeal in Leicestershire, which has a significant Sikh population, the Khanda will join the Christian cross, the Jewish Star of David and the Muslim Crescent which have been introduced in recent years. The Khanda, made up of a solid circle, two interlocked swords and a double-edged sword, will be on sale alongside poppies and the other wooden emblems. Jennifer Leach, the Legion's community fund-raiser in Leicestershire and Rutland, told the local media, "We have had representations from the Sikh community nationally and locally and we felt it was time to produce the Khanda. We are very happy to be able to mark the sacrifices which have been made by Sikh soldiers who have fought and died in the British Army." Resham Singh Sandu, the High Sheriff of Leicestershire and the first Sikh to hold that post, said he was delighted to hear of the new Poppy Appeal emblem.
---

NRI entrepreneur chosen "Jewel of Punjab"

UK based NRI entrepreneur Avtar Lit has been awarded the "Jewel of Punjab" award for his contribution in the field of Asian radio and television. He received the prestigious award from Andrew Mitchell, MP of Britain's Secretary of State for International Development. The award function was organized by the World Punjabi Organization (European Division). Founder chairman of Sunrise Radio Group, Lit was named as one of the twenty most powerful Asians in England. On the other hand, G S Chetwal, earlier chief of the Ealing Gurdwara, was presented with a Lifetime Achievement Award and B S Grewal was chosen for Lifetime Achievement Award for Charitable services.
---
BIOGRAPHY



NRI pens book on Sonia Gandhi
Rani Singh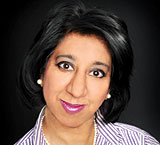 A new biography of UPA chairperson Sonia Gandhi, written by NRI Rani Singh, casts new and intimate light on her life through exclusive interviews with members of the Congress party, political opponents and family friends
With a foreword by Mikhail Gorbachev, the 268-page book, "Sonia Gandhi: An Extraordinary Life, An Indian Destiny" documents the greatest transformational journey made by any world leader in the last four decades. The NRI writer Rani Singh is a former senior British Broadcasting Corporation (BBC) journalist.

The biography was released in London at the DSC South Asian Literature Festival and will arrive at bookstores in the Indian avatar on October 18. It will be published in India by Pan Macmillan.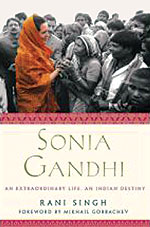 "Circumstance and tragedy, rather than ambition, paved her path to power," the writer says in the book. The book also states that born into a traditional, middle-class Italian family, Sonia Gandhi met and fell in love with Rajiv Gandhi, son of then Indian Prime Minister Indira Gandhi, while studying English in Cambridge.

"Cruelly tested by the assassinations of her mother-in-law and of her husband, Sonia grew into a strong, authoritative but always private figure," Singh says in her book.

According to Henry Kissinger, the former US secretary of state, "the biography was an insightful portrait of an extraordinary woman and a compelling and important story of tragedy, family and a nation of upward trajectory".

In his foreword, Mikhail Gorbachev, the former president of Soviet Union, said "Sonia Gandhi has served India in many ways – as Rajiv's wife, as the mother of two remarkable children, as an example of dignity and strength, and as a political leader of high caliber. India must be proud of her".

Ashley Tellis, senior associate at the Carnegie Endowment for International Peace said, "The book draws back the curtain, allowing the reader to encounter Sonia as the person behind the larger-than-life figure that she is for India's millions". Tim Marshall, foreign affairs editor Sky News said, "The book is a compelling love story woven into the complexities of Indian politics. If you want to understand modern India, you need to understand the Gandhis. Singh has made an important and timely contribution".

---
RELOCATION


Relocating NRIs expect less


'Madhuri Dixit to return to India, bag, baggage and doc in tow'. That story probably made news only because of its star power. The fact that NRIs from the US are moving back to India is no shocking development. NRIs have, in the last few years, been relocating to India in large numbers in search of better personal and professional lives. And if you are an NRI considering that move, there is one important thing that you must understand very well- the salary you will get in India.
Kris Lakshmikanth, Founder CEO of The Head Hunters India Pvt Ltd says, "When it comes to compensation, we find that NRIs have inflated expectations. They mainly go by hearsay; their friend or friend's friend who returned to India may have told them a tall story about Indian salaries. They want to go by that yard stick."
USD will not convert to INR
The first thing to remember is that you will not make the rupee equivalent of your US salary in India. The cost of living in India is significantly lower than that in the US. This also means a lower labor cost in India. These factors will determine your India salary. Seema Nair, Co-Leader India HR Operations of Cisco India explains, "The salary in India (for Cisco employees moving from US to India) is related to local labor market wage rates with a potential premium for critical skill sets."

Achyut Menon, head of Options Executive Search Pvt Ltd adds, "In the nineties, people who were posted to India got expat salaries. But those days are over. In the last 10 years, India has become an attractive market for global companies who are not just looking to set up offshore centers here, but also to capitalize on the growing, educated and highly aspirational middle class consumer segment. Added to that is the availability of skilled labor within India itself. Companies no longer need to pay expat salaries."

What then should be the broad benchmark

Both Lakshmikanth and Menon say that while there cannot be a standard formula, the Big Mac Index is a good guideline to calculate salaries. The Big Mac index published by The Economist is based on the theory of purchasing-power parity (PPP), according to which exchange rates should adjust to equalize the price of a basket of goods and services around the world; the basket in this case being a McDonald's Big Mac.
---
COMPENSATION FOR NRIs


USD 295,000 in damages plus a job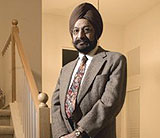 Six years after he was denied prison guard's job in California, Indian-American has finally been appointed as a correctional officer in the prison and won USD 295,000 as damages. Trilochan Singh Oberoi was denied the job as he refused to shave off his beard required by his Sikh religion. Oberoi, 63, has reached a settlement in this regard with the California Department of Corrections and Rehabilitation (CDCR), as a result of which he would start his duty as a correctional officer from 1st November. "Oberoi's legal battle exemplifies the challenges many Sikhs face in the US in seeking private and government employment after 9/11, as widespread ignorance, prejudice and hate pose serious challenges to equal opportunity for South Asians, and particularly Sikh Americans, who are often mistaken for Middle Eastern terrorists," said attorney Harmeet K Dhillon, who represented Oberoi. In 2005, Oberoi applied for a position as a correctional officer with the CDCR, according to a statement issued recently. Oberoi advanced to the final stage of the application process, which involved being fit-tested with a particular model of tight-fitting respirator mask, and was told that he could not take the test unless he were to shave off his beard. Oberoi requested that the CDCR accommodate his religiously mandated beard, but was not granted such an accommodation and was not hired by the CDCR in any capacity. After making numerous attempts over the next year to ascertain the status of his accommodation request, in February 2007, he had filed an appeal with the California State Personnel Board (SPB) concerning the CDCR's denial of his opportunity to complete the correctional officer application because of his religiously-mandated beard.
Caption: Trilochan Singh Oberoi
---

NRI Doctor to be compensated Rs 1.72 crore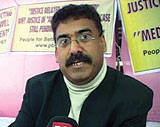 In one of the longest running cases of medical negligence, the National Consumer Disputes Redressal Commission (NCDRC) recently awarded compensation of Rs. 1.72 crore to Dr. Kunal Saha, whose wife had died due to medical negligence while on a social visit to Kolkata in May 1998.
This is the highest quantum of compensation in the medico-legal history of India so far. Till now the highest award was of Rs. 1 crore granted to software engineer Prasanta Dhanaka in May 2009.
The consumer court asked the Kolkata-based Advanced Medicare and Research Institute (AMRI) Hospital and its three doctors to pay up the compensation for the death of Anuradha Saha, the US-based child psychologist and wife of Dr Kunal Saha. The hospital and the doctors were found guilty of negligence by the Supreme Court in 2009 and the case was referred to the consumer court for the sole purpose of determining the quantum of compensation. The NCDRC earlier found no negligence by doctors or AMRI and had dismissed the case in 2006, forcing Saha to approach the apex court. The compensation includes Rs. 41.9 lakh each to be paid by AMRI and Dr Sukumar Mukherjee, one of the four guilty doctors. Also, Rs. 27.93 lakh each to be paid by Dr Baidyanath Halder and Dr Balaram Prasad, the other two doctors who were found to be guilty.Another doctor found guilty, Dr. Abani Roychowdhury is now dead, hence the amount due to be paid by him has been deducted from the compensation package.
The NCDRC has deducted 10 percent of the amount for 'contributory negligence' on part of Saha himself as he interfered in the treatment. Initially Saha had sought damages totaling to Rs. 77 crore."This judgment makes mockery of justice. It is too meager an amount of compensation in context of this case", Saha said while speaking from Columbus, Ohio.He said he had spent far more than Rs. 1.77 crore during the 12-year long legal battle, making innumerable trips to India. In any case, he said, he had already pledged to donate the entire amount to People for Better Treatment, a voluntary group set up by him in Kolkata to fight against medical negligence and corruption in medical field.
In the past one decade, Saha has fought against corruption in the Medical Council of India, West Bengal Medical Council, and the judicial system, and exposed a scam in HIV kits. It was because of his incessant campaign that former MCI chief Dr. Ketan Desai was not allowed to take over as President of the World Medical Association and lost his license to practice as a doctor.
Saha's wife Anuradha was a qualified child psychologist who died at an age of 36 years because of maltreatment.

---
FINANCE


NRIs Can Now Hold Accounts in Any Currency: RBI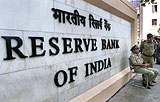 The Reserve Bank of India announced in October that non-resident account holders in the country (India) can now hold accounts in any currency which is fully convertible. The step is likely to help NRIs/PIOs, as it will give them more options in the holding of accounts, and lessen the risk from fluctuations in major currencies.

In the past, Foreign Currency Non Resident Bank Deposits (FCNRB) account holders were allowed to hold accounts in only certain currencies such as the Pound Sterling, US dollar, Japanese Yen, Euro, Canadian dollar and Australian dollar.

In a notification, it has been stated that "it has been decided that Authorised Dealer banks in India may be permitted to accept FCNRB deposits in any permitted currency. It may be noted that 'Permitted currency' for this purpose would mean a foreign currency which is freely convertible."

It further adds that "the Committee to review the facilities for individuals under Foreign Exchange Management Act, 1999, in its report has recommended that FCNRB accounts may be permitted to be opened in any freely convertible currency." " A person resident in India is free to hold, own, transfer or invest in foreign currency, foreign security or any immovable property situated outside India if such currency, security or property was acquired, held or owned by such person when he was resident outside India or inherited from a person who was resident outside India," RBI said.
---

DTC to pose tax troubles for NRIs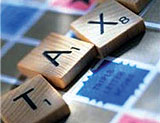 The direct taxes code (DTC), a new tax regime, has been a matter of debate for quite some time. It is expected that DTC may come into play from 1 April 2012. The recent changes proposed in DTC may impact NRIs. As of now under the existing provisions, an individual becomes resident of India if his/her stay in India is 182 days or more during a tax year (182 days condition) or 60 days during the tax year, and 365 days in the past four tax years (60 days condition). An individual who does not fulfill the above conditions qualifies to become a Non Resident (NR). Further, a resident individual becomes a Resident and Ordinarily Resident (ROR) of India, if his/her stay in India is 730 days or more in the past seven tax years, and qualifies to be a resident of India for at least two tax years out of the past 10 tax years preceding the relevant tax year. An individual who does not fulfill either or both the above conditions qualify to be a Resident but Not Ordinarily Resident (RNOR) of India. NR/RNORs are taxable in India on India-sourced income or income received in India, but RORs are taxable in India on their global income. At present, individuals of Indian nationality or origin, who are settled abroad, have been given a significant advantage in determining their residency in India (as the 60 days condition is not applicable in their case so that they can visit India to take care of their investments in India and family). The proposed DTC does not include the beneficial provision of testing only the 182 days condition of residency, in the case of an Indian citizen or person of Indian origin who comes on visit. Such individuals would become a resident sooner than later. This may result in such individuals ending up paying taxes on their global income in India, where they become an ROR. India has a tax treaty with a number of countries, so relief from double taxation may be available where the NRI is from a country with which India has a treaty. Under the current provisions, if an individual is not an Indian citizen, there is no wealth tax payable on the assets situated outside India. However, the situation would not remain the same after DTC comes into place. Under DTC, RORs are proposed to be taxed on their wealth situated anywhere in the world, irrespective of whether such individuals are citizens of India or not. Though, the taxable wealth exemption limit is proposed to be enhanced from Rs. 30 lakh to Rs. 1 crore under DTC, but the definition of taxable wealth has also been proposed to be expanded. Currently the rate of wealth tax is 1% on net wealth exceeding Rs. 1 crore. There are many countries where wealth tax levy is not applicable. Many of the tax treaties do not cover wealth tax. In such cases, there is going to be an additional burden for the NRIs who are holding foreign citizenships, when they become ROR. One really needs to wait and see the final print of DTC as and when it would be implemented. In case DTC comes into effect with the currently proposed provisions, NRIs need to keep a closer watch on their travel calendar. They need to plan their travel to India in a manner that they do not become an ROR.
---
POLITICS


NRI grocer loses chancellor race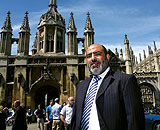 Abdul Arain, an Indian-origin local grocer from London lost the elections to become the 108th chancellor of the University of Cambridge. The official candidate Lord Sainsbury won the elections beating the other three other candidates, including Arain. Lord Sainsbury owns the major retail chain Sainsbury's and will be the 802-year-old university's 108th chancellor after winning this election.Arain, who made news with his candidature, polled the least number of votes. According to University sources, of the 5,558 votes cast, Lord Sainsbury polled 2,893 votes, while actor Brain Blessed got 1,389, barrister Michael Mansfield 964 and Abdul Arain 312 votes. Arain opposed plans to open a Sainsbury's superstore near his grocery in an election campaign that was widely billed as a David and Goliath contest.
Caption: Abdul Arain
---
HEALTH


New Mediclaim Policy for NRIs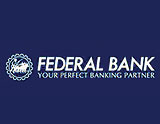 Federal Bank from Kerala and Oriental Insurance Company has jointly launched a mediclaim policy for the NRIs under the label 'Fed Oriental Pravasi Insurance'. The policy was launched in October at Mumbai.The scheme envisages offering the Indian Diaspora community a cover for normal hospital expenses and unforeseen events such as repatriation and accidents, among others. It will also include legal/litigation cover, hospitalization cover, personal accident cover, medical floater cover for family and maternity benefit."This amalgamation will help us achieve our growth objectives and also provide our existing clientele with better investment alternatives. This step will enable us to make the most of the strategic opportunities offered by a dynamic and evolving market," Federal Bank Managing Director and Chief Executive Shyam Srinivasan said in a statement.
---
PHILANTHROPY


UAE NRI Donates $25 Million

UAE based Indian-origin global entrepreneur Rajen Kilachand has donated $25 million to Boston University (BU), the largest single donation in the college's 172-year history. University president Robert A Brown said in a statement that the money will support BU's recently established Honours College, which will be renamed in honour of Kilachand's parents—Arvind and Chandan Nandlal Kilachand.Explaining his admiration for humanities, Kilachand said, "In this age of professional specialization, academic interest in the humanities is waning. People don't want to go into liberal arts, but I think for people to be future leaders you need a focused approach to humanities and the fine arts, so that you have a well-rounded personality. Now, I'm ready to do my little bit".Kilachand is chairman and president of the Dodsal Group, a multinational conglomerate that holds interests in engineering, mining, trading, and fast-food businesses. The company runs 59 Pizza Hut and KFC eateries in India, according to the company's Web site.Caption: Rajen Kilachand
---
DIWALI CELEBRATION


Barack Obama celebrates Diwali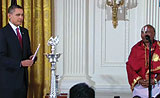 Highlighting the universal message of Diwali of "victory of light over darkness, hope over despair", US President Barack Obama lit a traditional diya to celebrate Diwali. The event was a reception held at the White House complex, Washington, which included Indian-American guests."Diwali is a special holiday for millions across the country", said Obama, who became the first US president to join Diwali celebrations at the White House in the year 2009."Michelle and I greatly enjoyed the occasion and the celebration in India last year," he said, recalling the Diwali festivities in Mumbai the first couple had joined, during the president's first visit to India in November 2010. "Diwali is the time to celebrate victory of light over darkness, hope over despair. Hindus, Sikhs, Jains and Buddhists consider the day sacred. The message of this day is truly universal," Obama said at the closed press event recently. Obama acknowledged the contributions of the Indian-American community in every field in the country, from New York taxi drivers to the teenager who won the Google science fair this year.