BOOKED, BAILED AND BRUISED
Rajat Gupta, a talismanic figure in the corporate world in the USA, was arrested by FBI agents in October on charges of insider trading, a breach of corporate ethics that is shunned in America. He is out on a bail of USD 10 million, while his friend, a former hedge fund manager has been sentenced to 11 years in prison. Will Gupta be able to restore his image, and come clean?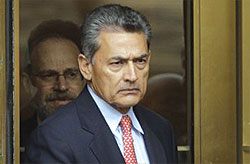 Rajat Gupta, former CEO and MD McKinsey and Company
For long, Rajat Gupta symbolized the typical Indian American success story in the USA. Here's a man who educated in India's elite institutions—Modern School in the heart of New Delhi and at IIT, Delhi known for its huge brain drain in the last three decades of the 20th century—before winning a scholarship to secure an MBA from the Harvard Business School. What they taught him at the HBS obviously helped and Gupta scaled heights that no Indian before him had. He broke through the glass ceilings and was elected CEO and MD of McKinsey and Company in 1994, a global consultancy giant he had joined 21 years earlier, and one that he continued to head until 2007.

Those were heady days, and Gupta was one of Corporate America's favourite children. Boardroom doors opened up for him, and selectively he chose the firms he'd advise. Inevitably, there was an element of success in whatever he did, and it helped his personal fortunes to soar beyond the USD 100 million mark.

And then, almost unbelievably, things went wrong. Gupta, 62, was arrested by the FBI in October on charges of insider trading. The charge made him the most prominent executive to be accused in a U.S. crackdown on illegal leaks of corporate secrets. Charges leveled against him by first by the Securities Exchange Commission and then by the FBI said that while on the board of Goldman Sachs and Procter and Gamble, Gupta had shared confidential corporate information with former hedge fund manager Raj Rajaratnam. Galleon Group founder Rajaratnam was sentenced to 11 years in prison in October for insider trading.

Gupta won a seat on the board of directors of powerful Wall Street bank Goldman in 2006. He was also a director at P&G and American Airlines Corp. Gupta was charged with one count of conspiracy and five counts of securities fraud. He was also charged in a civil insider trading case brought by the U.S. Securities and Exchange Commission.

"Rajat Gupta was entrusted by some of the premier institutions of American business to sit inside their boardrooms, among their executives and directors, and receive their confidential information so that he could give advice and counsel for the benefit of their shareholders," Manhattan U.S Attorney Preet Bharara said in a statement. "As alleged, he broke that trust and instead became the illegal eyes and ears in the boardroom for his friend and business associate, Raj Rajaratnam, who reaped enormous profits from Mr. Gupta's breach of duty," Bharara said.

A spokesman for Gupta's lawyer, Gary Naftalis, declined immediate comment on his client's arrest. "Any allegation that Rajat Gupta engaged in any unlawful conduct is totally baseless," Naftalis said. "The facts demonstrate that Mr. Gupta is an innocent man and that he has always acted with honesty and integrity. He did not trade in any securities, did not tip Mr. Rajaratnam so he could trade, and did not share in any profits as part of any quid pro quo", he said.

An FBI spokesman said Gupta surrendered to agents at his home in Westport, Connecticut, and that he was driven to the New York FBI office, where he was placed under formal arrest.

Rajaratnam, who was born in Sri Lanka and became a billionaire through his hedge fund business, was convicted on May 14th for insider-trading related charges, and his 11-year sentence is the longest recorded for insider trading. At the trial, prosecutors said that in 2008 Gupta, who was born in India, leaked information about Goldman Sachs that he learned from the powerful Wall Street bank's board meetings.

The Rajaratnam trial punctured McKinsey's reputation for closely guarding client confidentiality. Former McKinsey executive Anil Kumar, also a one-time friend of the hedge fund manager, pleaded guilty to criminal charges and testified against Rajaratnam. Prosecutors played secretly recorded telephone conversations to the jury in which Rajaratnam told Galleon employees about information he had received from Gupta about Goldman Sachs.

In one recording dated Oct. 24, 2008, Rajaratnam was on a call with David Lau, chief of Galleon's Singapore branch, discussing a tip he got from a board member that Goldman was on its way to a surprise fourth-quarter loss, it's first as a public company. The call came one day after the investment bank held a board meeting discussing the loss, prosecutors said. "I just heard from somebody who's on the board of Goldman Sachs, they are gonna lose $2 per share," Rajaratnam was heard saying. "So what he (the board member) was telling me was that, uh, Goldman, the quarter's pretty bad", he had said in the conversation.

MANY SUPPORTERS

He still has many supporters. "I am a great believer in judging people net, net," Prof Reuben Abraham, Executive Director, Centre for Emerging Markets Solutions, Indian School of Business in Hyderabad has told the Media. "I have no idea what transpired in this particular case, but I have a real problem with people trashing everything else Rajat has done because of it. You cannot wipe that off because of one episode."

He used his connection with former President Bill Clinton to raise millions for aid in India through the American India Foundation (AIF). AIF was founded after the devastating 2001 earthquake in Gujarat. According to one report it was because of Gupta's influence that Clinton spoke two years ago at an IITians' convention in Chicago. And in a rare act, Clinton did not charge any speaking fees.

Carrying out insider trading are stunning charges against Gupta, but it must not be forgotten that under US law, an accused is innocent until proven guilty. Despite Rajaratnam's conviction and a sentence of 11 years, the prosecutors still have to prove the charges they have filed against Gupta.

Throughout his career Rajat Gupta remained a talismanic figure in America's corporate world. Indeed he was someone who was among the first to acquire a celebrity-like status in the world of management. He lifted the bottom-line of many companies with his incisive and insightful advises, and his great gift of being able to look ahead of his times. Somewhere, all that cannot be forgotten in the Media blitzkrieg to portray him as a villain. For all the good he did for over three decades, he remains innocent, until proven anything less. Legends should not be allowed to fall easily.