Interview: Mr Vinod Ajmera, Executive Director, Rajasthan Foundation
"Rajasthan awaits diaspora"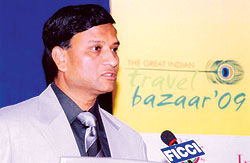 Mr Vinod Ajmera
The Rajasthan Foundation will partner the Government of India in hosting the forthcoming PBD in Jaipur. Please outline the facilities for NRIs that you plan to offer at this prestigious meet?

Rajasthan is a state that is known for its hospitality, and Jaipur, the host city is fully geared up to welcome and facilitate the stay and participation of our delegates at PBD 2012. A Golf tournament is being arranged for the delegates at Rambagh Golf Club (RGC) which is an 18 hole 'Brown' course with an egalitarian constitution, one of the favourite grounds for lovers of this novel sport.

RGC invites all the golfer delegates at PBD-2012 to grace the club by playing golf on its courses. One tournament will be conducted on stable ford basis. Young golfers can play 18 holes. Veterans can play 9 holes tournament at ease. Kuoni Destination Management will be assisting the delegates with travelling, hotel bookings, and sightseeing. Apart from this, Special Package Tours by Rajasthan Tourism Development Corporation are planned for the guests which includes Wildlife Experience, Pilgrimage Experience, Aravalli hills & Temple Experience, Desert Experience and Marwar Experience.

What is the size of the Rajasthani diaspora, according to you, and in which countries do have maximum presence?

Rajasthani Diaspora is scattered all around the world and the size is increasing with time and also their achievements, but ya the major presence of Rajasthanis is comparatively more in Dubai, USA, UK and many Asian countries. We try to keep in touch with them through various means i.e. mails, letters and also by sending them e-newsletters to keep them updated about what's happening in Rajasthan. Currently we are having 2 chapters overseas one in New York and another in London.

Is your Foundation in a position to sign MoUs related to investment opportunities in Rajasthan with visiting NRIs? If so, have you signed such MoUs in the past?

In past years, Rajasthan Foundation has facilitated many social sector investment projects. Foudation played a significant role in inviting steel magnate L. N. Mittal to Rajasthan which resulted in formation of Laxmi Nivas Mittal Institute of Technology. Rajasthan Foundation also takes active participation in Non Resident Rajasthani events organized by associations like RANA – Rajasthan North American Association. Our own chapter conferences help a lot in building bonds with our Non Resident Rajasthanis brothers within India & abroad and the response of pravasi Rajasthani community is always overwhelming.

Is your Foundation able to fast track projects for NRIs so that they feel that it is worthwhile spending their money in Rajasthan?

The prime objective of Rajasthan Foundation is to build a bond between Non Resident Rajasthanis and the land of their origin and to communicate about the current social schemes running in the state wherein they can participate and contribute into the socio-economic development of the state. Foundation basically provides a platform to NRRs through which they can stay connected to the state. We are here to showcase emerging Rajasthan which is today standing tall in the Indian economic scenario.

You have various schemes for adopting schools, monuments and midday meals. Please elaborate how NRIs can play a role in these?

Such schemes are formulated as they enhance the Socio-economic development of Rajasthan, which is also one of our main objectives. Through such schemes Non Resident Rajasthani also find various ways to contribute and connect to their motherland. These schemes act as a good medium for them to serve their state of origin, On the basis of PPP (Public Private Partnership) model NRIs can enter into partnership with government and they jointly work towards development of the state by adopting a school or an industrial Training Institute and share its responsibly and expenditures for a noble cause.

What is the criterion for forming a Rajasthan Foundation Chapter overseas?

The basic idea behind the formation of Rajasthan Foundation chapters is to first find a sizeable number of Rajasthanis in a country and then to frame an Executive Committee with the president on the top, who plays the role of bringing NRRs together by organizing events, seminars etc. so that Rajasthanis living there do not feel as if they are far off from their motherland.They are the prime cities from tourism point of view in the state. For more details you can log on to www.pbdindia.org.