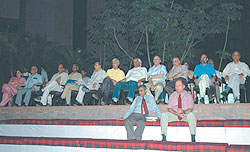 RAZING CAPITAL
Demolitions and debates. That is Delhi these days. People's Forum, a joint initiative of Rajiv Gandhi Institute for Contemporary Studies and Friedrich Naumann Stiftung attempts to bridge the gap at a citizens' meet
The demolitions of Delhi have been widely criticised in many circles, mostly by those who have suffered at the hands of Municipal Corporation of Delhi officials. At the same time, there is an equally strong and vehement section that has heaved a sigh of relief, saying that at last there is some law and order in the city which is bursting out of proportions.

Who is right? Who is wrong? What does the law say? And what is the general perception of the people of Delhi? People's Forum, on a Friday evening at the India Habitat Center, took a call from various citizens.

Nikhil Mehra, a partner of Nikhil and Shantanu, the famous Fashion Designer Group, whose MG-1 showroom was smashed to smithereens by bulldozers of MCD, drew attention to the fact that these demolitions have caused greater unemployment and had a far reaching effect on peoples' lives. But the spirit to fight and carry on showed—even though his showroom ceases to exist, Nikhil feels Delhi will soon have its own Fashion Street, one at par with the world's best.

Romesh Chopra, president of the Vasant Vihar resident's welfare association, isn't too perturbed by the demolitions unleased by the municipality, albeit on the directions of the courts. Delhi, he said, is a city marked by a complete absence of governance. He raised a pertinent question: Is the intervention of the judiciary and the Government's inability to administer leading to Rule of Law or Rule by Law.? Politicians suffering from short-sighted vision had given a new twist to this issue, claiming that the citizens and traders were in conflict and the municipality was acting in vested interests.

However, Sudhir Vohra, an urban planner and a member of the committee that reviewed the MCD bye-laws, said vague terms like mixed land use need to be defined more specifically so the existing loose ends could be tightened.

Vohra added that even though eight in 10 citizens in Delhi are law-abiding, the current situation had evoked mixed feelings. Even the law-abiding were feeling that it was better to live with imperfection rather than increase the chances of crime.

An important aspect that came out of the discussion was that the local politicians would have to be more active and ensure better compliance of existing bye-laws.

Ignorance of law cannot be taken as an excuse any longer, for it had long-term fallouts. Also, the chief planning body, the DDA needed to come up with plans that would cope with the ever swelling population of Delhi, and pressures on its systems.
May 2006