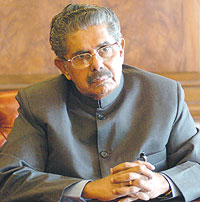 GRIT AND RESOLVE: Vayalar Ravi has slowly, yet surely, improved relations with the Indian Diaspora by working on its problems and needs
BEYOND THE SEAS
Vayalar Ravi is sailing well. And is making an impression on his ports of call
By Sayantan Chakravarty
Thereís a certain backwater calmness to Vayalar Raviís visage. Itís in the way he speaks, softly, and slowly. Itís in the way he handles a sea of visitors, making them feel at ease, yet economizing every minute on the time he spends with them. His style has mattered. In his own gentle yet firm way, in a span of less than ten months, this 69-year-old from Kerala has turned the Ministry of Overseas Indian Affairs into an entity with vision, an office with a high profile. And not just because he sits on the 10th floor of Akbar Bhavan, the scenic and green Lutyenís Delhi under his eyes.

Things are ticking. Back in 2004, the Ministry started off without a proper office, even the then minister Jagdish Tytler was scouting for one. Tytler was moved out and Oscar Fernandes was drafted in, but his stint was brief. When Ravi moved in on January 29, the Prime Minister upgraded the ministerís post to a cabinet rank. It served two purposes, Ravi was honoured for his seniority in the Congress party, at the same time the move was aimed to project the Governmentís resolve in according far higher importance to the overseas Indian segment. Now into its third year, the Ministry works with greater clarity. The turf war with the Ministry of External Affairs may not be quite over, but things are far better. The focus is clearly on improved interactions with the NRIs and PIOs, and maximizing the gains from such interactions.
His journeys take him to different parts of the world, where he meets up with thousands of Indians who have varied opinions on India
The world is Raviís oyster, and he knows that thereís plenty that can be done across the seas, and miles to travel. And travel he does. His journeys take him to different parts of the world, where he meets up with thousands of Indians who have varied opinions on India. At times Ravi has to cut through the flak, and make them see reason in Emerging India. Heís done it well, with the calmness of the backwaters that he brings. It helps that heís assisted by a superb team of officers led by MOIA secretary Nirmal Singh and joint secretaries Malay Mishra and Gurucharan Singh.

Heís figured, and wisely enough, that the promises he makes outside India need to be kept at home. So assurances for improved connectivity with the five million workers in the Gulf were quickly backed up by meetings with the Cochin Port Trust authorities. Steps were initiated for the launch of a four-day cruise service between Dubai and Kochi. He personally spoke to officials to ensure that immigration formalities were eased.

Heís been seen at the right places. In United States in July, he made sure that he met the right people whose opinion on India mattered. At Atlanta, in July, he was dining with AAPI, the powerful association of Indian origin physicians in the United States. The AAPI works closely with the MOIA, and has a constituency of 42,000 physicians.

Modernity and Gandhigiri walked hand-in-hand. Like in his combined meeting with the National Federation of Indian-American Associations (NFIA) and the Gandhi Foundation of United States. He addressed large gatherings of Indians in Los Angeles and Orlando. He struck a chord when he mentioned that fraudulent and broken NRI weddings where either spouse ended up severely harassing the other was being looked into seriously by his Ministry, and other national bodies.

Europe (Austria, Germany and Switzerland in September, England and France in October), and Oceania (Australia, Fiji, New Zealand) in October were journeys that were quite path-breaking. Ravi sensed that the NRI-PIO community needed a beacon light to guide them. He pretty much acted as one. At Vienna, he passionately urged the 20,000 strong Indian community to actively participate in Indiaís mammoth developmental programmes. He promised a University for PIO students, and announced that NRI students studying in India would be treated equally when it came to course fees. He followed his promises up with meetings in India.

Down Under things warmed up as well. His Ministry, said Ravi, would look into several cases of fraud by unscrupulous recruitment agents. Many an Indian agent working in Australia that had ended up as a recruitment officer for fraudulent institutions had harassed Indian students in Australia. Some severely harassed ones had even killed themselves.

But resolve does not die. Vayalar Ravi knows that the India of the future has much to offer the Indians across the seas. The backwater calmness is at work.
November 2006