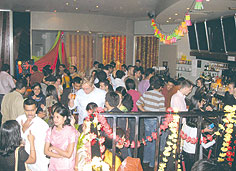 CRY DIWALI CELEBRATION –2006
London's Metropolis Bar and Grill exploded with celebrations when the Indian
community and guests landed up to serve up some fancy Diwali fare
The volunteer group of CRY London organised a Diwali celebration at London's Metropolis Bar and Grill on October 7. The pub was decorated with traditional rangoli and diyas, lights, flowers and festive decor. All the guests were welcomed with a traditional tika. There were around 220 guests dressed in traditional Indian clothes.

There were also a lot of non-Indian guests as well, all dressed in traditional Indian clothes and dancing Bollywood style. Everyone was drawn to the dance floor by some excellent Hindi movie music played by the DJ. Having built up an appetite, there was sumptuous Indian food waiting to tickle the taste buds.

The fireworks display was a perfect way to end the Diwali celebrations. The guests departed with a parting gift and best wishes for Diwali from the CRY team. Said one of the guests: "Thanks for the Diwali party. We are having a great time." Another said: "It's wonderful to listen to Indian music again and get dancing to it. The food is great and so are the decorations and fireworks. We are looking forward to more events from CRY."

Gushed one guest: "This is a great way to welcome Diwali with my friends. This is better than any other party I have attended so far."

A sum of £5,100 was raised from the event and would be disbursed to Project Jago, to support the tribal and minority community in Jharkhand. As the event was sponsored it ensured that all the funds raised from the participants would be used to support the children in Jharkhand.

CRY—Child Rights and You—is an Indian charity for children. Rippan Kapur dreamt of changing restrictive socio-economic and traditional conditions that kept children and their parents from progress. Twenty-seven years ago with all of Rs 50, sitting at his mother's dining table he started CRY. Today, restoring close to 100,000 childhoods in India every year, CRY has successfully partnered with individuals, NGOs, communities, government and media to ensure justice to children.

Rippan's story is the triumph of committed actions, small donations, sure steps. His motto 'What I can do. I must' inspires CRY and others to continue seeking permanent solutions, to bring about lasting change for children. Be part of the change, visit www.uk.cry.org .
November 2006