Mauritius Freeport Development (MFD) stands out as the largest freeport developer in the Indian Ocean region. It has strongly positioned itself as a world-class shipping and logistics hub of the region, offering the full spectrum of services and solutions. Since its launch in 1998, MFD has invested in excess of $50 million to provide its customers with a state-of-the-art logistics platform in line with stringent international quality standards (HACCP and ISO 9001:2000). MFD has continuously upgraded its infrastructure and facilities over the years to match the growing sophistication of freeport operators, both local and international.

The dedication of MFD employees and its lean structure ensure a responsive organisation sustaining the highest level of customer service. An integrated array of facilities and services is available on its vast premises which cover a surface of 25 acres strategically located in the port area, alongside the main container terminal and within a few meters of all the commercial quays.

Over 66,000 square metres of warehouses, office spaces and industrial zones (for bulk-breaking, assortment or value-addition processing) are available at MFD. The industrial zone consists of modules, each of 300 square metres, with water and electricity supplies as well as telecom links. MFD concrete buildings are fire resistant and have been conceived in full respect of international norms of quality, security and hygiene.

The built-up area occupied by MFD will eventually rise to 98,000 square metres by 2009. MFD can provide tailor-made solutions to each customer, e.g. companies sourcing branded and generic pharmaceutical products from Europe and Asia, rent industrial units at MFD for warehousing and bulk-breaking activities under controlled temperature before distributing them to the Indian Ocean islands and Africa.

The scope of activities currently undertaken at MFD has substantially grown over the years to represent a complete logistics package: warehousing and storage of goods, transport, customs clearance, bulk breaking, sorting, grading, cleaning and mixing, labeling, packing and repacking, storage, repairs and maintenance of empty containers, quality control and inspection services, freight forwarding services as well as a full supply chain management both for air and sea freight activities. MFD, together with its partners in the freight forwarding and shipping sector, also offers a total logistics service to its customers, thus providing them with the right mix of integrated services on a single platform. During the last few years, MFD has actively contributed to drive Mauritius into becoming a full-fledged seafood hub.

MFD is equipped with a private quay (120 metres long and 9 metres deep) enabling vessels to unload their fish. This quay is equipped with handling, weighing and reefer container plug-in facilities. MFD can pride itself as operating the largest cold stores in this part of the world with a surface area of 12,000 square metres. The whole set-up is in full compliance with HACCP and European Union norms relative to cold supply chain.

MFD also provides a one-stop shop solution to the fishing and processing industry: from the unloading of fish at its private quay, cold storage, processing zones, cold chain management to the large-scale transportation of chilled fish to the airport. This centralisation of flows for dry, chilled and cold products, positively impacts on transportation and freight costs.

MFD has also become the preferred shipping and logistics hub of several of the leading international trading and freight forwarding companies. They operate under 100% foreign ownership at MFD premises in the Mauritius Freeport, reaping the benefits of the package of incentives, which include exemption from corporate tax on trading activities, duty-free entry of goods and equipment in the freeport, free repatriation of profits.

A growing number of companies have seized these unique business opportunities, among which the world's leading shipping lines such as Maersk and CMA/CGM use MFD as their hub for trans-shipping their containers to African countries as well as to Indian Ocean islands.

The quality level of service that MFD provides is key to customer satisfaction. The customer can be physically absent from Mauritius but will be in a position, through the internet, to control effectively in real time the movement of his goods, give instructions to MFD to manage its stock or process orders. Recent years have witnessed a substantial growth in the Freeport of Mauritius in parallel with the bubbling activities at MFD. Its well-trained and dedicated employees master every single detail and complexity and customers have come to rely on its world-class standard of service unique in the region.
---
Q&A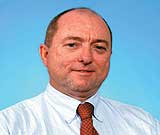 WITH DOMINIQUE DE FROBERVILLE
CEO, MFD
Please tell us about the mission of the Mauritius Freeport Development Co Ltd?
MFD is a private logistics service provider operating in the freeport of Mauritius and offering a wide range of supply chain and value-added logistics services. It is MFD's mission to position itself as the world-class logistics and shipping hub of the region, providing high quality and customer oriented services to its regional and international clients.

How long has MFD been in operation and what are its expansion plans?
MFD started its operations in 1998 and has presently more than 66,000 sq m of infrastructural facilities in the freeport, namely warehouses, cold room facilities, industrial zones and ready-to-use offices. MFD has already invested over $50 million in state-of-the-art infrastructures and should by end-2009 have a total of 96,000 sq m warehousing facilities. Apart from its freeport development in the port area, MFD also has the intention to develop a value added logistics centre at the airport to cater for airport-based logistics activities.

Mauritius has emerged as a natural business hub in the Indian Ocean. Please tell us how MFD is contributing towards building Mauritius as a regional distribution centre.
First of all, it must be mentioned that MFD is the largest freeport developer in the Mauritius Freeport Zone. The site is situated in a strategic and prime location in the port area, adjacent to the Mauritius Container Terminal. As such, MFD is playing a major role in enhancing our national port as a value-added port and which differentiates itself in the region. Already, major international companies like Maersk, Expeditors, Expolanka and Decathlon are using our platform as their regional distribution centre.

What is the larger role you have envisaged for MFD in the African region in the context of the SADC, COMESA, IOC and IOR-ARC?
MFD being a regional logistics platform, we would like to be an important economic tool towards the expansion of regional trade. Through our modern logistics infrastructural facilities, coupled with our expertise in logistics services, we would like to play a major role in providing all the necessary logistics support to facilitate regional and international companies to create value and trade in the region. Through MFD, we would like Mauritius to become the gateway of Africa where international companies can set up their regional distribution centre.

Please throw some light on your warehousing facilities.
Our warehousing facilities include 36,000 sq m of dry storage and 12,000 sq m of cold rooms for storage and processing. These cold rooms are individually controlled with temperature ranging from +14 to -28ºC and which meet international standards such as EU, ISO and HACCP. The dry warehouses can handle both palletised goods stored on racks as well as heavy goods or bulk products.

We understand that MFD has a truly world class business centre. Please tell us more about it.
The business centre covers an area of 4,000 sq m, with ready-to-use offices, meeting and conference rooms. All offices, based on the "plug and work" concept are equipped with telecommunication facilities as well as high speed internet connection. In addition our company is an Internet Service Provider and offers a wide range of IT services in the software and hardware sectors.

What is the range of freeport activities that you offer.
MFD offers warehousing and storage of goods, bulk breaking, sorting, grading, cleaning and mixing, labeling, packing & repacking, customs clearance, minor processing, quality control storage and maintenance of empty containers. We also offer dedicated services for the textile, pharma and seafood industry.

What kind of incentives do you offer for companies looking for a cost-effective storage, assembly and redistribution platform?
The freeport provided for a liberal and comprehensive package of measures such as attractive fiscal incentives, preferential market access, exemption from customs duties on all goods imported into the freeport area, free repatriation of profits, reduced port handling charges for all goods destined for re-export, 100% foreign ownership and access to offshore banking facilities. In addition, the One Stop Shop concept at MFD will allow operators to have access to all the services required for their activities in one location at very competitive rates and will beneficiate from reduced shifting costs of their products to and from the container terminal.