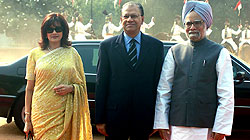 In the history of mankind, there will be men who will stand up and be counted. They will say the words which other men will hesitate to utter, but those words will hit home, and pierce the tough hide of man's soul. They will live to make a difference to humanity, not necessarily to themselves. But in the process they shall inevitably embrace stardom.

Navinchandra Ramgoolam, Prime Minister of Mauritius, speechmaker with more than a spark of brilliance who sometime in June 2007 at the Wilberforce lecture at the Guildhall at Hull spoke with extraordinary intensity and knowledge about the abominable practice of slavery from which his country took generations to recover, grandson of indentured Bihari immigrant (Moheeth Ramgoolam) numbered 353639 who worked the cane fields in Mauritius, is such a man. Wherever he goes, wherever he speaks, he'll be counted, and his words will hit home. And may be, therefore, as his high commissioner in New Delhi, Mookhesswur Choonee explains, "he is understood by all, and he's made his mark everywhere."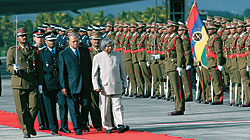 And may be, therefore, it is not a surprise, that ahead of an estimated 25 million overseas Indians all over the world, ahead of such living achievers like Bharrat Jagdeo, Basdeo Pandey, Amartya Sen, Shashi Tharoor, L.N. Mittal, Indra Nooyi, he's the one chosen by the Indian Government as the representative of the overseas Indian community at PBD 2008.
Ramgoolam, whose father rose from a very humble beginning in his adopted land to become the first Prime Minister of independent Mauritius (the redoubtable Sir Sewoosagur Ramgoolam), has not just the great gift of the gab, he can move people with his words. His story, though, is a little different from that of his father which was mostly about ensuring the rise of the underclass for long under the clutches of colonialism, and at the receiving end of great human pain and humiliation inflicted by man against man. While Sewoosagur inherited a difficult legacy and battled tremendous odds to take people out of their colonial mindsets, Navinchandra had to ensure that the underclass that he addressed could rise, and never look back to its past. Although he was never a part of that underclass (he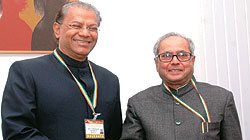 secured an education from the Royal College of Surgeons in Dublin, and worked as a cardiologist in the United Kingdom and grew up as a Prime Minister's son), Navinchandra Ramgoolam never lost sight of the traumatic, inhuman history of Mauritius' past. That is what perhaps gives him that edge, of being able to move people with his words, and that is what makes him stand apart. And he still has a considerable distance to walk before he can claim to have truly made a difference. .
At the world's biggest gathering of PIOs and NRIs—the Pravasi Bharatiya Divas—one could easily say that there could be few better men to lead their cause
At the UN General Assembly in 2005, pitched before Presidents and Prime Ministers of the world, he gave a glimpse of his connect with those who are not as privileged, reminding his august audience in the words of his illustrious father thus, "Men of goodwill are constantly trying to find a formula by which the underprivileged can banish inequality and fear and aspire to a better place in the sun."
While not forgetting to create opportunities for the vast majority of Mauritian people to better their living standards, he's also committed to such strong organizations like the Clinton Global Initiative to work for the underprivileged.
He's also committed to take up the cause of the at times dignity-trampled, racism-inflicted overseas Indian, wherever in the world he may be, as a chief patron of the Global Organization of People of Indian Origin (GOPIO) International. At the world's biggest gathering of PIOs and NRIs—the Pravasi Bharatiya Divas—one could easily say that there could be few better men to lead their cause. .