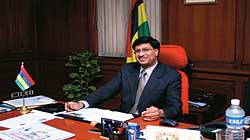 Proud Moment
H.E. Mookhesswur Choonee, High Commissioner of Mauritius in India, has always gone beyond the call of duty to expand on the historical ties between India and Mauritius. As a result, today there is more investment flowing in both ways, more visitors, and more high-level delegations criss-crossing between the two nations. The High Commissioner took time out from his busy schedule to speak to INDIA EMPIRE:
No doubt it is a proud moment for your country that your Prime Minister has been chosen from all over the world to represent the Indian diaspora as chief guest at the PBD…
Definitely, it is a very proud moment. I need to thank the Indian Government, Prime Minister Dr Manmohan Singh and Minister Vayalar Ravi who heads the relatively new Ministry of Overseas Indian Affairs for having taken this decision. As you know, we have a special umbilical relation with India, that of a mother and a son. Such special relations are only enhanced through such high-level exchanges during such prestigious events like the Pravasi Bharatiya Divas.
Also, our Prime Minister deserves the honour he has received through his achievements, both at international and national levels. He has proven to this world that he's a great leader. He has proven his mettle as an international leader who not only means business, but who wants his countrymen to be achievers. Through his various actions at the international level, his stature in the global arena has only gone up. He's understood by one and all, and his charisma and personality transcends the Mauritian shores.

We understand that you have done yeomen service to link the Indian diaspora in Mauritius to Bihar. Please elaborate on this…
Well, I do not want to take credit. The Prime Minister is the architect of developing and forging very significant ties with the land of Bihar from where many of the forefathers of those in Mauritius left India. In July 2007, the Chief Minister of Bihar visited Mauritius for a week as a guest of the Prime Minister, and we are proud to say that he was impressed by what PIOs have achieved in Mauritius. There will be more such significant visits from both ends in the future, from many other parts of the country.

Your Government has plans to facilitate a PIO Research Centre in India not just for the diaspora in Mauritius, but across the world. Please tell us more on this…
Yes, it is a global project and our Government will facilitate the PIO research centre. It will be useful for PIOs from all across the world. We understand that many of the PIOs who went to the Caribbean travelled via Mauritius. Some of them worked in Mauritius before leaving for the Caribbean.

Indo-Mauritius common Heritage and Diplomatic Ties
Considerable links between the Indian Subcontinent and Mauritius started as early as the 16th century. Under the three colonisations namely Dutch, French and British up to the 19 th century the island of Mauritius continued to receive Indian workers. They were introduced as Indian slaves, convicts, skilled workers, sailors, artisans, traders from Madras and from the provinces of Pondicherry and Karikal under the French occupation. Prior to the British taking over in 1810, about 7000 in number came to erect bridges, barracks, buildings, roads and were also employed as domestic servants.

Since the proclamation of the abolition of slavery in 1833 an indentured work force for sugarcane plantation was introduced which later became the majority population group. They were from different strata of rural population of the Bengal, Madras and Bombay Presidency. The majority of the recruits were from Bihar and Uttar Pradesh regions of Gaya, Ghazipur, Arrah, Gorakpur, Sahabad, Azamgarh, Patna, Ranchi, Muzzaffarpur and Hazaribagh. Those from South India were from Chingleput, Tanjore, Trichinopoly, Tinnevelly, Salem, Coimbatore, Arcot, Vizagapatnam, Masulipatam, Guntoor, Nellore and Cuddapah.Immigrants from Bombay originated from Ratnagari, Savantvadi, Satara, Malvanand, and Thane.

Nearly half a million indentured immigrants tread the Mauritian soil up to 1912. Bihar,Uttar Pradesh, Tamil Nadu, Andhra Pradesh, Maharastra, Gujrat, Sindh, and even Bengal and Punjab all find a presence here. Over generations, their descendents, generally poverty stricken, pursued the arduous task they had begun and through hard work, commitment, patience and perseverance and sacrifice, they laid the foundation for a modern and prosperous Mauritius.

When they landed at the Immigration Depot known as 'Coolie Ghat' and renamed now Aapravasi Ghat, on their arrival in Mauritius little did they know that:
• They were the founders of a unique relationship between the country of origin and their country of settlement
• They were to produce offsprings who would someday govern the Mauritian Republic
• The place where they were landing would one day be declared a World Heritage Site by UNESCO.
The impact Indian leaders had on the psyche of the people was so deep that as early as 1948, Dr. Seewoosagur Ramgoolam's attempt to press for a constitutional reform was accepted. This move changed the political evolution of Mauritius. The 12 th of March, the starting date of Gandhi Ji's 'Dandi Salt March' date on which we celebrate our National Day is again a testimony of the eternal bond of relationship with India.

India had its official presence in Mauritius through a Commission as early as 1950.This gesture of friendship and support aimed at assisting the people of Mauritius in their upliftment. A formal High Commission was established after our independence in 1968.India's active participation towards upliftment of our human resources or towards economic development and diversification led to the preparation of the first four year plan 1971 -1975 which identified priority sectors including the Export Processing Zones and Tourism. India not only provided the so needed technical expertise but also heavy machinery which was used for infrastructural development. These sowed the seed for Agreement on Economic, Technical and Scientific and Cultural Cooperation which led to the creation of the first India-Mauritius Joint Commission in 1978.
Indian assistance over the years is symbolised by the Ebene Cyber Tower ICT development centre, the Swami Vivekanand International Convention Centre, the Indira Gandhi Centre for Indian Culture, the Rajiv Gandhi Science Centre, the Upadyhaya Training Centre, the Rabindranath Tagore Institute, the Mahatma Gandhi Institute, the Subramania Bharati Eye Centre and the Jawaharlal Nehru Hospital, Baie du Tombeau Sewerage project and Feasibility Study for the South Eastern Highway Project. These are projects financed through grants, soft loans and lines of credits and often there is co-sharing of costs for their realisation. There are some 30 Agreements and MOU's signed between Ministries, Institutions of both countries.

New boost has been given to Indo-Mauritian relations and cooperation through the 10th session of the Joint Commission on Economic, Technical and Cultural Cooperation meeting held in Port-Louis on the 18 th of December 2007.Since our relations have gone from strength to strength, Hon Pranab Mukherjee, Minister of External Affairs,Government of India and Hon Rama Sithanen, Deputy Prime Minister and Minister of Finance, Government of Mauritius, agreed to work together and deepen this relationship, including supporting each other in Multilateral and Regional fora. Mauritius has played a crucial role in forging India's relations to Africa through the African Union ( A.U), the Common Market for Eastern and Southern Africa, (COMESA), and the Southern African Development Community (SADC).

Areas discussed in this agreement range from defence cooperation combating terrorism, financial intelligence units, exploitation of the land based oceanic industry and EEZ, developing Mauritius as a Knowledge hub, Regional Multidisciplinary Centre of Excellence (RMCE), Development of the Institute of Diplomacy and Foreign Trade, to the deepening of bilateral Economic Cooperation, and implementation of Joint Projects relating to Trade and Investment, Pan African e-network. Moreover, opportunities in the early conclusion of the Comprehensive Economic Cooperation and Partnership Agreement (CECPA), Co-terminal Rights for Air Mauritius and Maritime Training Academy were also discussed.

The Line of Credit (US$ 100 million) projects include:
• Purchase of an Advanced Light Helicopter (ALH). Purchase of an Offshore Patrol Vessel (OPV).
• Coastal Radar Surveillance System
• Purchase of Medical supplies/equipment
• Purchase of Buses to improve public transport
• Water supply to Cybercity, Ebene and Highlands regions (phase 1)
• Plaines Wilhems Sewerage Project (Stage 1)

Further there is a strong presence of Indian public and private enterprises in Mauritius. These include Bank of Baroda, Life Insurance Corporation of India, Indian Oil Corporation, New India Assurance, Telecommunications Consultant India Ltd, Handloom House, Air India and State Bank of India (international). Most investments from Mauritius to India are effected through Mauritius Offshore Companies which are special purpose vehicles best suited to foreign investors wishing to utilise Mauritius as an investment platform benefiting from its network of double taxation treaties. Enterprising Indian investors can easily materialise direct investments in Mauritius and also use the island as a gateway for new African and European markets with substantial preferential markets access.

There is no doubt that this indelible link forged between the two nations for their mutual benefit is guided and supported by the wise leadership of Prime Minister Dr. the Honourable Manmohan Singh of India and Prime Minister Dr. the Honourable Navinchandra Ramgoolam of Mauritius.

—Mookhesswur Choonee

Prior to joining the diplomatic service Mookhesswur Choonee held the following ministerial portfolios:. Minister of Arts, Culture, Leisure & Reform Institutions, Minister of Youth Development, Minister of Housing & Lands, Town & Country Planning, Minister of Local Government & Solid Waste Management. He holds a Para-Medical Degree in Radiography and Radiotherapy from the Post Graduate Institute of Medical Education and Research- Chandigarh and a Post Graduate Course in Education from the Mauritius Institute of Education.

For full text of the write-up please visit www.indiaempire.com.