GOPIO members met several lawmakers at The Capitol Hill and participated at the Senate India Caucus reception hosted by the Caucus Co-chairs Senators Christopher Dodd (D-CT) and John Cornyn (R-TX) to welcome India's new ambassador to Washington Meera Shankar. Earlier, GOPIO met freshman Congressman from Connecticut Jim Hines and Senator Joseph Lieberman of Connecticut. Before the reception, Senator Dodd met GOPIO Chairman Dr. Thomas Abraham and the GOPIO-CT delegation in his chamber at The Capitol Hill where he welcomed Ambassador Shankar and Deputy Chief of the Mission Arun K. Singh to The Capitol Hill for a closed in meeting with the GOPIO delegation
At the Caucus reception, Senator Dodd expressed satisfaction at the high attendance by the Indian American leaders and spoke on the improving US-India bilateral relations. "As an emerging global power, India has faced a crossroads. Long proud of its geopolitical independence, India's growing economic and strategic importance has forced it to think long and hard about what kind of global actor it wants to be," said Senator Dodd.
"Under the leadership of Prime Minister Manmohan Singh, it has chosen to become a partner with other global powers, not an antagonist. That choice reflects courageous leadership. Prime Minister Singh put himself and his political party on the line to forge an agreement with America on what was the single most divisive issue between our two countries: nuclear cooperation.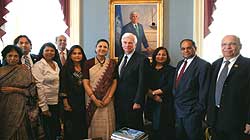 A GOPIO delegation of Indian Americans from Connecticut invited by Senator Christopher Dodd, Co-Chairman of Senate India Caucus to welcome the new Indian Ambassador Meera Shankar at a pre- reception meeting at The Capitol Hill. From L. to R.: Dr. Maya Chadda, Shelly Nichani, Anita Bhat, Shailesh Naik, Louella D'Silva, Indian Ambassador Meera Shankar, Senator Dodd, GOPIO-Connecticut President Sangeeta Ahuja, GOPIO International Chairman Dr. Thomas Abraham and Ravi Ahuja
According to Senator Dodd, that agreement, which Senator Dodd shepherded on behalf of the then Senator, Joe Biden, and which was approved with overwhelming bi-partisan support in the legislature, wasn't just about energy cooperation or trade and investment. It was a recognition that India was prepared to take its place on the world stage, working closely with the United States and other leaders to tackle together the global challenges we face in the 21st century.
"I hope that today's event, and the work we'll do together going forward, will serve as another step towards strengthening and expanding this important relationship," said Senator Dodd.
"One should not underestimate the contributions that all of you, Americans of Indian descent, make towards the growing bond that we are forming with India. In my state and around the country, India's economic and cultural impact is strongly felt and widely valued, Senator Dodd added. Senator Cornyn also made remarks highlighting the increasing cooperation between the two countries. Ambassador Meera Shankar spoke in detail of the emerging new cooperation in trade, defence, technology and education between companies and institutions in the US and India. Over 200 Indian American leaders participated in the India Caucus reception.