It is the winter of 1998. The Congress, pretty much down and out in national politics, is desperately seeking to make a comeback somewhere, somehow, and soon. It is election time at Delhi's assembly. The BJP that had swept the 1993 assembly polls—the first in nearly 40 years in the city—by bagging 49 of 70 seats, is in political disarray. M.L. Khurana, the best bet to lead BJP, is sidelined and sulking. A fortnight before the polls, in a highly controversial move, the party replaces the then chief minister S.S. Verma with Sushma Swaraj, instantly sending confusing signals to the electorate. The Congress, on its part, is looking for a winning face, that of a leader capable of leading from the front, and showing the way. The choice narrows down to Sheila Dikshit, 60 years of age at the time. She doesn't disappoint. The Congress sweeps the polls, winning 52 seats. Archrival BJP manages only 15. Dikshit is the new, acceptable, modern face of Delhi.
Once again winter, this time in 2003: As Delhi goes to the assembly polls, it is pretty much clear that the BJP is down and out. Lacking numbers, it hasn't proved much of an opposition and is heavily dependent on the anti-incumbency factor. The situation is quite ironical given that at the centre it is the BJP-led NDA coalition that is ruling. But the Congress is resurgent. Dikshit stamps her authority once more on the national capital, clearly, cleverly and confidently. Congress bags 46 seats, BJP manages just 18. Politics may be a team sport but it is one woman's charisma that has turned things around for the Congress.
Winter yet again, now in 2008: A hat-trick in cricket is common, but in politics? Even the most seasoned poll analysts are not giving Congress much of a chance at the assembly polls. The BJP is for once backing itself. It senses that this time it has more than a fair chance to make it back in power after a hiatus of 10 years. To ensure that the wait has not gone waste, the party fields old warhorse V.K. Malhotra as its CM candidate. Just days before the polls Mumbai is attacked and the BJP pulls out the terror-card, claiming that the Congress is incapable of protecting its citizens and running the country. But politics of terror does not cut much ice with the electorate. Defying odds and conventional political acumen of pollsters, Dikshit outsmarts her opponents yet again. The Congress inflicts a drubbing on the BJP, the score line reads 42-23. History has been made, a hat-trick of victories at the assembly elections secured. A legend has emerged.
---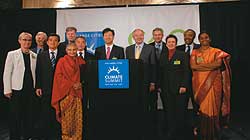 MAKING A DIFFERENCE: Greening of Delhi and reducing its air pollution levels have been given high priority by the Sheila Dikshit Government. Here the chief minister is seen in the presence of other world leaders at the Climate Summit in New York in 2007
---
Acceptability is not a word one will easily associate with Indian politicians. Even decades in politics may not be enough to become acceptable as a leader. The yardstick of acceptability is not very complicated—if the voters like you, they keep you. It really is that simple!
Sometimes a chief minister in a state would barely last one complete term. In some states, even those terms are truncated, not necessarily because of the voters. To find a CM that will last two full terms is quite rare. Rarer still is it to find one that has ensured a third full one.
Acceptability is a word that sits well on Sheila Dikshit, Delhi's chief minister for over a decade who is now nine months into her third straight term "Simplicity," a British politician once famously said, "is the hallmark of a genius." It surely is, for simplicity is not in abundant supply, not certainly in politics that often thrives on complexities. Almost naturally, Dikshit brings in plenty of simplicity into her everyday politics, and, by extension, to her governance. Many summers ago when she was in her first term as chief minister, Dikshit told this writer that she brought in the same housewife values and instincts for fair play to the Delhi Government that she would bring in to her own household. "I like to keep things simple. I know there is a certain budget I get to work with. With that money, I need to run the state wisely, much the same way I need to run a home, and ensure every segment benefits. I use a housewife's instincts when decisions are taken to allocate funds. It works."
---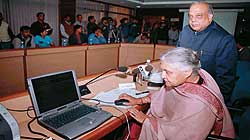 MODERN METHODS: As part of a drive to make administration more result-oriented and swift, the Delhi Government has put a great deal of emphasis on e-governance. The CM shows the way
---
It certainly does. Keeping things simple has helped catapult a quiet, dignified lady from a being a political stalwart to wearing the hat of an acceptable senior stateswoman. Over the years Delhi has managed to receive more and more allocation from the Centre, mainly because it has been able to demonstrate that it uses its funds very wisely. After all, if it hadn't been, then the voters would have turned the Congress party away. The Commonwealth Games in 2010 will in many ways be Dikshit's acid test, but she is confident of giving an all-round facelift to Delhi well on time.
---
NEW LOOK METRO: The face of Delhi has changed ever since the Metro rail system and the roomy, low-floor buses were introduced. The Dikshit Government can surely take credit
---
Already, pleased by her Government's performance, more allocation has come in from the Centre. In fiscal 2009-10, Delhi's allocation is Rs 2,495.68 crore, up by a whopping 207 per cent from the previous year's allocation of Rs 812.80. While infrastructure will be a key area of focus, there will be higher spendings to improve services to the urban poor, a segment that has inevitably received high priority in Dikshit's scheme of things.
Let's take a look at the areas in which Dikshit has excelled over the years:

Bhagidari
The Bhagidari concept was a master stroke. It involved large segments of Delhi's citizens by promoting broad-based civic participation in local governance. Launched in December 1998, the objective was two-fold—to create greater transparency and accountability in administration, and to improve the quality, efficiency and delivery of public services.

Going Green
The pressure of 16 million people and an exponentially growing mass of 4.5 million vehicles should have turned Delhi into a gas chamber, but instead novel schemes and a slew of initiatives have made the capital a model city in terms of pollution control and environmental safety.
---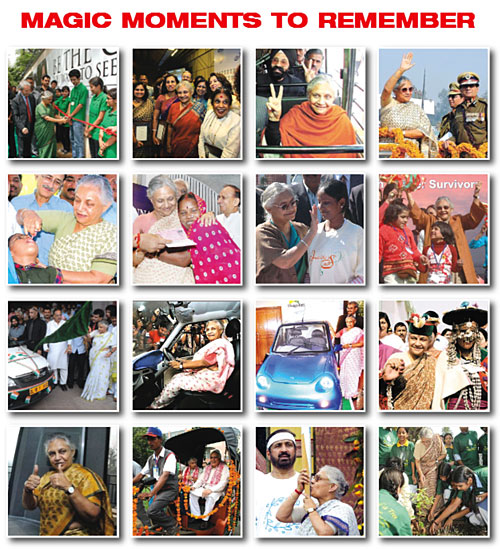 ---
Educating Delhi
The Delhi Government worked hard to improve education standards in state-run schools and colleges to bring them at par with private institutions. In an interview, Dikshit told INDIA EMPIRE, "The Government spends an average of Rs 900 on educating a child attending a state-run school. Even the best of private schools in Delhi do not spend more than Rs 700 per child."

Uplifting Delhi's Poor
Poverty alleviation receives top priority. The core areas of focus include greater involvement of destitutes during decision-making, patronage to the girl child under the Laadli scheme and better accommodation to the underprivileged as part of the Sanjha Prayas scheme.

Improved Transportation Infrastructure
The entire public transport fleet comprising buses, autos and taxis has been put on the CNG mode. Big projects have received priority. The Mass Rapid Transport System received Rs 328.55 crore, the Delhi Integrated Multimodal Transit System Rs 100 crore, the restructuring of the Delhi Transport Corporation will cost Rs 80 crore, the setting up of new ISBTs will cost Rs 27 crore, integrated development of rail and bus transport systems will cost Rs 17.78 crore and control of vehicular air pollution will cost Rs 2.50 crore.

Power Reforms
New projects in the fields of generation, transmission and distribution have been undertaken. By the CWG of 2010, the projected demand in Delhi will be 4500 mw. The availability from upcoming projects will be 4350 mw, which would put Delhi in the enviable position of having surplus power to the tune of 3147 mw.

Water Reforms
By CWG 2010, the water capacity will go up from the present 790 MGD to 945 MGD. A holistic approach has been planned for proper water supply and sewage disposal for the entire city by taking up projects such as Munak Canal, Renuka Dam, Interceptor Sewer, STPs for rural villages and unauthorized colonies, cleaning of river Yamuna, water harvesting, and water bodies maintenance.

Art and Culture Reforms
The CM has constituted a cultural committee consisting of members of INTACH and prominent personalities associated with art and culture for organizing the cultural events for the forthcoming CWG. An array of cultural activities has been planned in different parts of Delhi. Besides, the Sahitya Kala Parishad has chalked out detailed annual festivals that include Bhakti Sangeet, Ananya Dance, Sharad Utsav, Film.

Roads and Flyovers Reforms
The Government of Delhi has been working towards making Delhi a well managed and clean city to show case it as an example to the world. This is also in line with the priority fixed by CM to make the Ring Road and Outer Ring Road, the two main life lines of Delhi, signal free.

Initiatives in Technical Education
Delhi's EDUSAT facility is now touching 50 different institutions. It provides a platform to capture content from a large number of conferences, seminars and workshops that take place in Delhi. In collaboration with NASSCOM, the Netaji Subhash Institute of Technology is setting up a state of the art science and technology park on a PPP basis. The Delhi Government is stepping in by setting up Government-run engineering colleges and diploma level institutions. With a view to increasing the reach of technical education and to bring in the informal sector into the technical education stream, the TECOS has been launched.

Mission Convergence
This is a programme initiative that promises to revolutionize the way the Government reaches out to the needy. Practices from the Brazilian Bolsa Familia model, among others, have been incorporated into the programme. At least 30 lakh of the city's poor stand to benefit.

Overall, in her own quiet but effective style, the chief minister has managed to bring about new changes to the city. Definitely Delhi is a more modern city with better infrastructure and greenery than it was a decade ago, when Dikshit took over the city's reins. Being stateswoman-like is to demonstrate long-term vision, and that she has. Even if you were in the opposition, it is now difficult to miss the forest for the trees, in more ways than one.