Sewage Treatment Plants in Villages And Unauthorized Colonies
In order to provide proper basic amenities to the citizens of Delhi, the laying of sewer lines and disposal of sewage has been given prime importance. At present, all the 44 resettlement colonies have been sewered. Out of 567 unauthorized/regularized colonies, sewers have been laid in 523 colonies and out of 135 urban villages, sewers have been laid in 107 villages.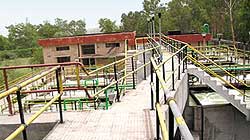 The Govt. has also taken the initiative to provide the STPs in the Rural villages of Delhi. The consultancy work of providing sewage facilities in 189 rural villages of Delhi was awarded to M/s Consulting Engineers Services (P) Ltd. & Shah Technical Consultants Pvt. Ltd. After detailed survey and study of all villages, the consultants have prepared an infrastructure development plan which recommends laying of sewer network and connecting it to existing peripheral sewer for 34 villages, laying of sewer lines connected to sewage pumping stations to 49 villages, provision of waste stabilization ponds for 53 villages and provision of sewage treatment plants for remaining 53 villages.

At present, the land has been allocated at 41 places, the work of extending sewerage network has been awarded in 27 villages and tenders are being processed in another 7 villages. In the remaining villages, the process for allotment/acquisition of land has been initiated. The work is likely to be completed by December 2010. The consolidated schemes of laying sewerage system in unauthorized colonies have not been prepared separately as the existing Sewage Treatment Plants will serve most of the colonies.
---
Capacity augmentation of some of the existing STPs

S. No.

Name of Plant

Capacity in MGD

1

Kondli

45.00

2

Yamuna Vihar

25.00

3

Okhla

30.00

4

Delhi Gate

15.00

5

Delhi Cantt

8.00

6

Pappan Kalan

20.00

7

Nilothi

20.00
---
Interceptor Sewer
After lot of deliberations and consultations with the International Experts, the DJB has evolved the concept of laying Intercep-tor Sewer along three Flood Control major drains (Najafgarh, Supple-mentary and Shahdra) to trap the sewage flowing into small drains; before it enters these drains.

The basic concept is to ensure that no un-treated effluent should enter through the 18 drains into the river Yamuna. It has been planned to lay interceptor sewers along these drains in a length of around 55 Kms to intercept and trap the flow from hundreds of small drains. The sewage after treatment in STPs will be put back into the large drain. Further, 13 other drains currently discharging directly into the river will also be similarly trapped. Augmen-tation of existing capacity of Sewage Treatment Plants has also been planned.

Delhi Jal Board has so far incurred around Rs. 22 crore on Consultancy work. The work is likely to be completed in all respects by January 2012.