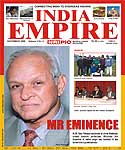 The cover article was nice. Truly Persaud is a colossus that strides the Guyanese landscape. Bring us more such stories on the Indian diaspora, they are a treat.
R Bann, on email

We are from the diaspora, and we love everything about our motherland. Everything, period. Weíve heard about the corruption, about the smell, about the poverty. But we donít grudge all that. We look at the bigger picture. A nation that has been plundered, ravaged and looted for over one thousand years and has received independence only recently, and has adopted liberal reform policies only two decades back, is bound to go through a tough period. As more and more Indians come out of the quagmire of poverty, corruption will lessen. Corruption breeds poverty. No one is born corrupt.
Satish on email.

Your article on Grand Dreams is interesting. We are now replicating the Taj in Auckland. What a wonder.
Bina on email


Cricket in the USA is getting popular. Teams in the New England area are allowing this to happen. A few months back Sunil Gavaskar inaugurated a cricket academy in the New Jersey area. At Florida, you now have an expensive cricket stadium. What we need to make it really become a household sport in the USA is to stage an IPL here.
Sarah Varghese on email

Three cheers to Indian curry. Letís conquer the world through our food, thatís a noble thing to do.
Parul Chandra on email.