Since the 1990s, Australia and New Zealand have become important destination countries for Indians. Australia had 147,101 foreign born from India according to the 2006 census, 3.3 percent of all immigrants and the third-largest group from Asia, after the foreign born from China and Vietnam. From 1999 to 2007, the number of admitted immigrants from India grew 25 percent each year.

In New Zealand, the Indian-born population nearly doubled from 6,500 in 1986 to 12,800 in 1996, more than tripling by the 2006 census to 43,300 (4.9 percent of all immigrants).

Three factors can account for the increase in Indian immigration to Australia and New Zealand. First, both countries aim to attract English-speaking, highly qualified professionals, often to supply their IT industries.

Second, Australia and New Zealand have become important destinations for Indian students who, upon graduation, increasingly decide to stay on. This has been facilitated by Australian policies since 1998; these policies allow them to change their status without having to leave the country.

And third, a growing ethnic Indian community in both countries has led to increased family-sponsored immigration.

The Indian Diaspora in Malaysia, Singapore, and Fiji
Malaysia's population consists largely of ethnic Malays, ethnic Chinese, and ethnic Indians, who numbered 1.8 million according to a report issued by Malaysia's prime minister. Most of the ethnic Indians in Malaysia are descendants of kangani labor migrants.

The report also states that Indians have slightly higher household incomes than Malays but lower than Chinese. Although a quarter of Malaysia's lawyers and doctors are ethnic Indians, the majority of Indians are engaged in lower-skill occupations.

Despite their numbers and some political representation, the community faces severe discrimination, fueled also by religious tensions between the predominantly Muslim Malays and the predominantly Hindu Indians. In addition, Malaysia consistently favors "bumiputeras," the so-called sons of the soil, in its economic policies, its distribution of government funds, and in its hiring for government positions.

In 2004, 8.4 percent (293,000) of Singapore's population reported Indian ethnicity. Many Indians settled there over the last 150 years; they are mainly laborers and domestic workers. As a result of Singapore's immigration policy, low tax rates, and economic growth, the country has witnessed a large influx of Indian professionals since the 1990s.

Fiji had been a major destination of indentured laborers in the 19th century. After its independence from the United Kingdom in 1970, more than 98 percent of the 300,000 Fiji-born ethnic Indians accepted Fijian citizenship but were still referred to as "Indians," a term that several Fijian constitutions uses.

The ethnic Indian population in Fiji has decreased over two decades: in 2007 there were 313,800 Indian Fijians, or 37.5 percent of the population. Apart from a small group of prosperous Gujarati merchants, the majority of Indian Fijians are less well-to-do cane farmers.

Several military coups, significant racial tensions between ethnic "Fijians" and Indian Fijians, and a long tradition of discriminatory legal provisions for land ownership, political representation, and public funding led to many challenges for the community and a significant level of emigration, especially to Australia and New Zealand.

In contrast to other destination countries, ethnic Indians have had some political representation in Malaysia and Fiji and have held high-level government positions in Singapore. These include two presidents of Singapore, including Sellapan Ramanathan, the current president, and numerous cabinet ministers and members of parliament.

Indian Student Migration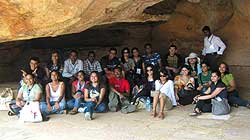 The absolute number of Indian students abroad tripled from about 51,000 in 1999 to over 153,000 in 2007, according to the UNESCO Institute for Statistics (see Table 2). Thus, India ranks second among the world's largest sending countries for tertiary students, after China.

Five countries accounted for 90 percent of all Indian tertiary students abroad. The United States is by far the most important destination country, receiving more than half of the worldwide expatriate Indian student force in 2006-2007, followed by Australia (16 percent) and the United Kingdom (15 percent).

The Institute of International Education reports that India has been the leading source of foreign students in the United States since 2000-2001. In the 2007-2008 academic year, 15 percent of all foreign students admitted were from India, corresponding to almost 95,000 people. The majority of these Indian students pursue graduate studies, as did three out of four Indian students in 2006-2007.

However, the number of Indians submitting applications to US graduate schools shrunk 12 percent for the 2008-2009 school year compared with 2007-2008, according to a report from the Council of Graduate Schools.

Studying in the United Kingdom has been a tradition for many Indian middle-class families. After a temporary slow down, this movement gained momentum again in the last decade when British universities started to hold student fairs in India and recruit students directly. For this purpose, at least 14 British universities have opened full-time offices in India.

In 2007, Indians made up 6.4 percent of the country's 374,000 foreign student enrollments, as reported by the Atlas Project — up from 4 percent in 2003. The UK Higher Education Statistics Agency reports that the majority of them are enrolled in graduate programs, the biggest number in business studies, followed by engineering and technology, and computer science.
Student migration is often the gateway for permanent stay in the country. This is eased by policies in many destination countries that allow students to convert their student status into a residence permit if they find a job within a certain time after graduation.

Secondary Migration of the Indian Diaspora
Due to racial pressures and economic instability in some of the countries where Indians settled in the colonial era, many of them and their descendants went to India or to other counties. These types of flows, known as secondary migration, took place from East Africa, Fiji, and some Caribbean countries.

Particularly significant was the exodus of ethnic Indians from Uganda after Idi Amin came to power in a military coup in 1972. Black Ugandans had long resented Asians' economic dominance. Amin, seeking to give economic power back to Africans, set a deadline of 90 days for all persons of Asian origin to leave the country for good, including the 80,000-strong ethnic Indian community.

Although many Ugandan Indians were British passport holders, they did not have the right to settle in the United Kingdom because the UK Commonwealth Immigration Act of 1968 limited immigration. Apart from 28,000 who entered Britain via a quota system, Canada accommodated some highly skilled Ugandan Asians who qualified under the Canadian points system. Smaller numbers were accepted by the United States, West Germany, and Sweden.

Even though Kenya and Tanzania did not force ethnic Indians to leave, their Africanization policies (though not as severe as those of Uganda) led to a significant emigration of ethnic Indians from these countries as well. The High Level Committee on the Indian Diaspora reports that about 70,000 ethnic Indians from Mozambique relocated to Portugal.

As stated earlier, large numbers of Indians in Fiji have emigrated to Australia and New Zealand. In Australia's 2006 census, almost 30,000 Fiji-born persons (56 percent of all Fiji-born) reported Indian ancestry, while the number in New Zealand was 5,600 according to its 2006 census.

From Suriname, a former Dutch colony in Latin America, ethnic Indians — who were the descendents of indentured laborers — migrated to the Netherlands in large numbers before Suriname's independence in 1975. Ethnic Indians left Suriname because they feared Creole domination and the loss of Dutch citizenship.

In contrast, ethnic Indians from other Caribbean countries have migrated to the United States and Canada and continue to do so, mainly for economic reasons. According to the 2008 American Community Survey, 4 percent of all ethnic Indians in the US, or 97,000 persons, were born in the Caribbean.

Temporary Labor Migration to West Asia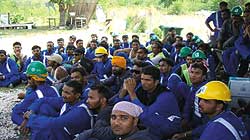 Significant migration from India to the Persian Gulf began in the 1970s, following the oil boom. Since then, an increasing number of semi- and unskilled workers from South India have worked in the gulf countries on temporary migration schemes in the oil industry and in services and construction.

Most come from the South Indian states of Tamil Nadu, Kerala, and Andhra Pradesh. These states have a historic connection with the gulf countries, plus they have large Muslim populations and were experiencing high unemployment rates when migration picked up in the 1970s. Successful migrants, with their increased earnings, then served as role models for many others in their villages and districts.

These workers' contracts typically last between two and five years; generally, after finishing their contractual employment, they must return to India before they are eligible for a new contract. The gulf countries offer little scope either for family migration and unification or for permanent residency and citizenship.

India's Emigration Act of 1983 regulates emigration of Indian workers for overseas employment on a contractual basis and seeks to safeguard their interests and ensure their welfare. The act requires all recruiting agents to register with the Protector-General of Emigrants before they can recruit for overseas employment.

To protect vulnerable categories of unskilled, semi-skilled workers, and women going abroad, the Protector-General of Emigrants checks their labor contracts before they depart to ensure the contracts ensure fair wages and decent working and living conditions. This process is called an emigration clearance check.

However, large groups of people are exempted from this check, for example, certified nurses, professionals, and persons who have been staying abroad for more than three years. Further, for migration to 54 countries, such as the United States, Australia, New Zealand, and most European countries, but also Thailand and Singapore, an emigration clearance check is not required.

The annual number of semi- or unskilled Indian workers going to the gulf countries more than quadrupled between 1999 and 2007, from about 160,000 to 777,000 (see Figure 2). Those going to the gulf countries in 2007 made up 96 percent of all workers requiring an emigration Sociologist P.C. Jain estimates that about 4.5 million Indians were living in the gulf countries in 2008, 70 percent of them in the United Arab Emirates and Saudi Arabia. Although most Indians in the gulf hold unskilled or semiskilled jobs, the High Level Committee on the Indian Diaspora estimates that 20 percent are white-collar workers and another 10 percent belong to the professional category.

The Full Picture: The Global Indian Diaspora
According to 2001 estimates by the High Level Committee on the Indian Diaspora, the 18.5 million-strong diaspora (including descendants of Indian migrants) is widely dispersed. The Indian government claims diaspora communities in as many as 110 countries; however, three-quarters of the diaspora population live in 12 countries (see Table 3).

Since 2005, the Indian government claims that the community numbers approximately 25 million.
In 2001, the largest number of diasporic Indians (35 percent) lived in Asia (see Figure 3). A fifth of the diaspora were in the gulf region, with 14 percent in Northern America, 13 percent on the African continent, and 10 percent in Europe. The Caribbean and Oceania accounted for only a small share, 6.5 percent and 3.3 percent, respectively.

While ethnic Indians are a minority in most countries, they constitute around 40 percent of the population in Fiji, Trinidad, Guyana, and Suriname. They make up 70 percent of the inhabitants of Mauritius.

The Indian diaspora in developed countries, especially in the United States, is highly organized with many regional and pan-Indian cultural, professional, religious, and charity organizations. In recent years, advocacy groups, political ambitions of individuals like Louisiana Governor Bobby Jindal, and the Congressional India Caucus have demonstrated Indians' increasing political influence.

Other countries, however, have seen more Indians elected to national legislative bodies. In Canada, eight ethnic Indians — all of them Sikhs — were elected to the House of Commons in October 2008. Currently, six elected Members of the British Parliament and eight Members in the House of Lords are of Indian descent.

In Mauritius, where 70 percent of the population is of Indian descent, the prime minister has been an ethnic Indian except for between 2003 and 2005. As noted earlier, Singapore's current president is an ethnic Indian. Seven cabinet members and 27 parliamentarians in Fiji are of Indian descent; in Malaysia, the count goes to one cabinet minister and three members of parliament. In Germany, two ethnic Indians are elected representatives in the central parliament, as is one India-born person in New Zealand.

The Diaspora's Economic Contributions to the Homeland
Since 2003, India has been the world's largest recipient, at least in absolute terms, of remittances, defined as the inflow of private transfers. From a modest US$2.1 billion in 1990-1991, remittances through formal channels were pegged at US$52 billion in 2008 (see Figure 4).
Generally, it is assumed that remittances through informal channels are significant as well. Despite the lack of data on such channels, it is believed that for India, informal channels do not play a major role. Professional migrants to industrialized countries are more likely to use formal channels and temporary labor migrants often hold special accounts with Indian banks that have established a presence in the gulf countries.

Also, in relative terms, remittances gained considerable importance since they now make up a larger chunk of India's gross domestic product: 3.3 percent in 2007 according to the World Bank versus 0.7 percent in 1990-1991 according to the Reserve Bank of India (RBI).

As economist Deepak Nayyar points out, remittances increased from the mid-1970s to the mid-1980s largely because of remittances from temporary migrants in the oil-exporting gulf countries.

But over the last decade, data from RBI shows, the migration of professional migrants to Western countries drove the sharp increase in remittances. Between 1997 and 2004, two-thirds of all received funds came from the United States, Canada, and Europe, and more than half of all transferred funds received in 2003 and 2004 originated from Northern America alone.

There is no systematic data on the regional destinations of remittances in India. However, economists K.P Kannan and K.S. Hari estimate that for the South Indian state of Kerala, the origin of many temporary gulf migrants, remittance inflows averaged 22 percent of the state's income.

In addition to remittances, India has seen growth in capital inflows. In the 1970s, the government authorized special deposit schemes for non-resident Indians (NRIs) to increase its foreign-exchange reserves; depositors can hold their money in foreign currencies or in Indian rupees. NRI deposits grew steadily from US$14 billion in 1991 to US$ 43.7 billion in 2008.

When India has urgently needed foreign exchange, it has used diaspora bonds — debt instruments for raising money from a country's diaspora. In total, India received US$11.3 billion in foreign exchange from the three schemes, each under different circumstances: during the balance of payment crisis in 1991, when it suffered from sanctions in 1998 in response to its nuclear tests, and during adverse global economic conditions in 2000.

The Indian IT Industry and the Diaspora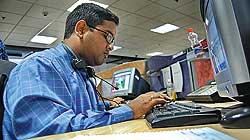 Although no reliable statistics exist, anecdotally it appears an increasing number of Indians have returned in recent years. Returnees can benefit their home countries by contributing enhanced skills, which can be used in the country of origin (human capital); access to business networks abroad (social capital); and financial capital and investment.

The Indian information technology (IT) industry is widely regarded as a showcase for this triple-benefit formula. Figures from India's national software association NASSCOM show that North America (predominately the United States) accounted for two-thirds of India's IT exports from 2004 to 2007.

While the industry's success is attributable to other factors, the impact of the diaspora and returnees from the United States particularly is believed to be important for three reasons.
First, several studies have shown that Indians who returned from the United States have founded and managed successful IT companies in India.

Second, some Indians who founded companies in Silicon Valley have subcontracted work to companies in India. These entrepreneurs often serve as intermediaries between the markets.

Third, the success of Indian IT professionals in the United States has created trust in the country's intellectual abilities abroad. It has been a major factor in branding India as a source of well-educated and hard-working professionals, rather than a poverty-ridden country of snake charmers.

This new "India brand" explains several countries' increased interest in recruiting Indian graduates and professionals. However, this image has repercussions for India's attractiveness as a partner for trade and investment. It also contributes to the willingness of US and other companies to collaborate with and outsource to Indian companies.
—To be continued
Originally published on the Migration Information Source (http://www.migrationinformation.org), an online journal that provides fresh thought, authoritative data, and global analysis of international migration and refugee trends. The Migration Information Source is a project of the Migration Policy Institute, a nonprofit, nonpartisan think tank based in Washington, D.C., dedicated to analyzing the movement of people worldwide.