NEW MAYOR IN TOWN
Yuba city makes history as it gets its first Sikh Mayor, 44-year-old Punjab-born Kash Gill. Punjabis make up about 12 per cent of the city's population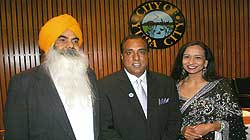 Yuba City, which became the first Indian settlement in the US and is now known as the first Punjabi village in this country, got its first Sikh mayor last month. Forty-four-year-old Kash (Kashmir) Gill was sworn in as the new mayor of the city. Hundreds of Indian Americans attended his oath-taking ceremony. People were treated to a variety of Indian food including samosas, chana masala and sweets, amid Punjabi music.

There are about 15,000 Punjabis, including Sikhs, Hindus and Muslims, in this city of 65,000. Gill will be the first Sikh mayor in California. "We have made history tonight, and everyone is part of that history," said Gill as outgoing mayor Leslie McBride passed the gavel to him. "I am elated to be honoured with this position. We Punjabis have been here for more than a hundred years, and to be the mayor of this city is a privilege for the whole community," Punjab-born Gill said.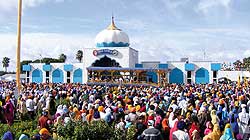 "I feel really great ...I have spent all my life here and to represent Yuba City is a great honour," said Gill, who came to the city in 1967 with his family as a two-year-old toddler. His family is related to the city's world-famous peach farmer Didar Singh Bains. 'We came from Lakhsina village in Hoshiarpur district of Punjab where my uncle Bains sponsored us," said Gill, who will now command the city's $80-million budget. A banker by profession, he served as the vice-mayor before becoming the mayor. The position is held in rotation by the top two vote getters in city council elections. Interestingly, the five-member city council has another Sikh member Tej Maan.

Punjabis first came to this city in the late 19th century. "Gill's elevation as the mayor means that the city has adopted its immigrant children whose forefathers landed here more than a century ago," said the city's famous resident and physician Jasbir Kang. He said: "Originally 10 Punjabi families settled in this area. Today, we make up about 12 percent of the city population. Apart from Yuba City, our people also live in the outlying towns of Marysville, Live Oak, Gridley, Colusa and Wheatland."

Famous for its annual Sikh Parade which attracts Punjabis from around the world, Yuba City has five gurdwaras, one Hindu temple and a mosque. Punjabi is taught as a second language in the three major schools of the city. "I look forward to visiting India next year to share my joy with folks back in my native village,' said the new mayor.