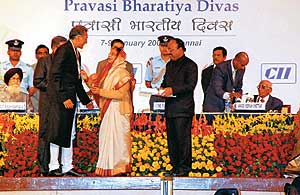 FROZEN IN TIME: The moment when Akbaraly receives the Pravasi Bharatiya Samman award from the President of India Pratibha Patil will always remain one of his most cherished. Seen also in the picture (holding the citation) is Secretary MOIA K Mohandas
India's Strength in Madagascar
Ylias Akbaraly's great grandfather left Gujarat for Madagascar in the early 20th century. Ever since, the family has slowly, but surely, been able to carve out a place for itself in this Indian Ocean island nation. Initially, they served as traders, a go-between the local Malagasy and the then ruling French. Gradually, trading gave way to several other specialized activities, including those in the services sector. Today, Groupe Sipromad that Akbaraly heads is among the top five businesses in Madagascar. As a prominent citizen, he also plays a significant role in improving ties between his country and India, something that won him the Pravasi Bharatiya Samman award from the President of India

By Sayantan Chakravarty
Looks like they are giving away an award to a film star," exclaimed Shireen Munsamy, historian and writer from South Africa, seated next to me at the valedictory session of the Pravasi Bharatiya Divas in January. A little after 5 pm on January 9, the Chennai Trade Centre's principal auditorium was packed to the rafters. The Pravasi Bharatiya Samman awards were being announced. And Shireen was clearly excited at seeing Ylias Akbaraly walk up to the dias to receive a Pravasi Samman award from the Indian President.
If first impressions last, then Akbaraly does make an impression the very first time. With his movie-star looks, polite visage, and a great smile, not to forget a business empire that's now positioned his company Groupe Sipromad as one of the top 85 in the Indian Ocean rim and among the top five in Madagascar, a lovely family and a super lineage, it would indeed be surprising if Akbaraly did not create an impression on anyone very swiftly. When I met up with him at the Imperial Hotel in New Delhi a few days later, he was beaming with pride, the award and the citation (see box on citation, and interview) clearly did mean a lot to him.

GROUPE SIPROMAD
The Groupe Sipromad itself was launched in 1972 in Antananarivo, Madagascar's capital. Today, it has a diversified mix of business with operations in segments such as trade and commerce, tourism, agriculture, real estate, manufacturing and industry, IT and education. The firm has operations in nine countries and strategic alliances in 23. In a short span, Akbaraly, the company's chairman, has managed to make Group Sipromad one of the most successful emerging holding companies in the southern hemisphere. "We are ready to expand and invest in the Indian Ocean region and India," says Akbaraly with the confident air of a man who has smelt success from very close. Today, the group turnover exceeds USD 100 million, and over a 1,000 employees work in different group businesses.

THE HISTORY
But things weren't this good always. Akbaraly's great grandfather Merally Manjee left Gujarat to seek out better conditions, at a time when opportunities in India were few. In the year 1918, Manjee landed at Belo Sur Tsirbihina, a coastal village in the west of Madagascar. It didn't take long for Manjee to realize that he'd made the right decision by choosing to set sail towards Madagascar. He acted mainly as a buffer between the local Malagasy and the then ruling French, trading in items useful to both. Merally Manjee's dream was passed on to his son Akbaraly Merally who showed a remarkable knack for doing good business. While both Merally and his son chose to operate from the more remote areas, it was Akbaraly's father, Sermamod Akbaraly who decided to brighten his prospects and moved into Antananarivo. It was here in 1972 that Sipromad was launched. New lines of businesses were created, and the group's entrepreneurial tales swiftly spread across the length and breadth of Madagascar, and beyond. Ylias Akbaraly, meanwhile, was busy completing studies in the United States and France, and once upon his return he was trusted with the reins, he didn't look back. The group has leapt to fame under his able guidance.

PHILANTHROPY
Apart from his business skills and dynamism, the Indian Government has also taken into account Akbaraly's responsible role as a citizen through his consistent activities in charity. Together with his wife Cinzia, Akbaraly founded the Fihavanana Association in the year 1997. This is a humanitarian organization that brings aid to poor children or orphans throughout Madagascar. Today, around 2,000 children receive help and attention from the Association in the areas of education, nutrition and health. "Our objective is to give these less privileged children their esteem and dignity, and turn them into adults who can function responsibly." After the couple's first child was born, the Akbaraly Foundation was created. The Foundation has built a hospital in Antanimasaja - Mahajanga. Drinking water facilities have been made available to seven villages at Antsaravary Ambiatibe. An agricultural and breeding training centre is being established at Ambiatibe. At Tsiroanomandidy, agricultural practices and food security have been promoted. The Foundation now has plans to attend to the poor and needy in New Delhi. The Pravasi Bharatiya Samman citation is, therefore, a clear recognition of all these activities.
Akbaraly spells out his vision, and what he aspires to do in the coming months and years (see interview). His forefathers used to say, "Follow your dreams, they'll give meaning to every step that you take." Looks like those words of wisdom have fallen on the right ears. Better still, the actions of Akbaraly, his group and family are speaking louder than those words.

.

Q&A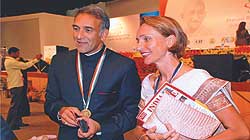 Ylias Akbaraly, dapper, successful and soft-spoken was one of the recipients of the Pravasi Bharatiya Samman awards at the Pravasi Bharatiya Divas at Chennai in 2009. His citation says that Akbaraly has been recognized for his service to the Indian diaspora and for his contribution to the strengthening of the Indo-Malagasy relations. He spoke with Editor Sayantan Chakravarty
"Follow your dreams, they'll give a meaning to every step that you make," your forefathers used to say. In life, have you been guided by their words?
I really have been guided by those words. Those words are special, so is our family history. My great grandfather arrived in Madagascar from Gujarat in the early 20th century with practically nothing, except a strong will to chart a new course in his life. He came in at a time when the economic situation in the country wasn't very healthy. Slowly, he, and later my grandfather, found their feet, trading in items like tobacco and beans, acting often as a go between the ruling French and the local Malagasy. The family stressed on education. Today as chairman of Group Sipromad, I can say that we have come a long way since, thanks mainly to the dreams of my forefathers.
What does the Pravasi Bharatiya Samman award mean to you?
It means a lot to me. It means recognition from the Government of India for the work that we do. It means that we are recognized as a good ambassador for India abroad. This is powerful feeling that is sinking in. I've always been very proud to be Indian, after all I come from the land of Mohandas Gandhi, a man who showed the entire world what a significant amount of tolerance can do. Today, I feel even more proud. This award made both my father, as well as my wife's mother who were present at the function, cry.
How do you promote India in Madagascar?
The Gujarati population in Madagascar is about 15,000. We are only a few when compared to the total population of 16 million. Thus far our presence in Parliament is small, there are just two deputies. We need more Indian presence, especially those from the business sphere. Businessmen are good negotiators and will be able to have a greater say on behalf of the Indian population in Madagascar. I've brought with me several Malagasy people, essentially to help make them gather an impression on India. They are meeting several people, they are very positive about India, they see the opportunities. This is not the India of 1960, the country has moved forward thanks to the vision of people like Manmohan Singh, APJ Abdul Kalam, Sonia Gandhi. When they return to Madagascar, these people will share their positive energy with the local people.
| | |
| --- | --- |
| | |
| THE POPE'S BLESSINGS: Akbaraly and his wife Cinzia with Pope John Paul II | HAPPY FAMILY: (From left) Imran, Cinzia, Yara, Ali, Ylias, Eileen |
What are your thoughts on today's India?
With over a billion people, so many dialects, so many ethnicities, India is no doubt unique. Of course there are some problems, but even smaller nations are not without problems. Thanks to events like the Pravasi Bharatiya Divas, I see many NRIs willing to return from countries like the USA to India.
Tell us something about your group, your business and your vision…
We've come a long way since the time my forefathers set foot on Madagascar. We are among the top five businesses in Madagascar, and one of the largest in the Indian Ocean. The group plans to increase its presence through investments in the Indian Ocean region, and Mauritius in particular. We want to invest more, increase our business, increase our profits from new investments, including those in the agricultural sector, and we want to decrease our dependence on banks and financial institutions. We have set up office in Delhi, have shareholding in Indian magazines. Within India, we are looking at investments in the hospitality and tourism sector, we want to build a hotel, so we are looking at two things, the place to invest, and what level of hotel to invest. We want to be a powerful business entity, and make India proud of its diaspora even more. We want to increase India's power in Madagascar, we want to strengthen relations between the two nations, we are in touch with the Indian ambassador in Madagascar. But when we grow, we also want to share our growth with others.
Please expand on the last point you made…
As we expand in our core business areas in industry, agriculture, trading, tourism and real estate, increase exports to the COMESA, SAD, COI, we want to involve the youth of Madagascar. We want them to drive the growth, and the most chances must go to the younger generation among the Malagasy people.
We understand that philanthropy plays a very important role in your life…
Yes. We dedicate about 20 per cent of our earnings towards philanthropic work targeted at areas like health, education and at orphanages. At the moment we work with 2,000 orphans. We are in partnership with several European NGOs for the work that we do.