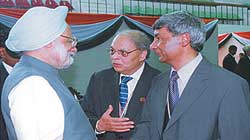 The Indian diaspora has a galaxy of stars on its firmament, and among the brightest of the lot is Guyana-born Ashook Ramsaran. The founder of New York-based electronics firm Ramex Inc, Ramsaran is a pillar of the community and is held in high esteem by the city that has accepted him as its own and in the diaspora that he calls his own. As the secretary general of the Global Organisation of People of Indian Origin, he wields considerable influence within the diaspora—both in India as well as without. However, success hasn't been delivered on a platter, Ramsaran has sweat every rung on the way up.
Ramsaran was born in the late 1940s in the village of Letter Kenny on the Corentyne Coast of Guyana, to the third generation of Indian ancestors who went there as contracted indentured labourers from the Indian state of Bihar or Uttar Pradesh. The exact location is being researched and traced. At that time, Letter Kenny was a farming village. It had one temple, one church and one mosque, in addition there were two rice mills and two dry goods grocery stores. It had a petrol station and two rum shops. The main road was paved but all the other streets were dirt type and became flooded and very muddy when it rained.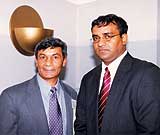 He is the third child in a family of 10 children (six boys, four girls). His father's name was Ramsaran Ramlochan, a sugar plantation supervisor, a position he obtained upon the passing of his grandfather. At the time of birth registration, most of those who went to the local post office to register the birth would simply state no name for "Father's Name" ("Not Stated"). In addition, their names were spelled according to how they were pronounced by the English clerks, hence the difference in the spelling of his name as Ashook instead of Ashok, and his father's name listed simply as Ramsaran instead of Ramsaran Ramlochan.
As with most people in Guyana in those days, each had a "right name" registered at the post office at birth, and a "call name" which everyone knew and used. For example, Ramsaran's older brother was called Patrick but was registered as Nancoomar. He was registered Ashook but called Lloyd. His father was called Sunny but his real name was Ramlochan, while his mother was called Irene but registered as Dhinki.
After passing the Senior Cambridge exams in 1963, Ramsaran wrote the University of London exams in 1964 and passed again. He worked as a schoolteacher for nine months, and then the civil service beckoned. Within a period of one year he was transferred to the magistrate's court. It was after marrying Camille in 1967 while at that job, that he started thinking of moving overseas. He applied for studies in the US and was accepted at a technical school in New York City. Their first child Arnold Mahendra was born on March 4, two weeks after Ramsaran left Guyana with $600, their life's savings.
Ramsaran stayed at the YMCA in New York City and checked into the college. He was advised to join up with a few Chinese students from Jamaica and they rented an apartment in Flushing, Queens. He started classes and then obtained a Social Security Card to seek part-time employment that he was able to secure at Random House. Ramsaran retained that job until completing his BSEE degree at Polytechnic University. Their second son Gerald was born in New York on July 25, 1970 while he was still in school. Upon graduation in 1974, he obtained a position as Junior Engineer with Executone, a national company that designed and manufactured intercommunications products. It was a good job and it paid for Ramsaran to pursue studies towards the MSEE degree which he obtained in 1977.
Ramsaran's life has been mostly about making dreams come true. Ambitions, however, were futile in the earlier stages of his life while in Guyana. Opportunities were limited, resources were scanty and there were limits to one's vision of what a future could look like. But college life in the U.S.A. changed all that. Ramsaran's interest peaked in the direction of advance electronics technology, and the newer opportunities in electronics that came about as a result of discoveries in semi-conductor technologies. But with these opportunities came an important ally—determination. "The opportunities did not prevent me from looking forward with diligence and hard work to achieve my objectives," he mentions proudly.
It is Ramsaran's involvement in GOPIO that's sent him headlong into the thick of the diaspora action. He says: "My involvement in GOPIO is quite extensive and time consuming. I am honoured to be serving as the current Secretary General of GOPIO, a position that gives me an opportunity to be actively involved with issues of interest and concern to over 25 million people of Indian origin living outside of India." He has developed the complete mission and organisational structure of GOPIO's Human Rights Council now posted on GOPIO's website (www.gopio.net), developed the complete GOPIO Awards Criteria GOPIO's Annual Community Service Awards now posted on GOPIO's website. He is also co-editor of GOPIO's semi-monthly newsletter.
Ramsaran and some of his colleagues jointly formed the Caribbean Indian Business Development Center (CIBDC), a New York-based business organization, to establish an effective level of business networking and pro-active advocacy among businesses owned by people originally from the Caribbean now living in North America and the suitable business entities in the Caribbean.
So does he maintain links with Guyana? "My immediate and even extended family members are in the US and Canada, so the social links in Guyana for me are minimal. This is not something that I planned, but it just happened that way over a period of time. I do maintain communication with Yesu Persaud of Demerara Distilleries, Prem Misir and Parsuram Thakur of the University of Guyana, and several others. In May-June 2007 I visited Guyana as part of the GOPIO Caribbean trip in conjunction with Minister Vayalar Ravi of India's Ministry of Overseas Indian Affairs and met with President Jagdeo," says Ramsaran.
Predictably he has a lot of interaction with New York's Caribbean community. The Caribbean/Indo-Caribbean community has indeed changed from those days when the first handful of immigrants arrived here and struggled to cope in a new land with different ways and expectations. Now there is a very large population residing in the tri-state New York-New Jersey-Connecticut region, and others in Florida and other parts of the country, living in close-knit communities, and with most of the foods that they were accustomed to having in the Caribbean region. There is an increasing level of comfort and affiliation now than in the beginning, and that is a positive change.
Ramsaran's business gives him a lot of leeway to devote money and energy to diaspora causes. Ramex Inc designs and manufactures patient-to-nurse signalling and inter-communications products primarily for the US. These systems allow patients to place calls for bedside and emergency help and for the medical staff to respond promptly and efficiently to render required service. Ramex is family owned and family run. He started the company with one employee in 1988 and now they have 17 employees.
He says that the downside of being one's own boss is that it reduces time for social activities as much as one would like. But over time he has learned to create a suitable and accommodating balance between work, self and family. "Of course, there are bad moments as well but I like to treat such moments as bumps along the way rather than adverse times," says Ramsaran.