Even credibility-stretching Bollywood screenwriters would have found this obscurity-to-fame, rags-to-riches story hard to pitch. Twenty-year-old Rinku Singh, the son of a lorry driver from Bhadohi, Uttar Pradesh, and the youngest of nine children, wins the "Million-Dollar Arm"­­­­­ competition by throwing a baseball faster and more accurately than 30,000 other contestants. The feat earns him a $100,000 cash prize, six months intensive coaching and the opportunity to try out for America's leading baseball teams.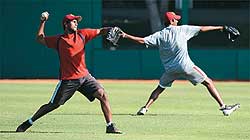 When veteran major league scout Ray Poitevint comes to India to see whether Singh has potential, he spots Dinesh Patel, who had earlier fouled his competition throw. Patel throws harder but isn't as accurate but still manages to impress Poitevint, who signs him up. Brought up in Varanasi by his uncle and grandmother after his parents found they could not afford to raise him, the strapping 19-year-old gets $2500 and six months training in southern California.
Singh and Patel are the first Indian players to be signed by a major US baseball team, but amazingly they hadn't heard of baseball until last year. Today, they are undergoing intensive training to become pitchers for the Pittsburgh Pirates, a team that has seen better days in the highly competitive Major League Baseball but now wants to return to its winning ways.
---
The official Major League Baseball website, MLB.com, reports 500,000 to 1 million participants are expected to compete in the second season of The Million Dollar Arm in India
---
The players, with shoulder strength gained through their initial training to become javelin throwers, are minor celebrities in the big boisterous world of baseball. They have a loyal fan following, a busy blog, and they run into celebrities that most people only read about. And, of course, the American media can't have enough of them.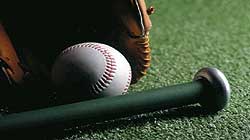 Their success has already sparked a small-scale frenzy for baseball in India. J.B. Bernstein, managing director of The Million Dollar Arm, described the contest as an Indian baseball version of American Idol, the popular US television show where contestants compete to be the next new music star. The official Major League Baseball website, MLB.com, reports 500,000 to 1 million participants are expected to compete in the second season of The Million Dollar Arm.
Says Brahmadin Singh, Singh's father from Bhadohi: "With telephonic guidance from Rinku, youths in our village have already started practising seriously to become million-dollar pitchers like Rinku." Adds his mother Antaraja Devi: "He was often dubbed a loafer because he played sport. Now every villager prays for a loafer like him."
BASEBALL, THE NEW CRICKET?
Baseball will have a hard time running against cricket in India, but there are similarities:
| | | |
| --- | --- | --- |
| | Cricket | Baseball |
| Players | 11 | 9 |
| Thrower | Bowler | Pitcher |
| Hitter | Batsman | Batter |
| Backstop | Wicketkeeper | Catcher |
| Scoring | Runs | Runs |
| Duration | Innings, 1-2 (can last 5 days) | Innings, 9 |
| Guidelines | Laws | Rules |
| Umpires on field | Two | Four |
| Field shape | Oval | Diamond |
| Equipment | Leather ball, wooden bat (flat) | Leather ball, wooden bat (round barrel |
Source: International Cricket Council
Their transformation from struggling javelin throwers to assimilation in America is nothing sort of miraculous. The first thing that the pair did on learning they had been signed up by the Pirates was to go online to find out where Pittsburgh was! They brushed up on their English by watching baseball games on cable TV – through which they encountered key terms such as "curveball" and "strike" for the first time.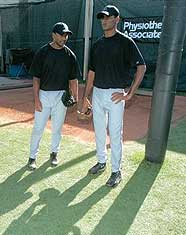 America was virtually like another planet for the plucky pitchers. They talk about the first time they encountered a water fountain. They turned the knob and tried to catch the water with their hands; they had no idea you could put your mouth over it. Their coach taught them how to operate the washing machine and dishwasher. Patel still has trouble fathoming the idea that you can pick up the telephone to order pizza delivered right to your door. "We like Chinese food, pork ribs, banana pancakes, turkey franks, soup, the choice of food is amazing," they say.
Singh, a 6-2, 195-pound left-hander was a month away from joining the army. His entire family – he is the youngest of eight children – worked in agriculture, where his dad drove a vegetable truck. Now, Singh says, his father pays someone else to drive the truck while he stays home.
Patel, a 5-11, 185-pound right-hander isn't sure whether his family – he has two brothers and one sister – quite understands what's happening. "I miss my family," says Patel, who, along with Singh, learned English watching Baseball Tonight while also taking online courses.
There are a million distractions in Los Angeles, yet they refuse to let anything deter them from their dream. Instead of accepting any invitations to campus parties they have asked for earplugs so they can sleep. "We want to pitch, and hopefully one day make the major leagues," Patel says. "That's why we're here. We'll do everything in our power to make it happen."
They remain a humble pair and haven't lost any of their rustic charm. Most urban reporters would roll their eyes, but I didn't recoil when they addressed me as 'Rakesh Sir'. I figured I was in excellent company—Barry Bonds Sir, Mark Ciardi Sir, JB Sir, and even the bizarre Santa Sir!
"This is the most amazing thing I've been part of," says Tom House, University of Southern California pitching coach, who has spent the last six months training the pair. "This is like medical science. It's turning raw athletes into pitchers. You wouldn't believe how far they've come."
However, the hype and the hoopla haven't translated into any major moves professionally. While 30 talent scouts turned up to see them pitch after they completed training, they were signed by the Pirates as free agents for just $10,000 each, suggesting that nobody expects the pair to play any Major League games in the near future. A Pirates representative says the two players are likely to spend the next few years in the minor leagues honing their skills. Coach House is cautiously optimistic: "I know they can pitch, but we have to teach them how to play the game. It is well worth the risk."
Indeed, the entire exercise seems like a shrewd marketing gamble. Ever since signing the two Indians, the Pirates, who won their last World Series title 30 years ago, have been besieged by the media from around the world, including India. Singh and Patel will now take part in the Pirates' Minor League spring training next year. Their promoters hope they can make it as professionals, saying such success would boost baseball in cricket-mad India in the same way that Yao Ming's move to the NBA created a fan base for basketball in China.
"The Pirates are committed to creatively adding talent to our organisation," Pirates general manager Neal Huntington said in a statement. "By adding these two young men, we are pleased to not only add two prospects to our system but also hope to open a pathway to an untapped market."
Singh and Patel are hopeful they can play hardball with the big boys. They say they'd like to win the World Series for the Pirates. "We are extremely proud to represent India in the US. No Indian has ever done this before so we are trying very hard to show the USA that India has good athletes too; that Indians can do anything."
The pitchers want their dream run to continue. "It's hard to put in words what all of this has meant to us," Singh says. "This is a world we didn't even know existed. We're living it now. "We don't want it to end.".