"Slumdog Millionaire is just every scrap of dirt picked up from every corner and piled up together to try and hit back at India. The awards almost seem like a sadistic effort to show the world — look we knew this was India, and these are the slumdogs we are outsourcing our jobs to."
These are not the words of a rabble rousing Indian politician, of whom there are plenty in the world's largest democracy. The caustic comment is from a post by management consultant and film producer Arindam Chaudhuri on his blog.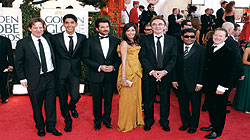 According to Chaudhuri, the film serves up "India as the accidental millionaire, which in fact happens to be a slumdog".
Indeed, Chaudhuri and others say the film crosses the line into stereotype in a way that "stinks of racial arrogance" and is designed to undermine India's inevitable rise on the world stage.
---
"Slumdog's eventual victory comes at a price. When the selective manipulation of Third World squalor can make for a feel-good movie in a dismal year, the global village has a long way to go"
---
Eight Oscars rich, the British film has won over western audiences with its fairytale-in-a-Mumbai-slum storyline, but the film has opened up a heated debate in India and in the West about the stereotyped representation of India in western films.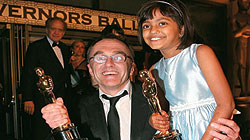 Says Alice Mills of The Times, London: "It is vile film. As it revels in the violence, degradation and horror, the film invites you, the westerner, to enjoy it, too. Will they find it such fun in Mumbai?"
India's greatest actor, Amitabh Bachchan, joined forces with the critics in his blog. "If Slumdog Millionaire projects India as Third World and dirty and causes pain and disgust among nationalists and patriots, let it be known that a murky underbelly exists and thrives even in the most developed nations," he wrote.
Northwestern University professor Vrinda Nabar writes in the Mumbai daily, DNA: "Slumdog's eventual victory comes at a price. When the selective manipulation of Third World squalor can make for a feel-good movie in a dismal year, the global village has a long way to go."
Indeed, the film seems to feed off a desire in a certain section of westerners to feel good about their lives vis-à-vis the poverty in developing countries.
Sue H., an Auckland-based store owner, travelled to India 10 years ago on an extravagant tour that took her to the palaces, forts, the Taj Mahal tomb, and luxury hotels of India's Golden Triangle (Delhi-Agra-Jaipur). "It's a unique country and I want to take my children there next time," says the New Zealand resident.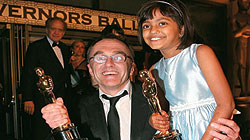 However, Sue won't be showing her children glimpses of India's past glory. And forget about walking tours of its modern cities, space centres, moon mission facilities, which prompted US Republican presidential candidate John McCain to demand the inclusion of India in the G-8.
No, Sue wants to show her young impressionable children the "other side" of India. But why expose them to something they could possibly leave scars? "I want them to see how the poor live there, so they can realise what a wonderful country we have back here," she says.
Slumdog Millionaire doesn't even represent reality. The scenes of police torture and starving children beaten and blinded are hardly the stuff of Dharavi, the Mumbai shantytown featured in the movie.
Earlier this month, the UK's Prince Charles said Dharavi offers a better model than does western architecture for ways to house a booming urban population in the developing world.
Addressing a conference at London's St James' Palace, Charles said: "Dharavi's use of local materials, its walkable neighborhoods, and mix of employment and housing add up to "an underlying intuitive grammar of design that is totally absent from the faceless slab blocks that are still being built around the world to 'warehouse' the poor."
Indeed, the poverty in Dharavi is of a different character. Here poor children can be seen playing, attending school, not begging. Besides, India's liberal democracy grants them freedoms, while also allowing the media to film the squalor. It's not that the Chinese and North Koreans don't have slums, but the chances of landing in a communist prison can deter the most committed journalist from filming them.
Such facts don't stand in the way of people like Danny Boyle who are the latest purveyors of poverty porn. They accuse Indians who blast their movies of reacting like the Victorian first did to Charles Dickens' Oliver Twist.
But that's missing the point. The fact is the West seems to lap up anything that shows India's dark underbelly. The New York Post calls the movie "Slumderful!" The Hollywood movie guild bestows eight Oscars, days after the British lavish awards on it.
"The awarding of the Booker Prize to Indian writer Aravind Adiga's The White Tiger shows that the seamier side of the Indian dream continues to have a resonance in Western sensibilities," says a DNA editorial.
Here is the British Board of Film Classification's (BBFC's) summary of the film: "Strong violence is seen in a scene where a group of Muslims are attacked and killed in the street – together with general chaos and beatings, there are some stronger and more explicit moments, such as the deliberate setting of a man on fire... We also later see strong violence that includes a knife held to a woman's throat as she's forcibly snatched off the street, an impressionistic blinding of a young beggar boy, and torture by electricity in a police station. The BBFC has placed this work in the COMEDY genre."
Sorry, Indians don't get the joke.

---
Slumdog Millionaire has sparked a prurient desire in westerners to peep into India's dark underbelly—welcome to slum tours

The British movie Slumdog Millionaire has spawned a brave new adventure – slum tourism. Expedia, a Washington-based company, is promoting the slums of Mumbai as the hottest tourism destination this spring and summer.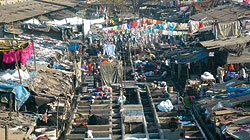 The global online tourism vendor has unveiled an Oscar holiday destination package that promises to show you every sick surprise that a slum can spring at jaded tourists. Walk through the smelly streets, avoid falling into the rotting sewage, and take home an experience that'll make you feel good about your suburban digs.
According to Expedia sources, post Slumdog Millionaire, Mumbai now tops the chart of global tourist destination made popular by the Oscars.
Expedia isn't the only one cashing in on the slums. The movie has boosted business for Reality Tours and Travel, which is co-owned by Chris Way, a Brit who lives in Mumbai.
Way estimates sales are up 25 per cent since Slumdog Millionaire's release. He admits publicity surrounding the film has played a big role.
Reality Tours and Travel's website tells you what to expect once you are out of the aseptic environment of your hotel room and the privileged neighbourhoods.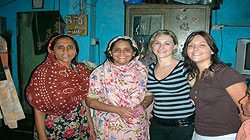 "On the long tour you travel in the comfort of an air-conditioned car. We…head to the shanty town, passing areas of interest en route such as a boys′ shelter, Kamathipura (red light area) and a big open air laundry. The guide explains about these places and other issues facing the less privileged members of Indian society. It is quite an adventure to pass through the narrow alleys, and you will almost certainly lose your sense of direction!"

There's more. "With the very high density of population and the limited infrastructure and sanitation facilities, there are areas which are quite dirty and smelly. We ask you to wear covered shoes."
So how ethical is the world's latest sunrise industry? "If one goes as a spectator, it's little different than a visit to the zoo," says Jeff Greenwald, executive director of EthicalTraveler.org.

"Part of the key is interaction," adds Greenwald. "Do visitors get to speak with these individuals, and gain a sense of their lives? … If not, this is the modern equivalent of watching people suffer in public coliseums."

.