SUPER MAN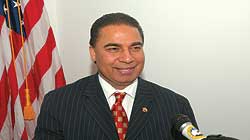 Bobby Kumar Kalotee has created political history in the USA. He has been elected chairman of the Reform Party, one of the six nationally recognized political parties in the USA. In getting there he has become the first ever Indian American to head a political party at the national level in America. In fact, no one from any community born outside the USA has ever risen this high in American politics, and that itself makes his distinction even greater
By Sayantan Chakravarty
Albert Schweitzer was right. "Success is not the key to happiness. Happiness is the key to success," he said. "If you love what you are doing, you will be successful." You find the echo of the Noble Peace Prize winner's famous words in the life of Bobby Kumar Kalotee.
Kumar had an ordinary background in his native Punjab, but what separated him from others was his ability to dream extraordinary dreams. He was born in penury, and has confessed having lived in hunger through much of his childhood. Often the slum-like conditions of his existence deprived him of water, sewer and power supplies, things that are taken for granted in the world that he now lives in. And yet, he has no regrets, and says that he saw in the obstacles he once faced, a chance to make a difference to his own life and that of others.
He left home at a young age for Greece and Italy and the very first foreign language he was to learn wasn't English. He reached America at the age of 21, not knowing a word of English, but somehow he never saw that as any kind of obstacle. He moved luggage, served as a busboy, washed dishes, sold balloons, worked inside ships, and shined shoes, to make a living, and, of course, learnt English along the way. Then one day, when one of those he worked for gave him some money to start something of his own, he showed the entrepreneurial skills that would forever alter his financial future. He has been successful in the business of electronic voting machines, real estate, publishing, construction, environment and has even started and won an award for a micro brewery that produced 23 different kinds of beer which he himself didn't drink being a teetotaler.
And yet, today as the chairman of the Reform Party, Kumar tells you that nothing much has really changed. He says he was happy shining shoes, and living in slum-like conditions, and has no regrets. He is grateful for having been surrounded by loving parents, doting neighbours, and a good and just society, and, therefore, his learning curve never dipped in life. "I'm as happy now as I was while doing dishes and moving luggage, or waiting for the dark nights without electricity to end" he says. We really don't need more proof about Schweitzer being right.
Today, expectations out of him are naturally very high, especially those of the members of the Indian American community that he has served well over the years in the USA. They see in Kumar a man who can deliver on promises (see the section on comments on Kumar), and someone who can take the Reform Party to newer heights. Says Kamal Dandona, chairman of the Indian National Congress of America and also chairman of the Bollywood Group of companies: "Bobby will play a vital role in the next elections in deciding the next president of the United States."
The Reform Party itself was established in 1995 by billionaire businessman Ross Perot who ran for President of USA the next year and lost. Perot received eight per cent of the popular vote in 1996, much less than the nearly 20 per cent he had garnered in 1992. Yet, it was an unusually successful third-party showing by American standards. The Reform Party today covers 27 states in the USA, and all of them voted for Kumar in the elections held a couple of months ago. It is affiliated to the Independence Party chaired by Frank McKay which covers 12 states. McKay was until recently chairman of the Reform Party and says "Kumar is his brother from a different mother", a sentiment Kumar is prompt in returning.
Humility and a natural ability to philosophize remain central to Kumar's personality. He has a philosophical take on his early days. "I do not say that I had humble beginnings. I say that life taught me to become humble early." And to this day he credits his late mother for having instilled in him the need to practice humility, at all times. "Namrata," the Hindi word for humility, his mother would say, "was far more powerful than all the arrogance in the world could ever be." And he finds it so.
As you come to grips with the spectacular rise of Bobby Kumar Kalotee, get to see and admire his people skills, you begin to realize that he could go very far from here. Really it did not take a great education and a privileged background for him to reach where he has. Staying happy, relaxed, and ever grateful for what he has in the present has helped him realize his American Dream.
Interview with Bobby kumar
National chairman of the reform party, U.S.A.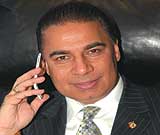 Bobby Kumar Kalotee, National Chairman of the Reform Party USA, is the first Indian American ever to be elected to as Chairman of a political party in the United States at the National level. Mr. Kalotee spoke with INDIA EMPIRE (IE) Editor Sayantan Chakravarty
"I'm American. I represent the American people. And I'm proud of being born in India"

IE: You've had a miraculous rise in American politics. Take us through it…
KUMAR: I joined the Republican Party in 1982 as a volunteer. In 1985 I became the Chairman of the Republican Volunteers Club and assisted President Reagan and VP Bush in getting re-elected. I became a national Co-Chairman coordinating the activities of all the ethnic groups on behalf of President George Walker Bush's election in 1988. I became involved in New York City's mayoral election in 1993 and was an integral part of Rudy Giuliani's election as Mayor.
| | |
| --- | --- |
| | |
| With the New York Mayor Rudy Giuliani | With former American President George Bush Sr. and his wife Barbara Bush |
During the 1994 New York state elections, I was actively involved as one of the key campaign organizer's of George Pataki's gubernatorial election committee as well as Dennis Vacco's election committee as attorney general. I also was actively involved in the election efforts of the majority leader of the New York Senate, Joseph Bruno.
I have been actively involved in many other local and national campaigns of both Congressmen and Senators including those of US Senator Alfonse D'Amato, Senator (and now Secretary of State) Hillary Clinton, Congressmen Peter King, Gary Ackerman, Steve Israel and Congresswoman Carolyn McCarthy.
In 1994 I met the Chairman of the Nassau County Republican Party, Joseph Mondelo, who subsequently appointed me as Vice Chairman of the Nassau County Republican Party (New York) a position I held through 2004. In that role I was able to play a major role in the election of President George Bush.
I was in friendship with New York State Independence Party Chairman Frank McKay for many years. One day at a lunch meeting with the Chairman I decided to change my affiliation to the Independence Party because I admired his leadership in politics as well as the party's principles. Independence Party and Chairman McKay are a major force in politics today and I'm honored and privileged to be affiliated with Independence Party. McKay is my brother from another mother.
In June of 2006, I was elected the Executive Director and Vice-Chairman of the Independence Party of Nassau County. In September of 2006 I became Chairman of the Independence Party of Nassau County, and Executive Committeeman of New York State.
| | | |
| --- | --- | --- |
| | | |
| Chairman Kumar with the current New York Mayor Michael Bloomberg | With former American President George W Bush | With former US President Bill Clinton |
In September of 2008 I was unopposed in my re-election to the Chairmanship and State Executive committee of the Independence Party. In the same year I was elected as National Executive Director of two different political parties: The Independence Party of America and the Reform Party of USA. Nobody has ever obtained the position of National Executive Director of two different political parties at the same time.
The Reform Party was started by Ross Perot in 1992, when he ran for President. That year he won nearly 20 per cent of the popular votes in the general election. The Reform Party today is America's third major political party. Today voters are much more sophisticated and they are voting for candidates and just along party lines. At a time when a small margin can make the difference in an election, such as the first election of New York city Mayor Bloomberg, every vote counts.

IE: Will you now focus in a major way on the Indian community to further your prospects?
KUMAR: I am not elected to represent any one group. I'm elected to represent my party. I'm American and I represent the American people. Having said so, let me add that I'm proud to note that the Indian community in the USA today is very vibrant, successful in almost every field (business, science and education) and has a strong presence in America's political, social and cultural milieu. All this has been achieved in a very short span of time. You'll find that the people of Indian descent, regardless of where they have settled in the world, whether it is North America, South East Asia, Europe or Africa, have done very well. Indians have contributed much to their adopted countries.
With the then Prime Minister
Inder Kumar Gujral
With the then Prime Minister
Atal Bihari Vajpayee
With the then Deputy Prime Minister L.K.Advani

IE: Will you be like the next Bobby Jindal of American politics, the next big thing in the Indian community?
KUMAR: Bobby Jindal has enormous talent and has created a unique position in American politics. My role is very different in the political arena. I look for people with the talent of Bobby Jindal and assist them in assuming the political role that they deserve.

IE: Do you see Bobby Jindal as the next President of America, an Indian American president?
KUMAR: We will always have an American as President. Hopefully one day the President will be from Indian descent just as one day the President came from African-Irish descent. That is what makes, and will continue to make, America a great nation.

IE: The Reform Party is another national political party in America. Is America really ready for another such party?
KUMAR: More parties gives you guys in the Media so much more to talk about. There is so much more excitement when there are more people in the fray. You have more content for your story. More importantly and seriously it also allows people to have more choices in which they choose to represent their interests. While I don't think America will ever have as many political parties as India, I do believe America needs more than two major political parties.
| | |
| --- | --- |
| | |
| With Secretary of State Hillary Rodham Clinton | Chairman Kumar honours Congressman Peter King. Also seen are Steven Cohn, Esq, NY State Republican Chairman Joseph Mondello and Ny State Comptroller Thomas DiNapoli |
IE: How do you want to take America forward?
KUMAR: America must return to a government that is responsive to the people and not be run by the lobbyists for the benefit of the corporations. Our political system has lost touch with the needs and the interests of the people. We must reduce the size of our government bureaucracy. We must simplify our tax code and have large corporations pay their fair share. We must tackle the issue of immigration in a manner that is most beneficial to America.

IE: But sometimes lobbying is required to raise funds, apart from getting votes?
KUMAR: Lobbying should be used to present positions to the elected officials not to buy votes. Unfortunately, today lobbyists raise funds to unfairly influence elected officials without any consideration for what is best for the American people.

IE: Now Ross Perot was a brilliant billionaire businessman who chose to start the Reform Party. Do you believe that your party should field candidates who have money power?
KUMAR: Ross had his own money, it helped. Having said that let me say that we are for those candidates who are Americans first, and carry the American dream in their hearts. We want people who believe in our ideology of providing good leadership. We want candidates who are ready to take up leadership roles, money or the lack of it will not stop our party from fielding the best candidates.
| | |
| --- | --- |
| | |
| With Punjab Chief Minister Sardar Parkash Singh Badal | Bobby Kumar is a hero in his native Punjab, gets felicitated |
IE: Bobby, I understand that you've had little formal education, and yet you run what is today the third largest national political party in the USA. Has attitude determined your altitude?
KUMAR: Attitude is extremely important. Growing up on the streets of India and the slums of India creates in you either an attitude of failure or instils in you a drive to succeed. You don't need a formal education to succeed. You need a willingness to learn from everybody and a fire in your belly to move forward and upwards. I try and learn from the wealth of intellectual and cultural talent around me. If there are obstacles in my path, I take them as opportunities to learn. Obstacles are not excuses for slowing down.

IE: You did mention that you lived in the streets. What was life like then?
KUMAR: I am from a small village in Punjab, which had no electricity, no sewer system, no TV and sometimes no food. But I missed nothing because I had great parents and wonderful neighbors who cared and loved. I learned a lot from all that surrounded me, I learnt that people are caring and you can turn difficult times into opportunities. If I felt deprived, I did not complain, I just saw an opportunity to overcome and create a better tomorrow.

IE: Your family life…
KUMAR: My father was in the medical branch of the British Army, and then in the Indian Army. I don't know too much about him during that time as he was mostly away. I have four siblings, all older than me. Most of my cousins joined the Indian Army and Navy. My father passed away when I was twenty and my mother passed away two years ago. They both were loving parents.

IE: And then you decided to move out of India…
KUMAR: Yes, I was very young, and spoke only Hindi and Punjabi. The first foreign language I spoke was not English, but Greek. I arrived in the USA at the age of 21, speaking very limited English. I have polished shoes, sold balloons, carried luggage, washed dishes, been a bus boy. I regret nothing. Those moments, and those jobs were as wonderful as being the chairman of the third largest national political party of America. To me, the job I appreciate the most is that of being a good friend, and being a caring human being.

IE: Are you saying that titles mean very little to you?
KUMAR: Yes, absolutely. Titles in professions come and go. In the end they mean very little. What remains with you are the badges that you earn: the badge of a son, a brother, a friend, and a human being. There is nothing greater than humility. I learnt this while growing up in India and later in the United States. I do not look at my beginnings as being humble, but only that I was exposed to being humble early on in life. I found arrogance has no place, and ultimately is a disaster. There is nothing smaller than being arrogant. My advice to those around me has been to be humble, it has much more power than arrogance, just as peace has more power than war, and agreement has more power than disagreement. I am grateful for each and every moment life has granted me. I want to serve man with love, respect and in humility.

IE: So you are committed to peace, not war. Do you want to set up a peace foundation?
KUMAR: Peace must always win. Peace is a wonderful idea to begin with in any life. It's a good idea, that of a peace foundation and I'll take it up seriously. Peace must prevail, and democracy must exist. They allow free minds to do wonders in this world, and prevent intellectual minds from being suppressed. The atom bomb or the despotic rule of Idi Amin is not the way forward in this world. History has more respect for Mahatma Gandhi, Nelson Mandela and Martin Luther King than for Adolf Hitler. We should follow examples of peace, not those set by wars. War and turmoil must end.

IE: So your party is against the wars America is fighting…
KUMAR: It would be unfair to make a blanket statement that anyone is against all the wars America has fought or is fighting. America has fought for freedom of other countries and freedom of other people. America has fought to stop the slaughter of innocent civilians. America has fought for other people and other countries to live in a society where they do not have to fear for what they say and how they pray. While nobody wants war, the vast majority of times America has fought were to protect and preserve the rights and freedom of others.

IE: As a leading Indian American in politics you are in touch with thousands of people. Who in India do you count among your friends?
KUMAR: Most of the good people specifically my brother Shashi Kapoor ji, Nitin Mukesh ji, Pankaj Udhas ji, Shatrughan Sinha ji, Vinod Khanna ji, Raj Babbar ji, Jessi Singh ji, music director Anandji, Baba Kashmira Singh ji, Siva Prasad ji.

IE: What places in India do you like the most?
KUMAR: Though I admire entire India but I can only speak for what I have seen or travelled to. Few places which I love are Amritsar, Jalandhar, Jaipur, Hyderabad, Bangalore, Dehradun, Delhi and Sun Temple in Bhubaneshwar.

IE: You must be closely following the Indian elections, what is your take?
KUMAR: I think Indian politics is very intriguing, it is very different the way it is campaigned in India but I love ordinary Indians who are so fascinating when it comes to the voting. I think Congress has done a fairly good job, but I leave it to the judgement of the Indian public and whomever they may choose. It is their vote and judgement which matters most. And I wish for the best for India and Indians.
THEIR TAKE ON CHAIRMAN KUMAR

Bobby is truly among the topmost influential and powerful leaders in the U.S. He has come from the most humble upbringings to the most powerful corridors of power in the US. He has helped, assisted and promoted almost all the causes and concerns of India and its people in the U.S. He is personally very well known to each living President and is in regular touch with most Senators and Congressmen. He has now achieved the highest political post that any Indian has ever achieved, that of being the national chairman of the Independence party. Needless to say, Bobby will play a vital role in the next election in deciding the next president of the United States. He is an extremely loyal friend and carries with him all our traditional values. I am confident he will reach higher goals and will be a further force to reckon with.
—Kamal Dandona, Chairman, Indian National Congress of America and Chairman of the Bollywood Group of companies



I have known Bobby Kumar for years, he is a promising individual who cares about people. He has worked hard to get to where he is today. Bobby Kumar is a living example of the American Dream, and a friend you can always count on.
—Former New York State Senate Majority Leader Joseph L. Bruno

I know Bobby for the last 21 years and watched him become a great leader in politics. Bobby is a friend that you love to have. He cares about people and the country he lives in. I'm glad that my friend is now Chairman of the Reform Party, USA. I wish Bobby all the success that he deserves.
—Congressman Peter King


I am proud to say that I know Bobby Kumar for the last 16 years. Even though we belong to two different political parties, we became very good friends on our very first meeting. Bobby is a friend and a charismatic leader and it is wonderful that now he is a National Chairman of the Reform Party, USA. Keep up the good work my friend Bobby.
—Thomas P. DiNapoli, New York State Controller


It's great news that my friend now is a national Chairman of the Reform Party, USA. I have known Bobby for many years, he is a great leader and a good friend and his word means everything. He tells you straight whether you like it or not, I admire his ability to get the job done. I am proud to call him my friend.
—Dean Skelos, Minority Leader, State of New York Senate

The news about Bobby Kumar's achievement in becoming Chairman of Independent Party is an excellent example of American free enterprise at its best.
A first generation immigrant who started his life in America as a busboy, Kumar has steadily focused on his political interests that grew as his community developed and matured through the 1970s, 80s and 90s. I knew Bobby Kumar in his early days as a fledgling politician. I was a TV producer and host of a weekly show and met him on a few occasions. He always carried the air of a zealot – in a positive manner. He was organized and full of ideas about bringing our still insular Indian community out into the mainstream of American life.
—Anita R Ratnam, Choreographer and cultural activist, India / US

It is an honor to have him with us. He is so talented and has excellent political and people skills. He has the ideal qualities to lead the Reform Party in the next decade. Bobby Kumar has realized the American Dream, becoming the first person born outside the US to head one of the six nationally recognized parties. What I like most about Bobby is that he stands up for the people who need help regardless of where they come from or what their beliefs or politics are. He recognizes the issues that affect people in their daily life. It is a wonderful thing that due to what he learned at a young age his beliefs were reinforced to help or assist people. He is not afraid to pick a big or small issue as long as it is legal, honest and moral. Bobby is so diversified with the knowledge from travelling around the world and learning from people that he can be heard saying that he is not afraid to learn. I admire Bobby, he practices what he preaches, and often. I say Bobby is my brother from another mother. I wish him all the success and look forward to working with him. Bobby is a leader's leader.
—Frank McKay, Chairman of the Independence Party of America

Bobby Kumar is a constituent, colleague, and a friend of mine. I feel very strongly that, in the wake of his election as its National Chairman, the Reform Party USA will develop into an even more significant governmental and political force.
Chairman Kumar possesses all of the traits necessary to lead a populist movement. He says what he means and means what he says. Interestingly, Bobby was born and raised in India. To the best of my knowledge, he is the first Indian-American to be elected to the leadership of a national political organization. He not only embodies the "American Dream", but he is an outstanding role model for all citizens of the world.
I always have been, I am now, and I always will be a staunch Republican. Nevertheless, I am looking forward to working with Chairman Bobby Kumar and the Reform Party USA, to help make a great nation an even better place for ourselves, our children, our children's children, and beyond.
—John Venditto, Supervisor, Town of Oyster Bay

Bobby Kumar made his name because of helping people and his good work. He is a community-oriented person. Communities need more people like him.
—Sudhir Parikh, Community leader and philanthropist

I have known Bobby Kumar for several years. He has endless potential. He is a very dependable friend and politician. The community is fortunate to have a person like him. He is always there to help people in need. Our country needs more people like him. His dedication to community is known. He helped us in establishing our Temple and his help in getting the necessary permits from the Town and Nassau county administration, was greatly lauded by our temple.
—Arvind Shah, President Vaishnav Temple of New York

Bobby Kumar is an asset to the Indian American community. He has worked hard to reach this point, and he is always concerned about his friends and the common men. He is God-fearing and a positive thinker. All my best wishes to Bobby Kumar. God bless him.
—Yash Paul Soi, President, Federation of Indian Associations, NY



I think it is an absolute honor to know Bobby Kumar as a Chairman of the Reform Party, USA. We need some one like him, who stands for our principles, for the common people and for our country. He helps every one at every single level, whether that person is a party member or not. Bobby Kumar brought me back to the political arena. Because of Bobby Kumar we all work together. Our family includes people from all walks of life, working families, young people, students, house wives, as well as people of all ethnic groups under the Reform Party. Bobby Kumar is an asset to the India American Community. He always tries to help every one in the community. His skill to lead people is commendable.
—Pam Kwatra, leading social activitist and communication expert



Bobby Kumar has always been about helping people in the community. Helping others is largely how he gauges his self-worth. He never tries to excuse his actions, but rather, he tries to explain them, even if the explanation doesn't pass well with some of his friends. It is left for each individual to assess Kumar's sincerity. Some, including many of influence, have and will always stand by him.
—Lal Motwani, President GOPIO-NY, Vice President, NFIA and President Sindhi Circle

Bobby Kumar is one of the most dedicated individuals. He works hard for the community. He deserves the best. We are happy to learn that he became the Chairman of the Reform Party, USA. He is a very good supporter of the Sikh community, we consider him our own. Even if we approach him in the middle of the night he responds.
—Raghbir Singh Subhanpur, President, Akali Dal-USA, NY.

Bobby Kumar Kalotee has in his short time in America emerged as one of the most influential forces in local politics. His ascension to the chairmanship of the Reform Party will allow him to enter and impact the national political landscape. There is no question that given his strong family and personal values, this impact will be an asset to the American people.
—Steven Cohn Esq., prominent lawyer from the State of New York, general counsel of the Reform Party USA and Independence Party of America

It is my honor and pleasure to congratulate Bobby Kumar on achieving this distinguished high position as the National Chairman of one of the major political parties of our country. He has made us all very proud by reaching this prestigious level at the national political arena.
This is not by chance, and I am not surprised, this is the result of his hard work, dedication, and compassion that he has for society in general and specifically for South Asians. We all can walk with our heads held high in the community because of my younger brother Bobby.
—AZAD K. ANAND, A pioneer of diagnostic laboratory system



I think it is laudable to have an Indian American to spearhead a major political party in the U.S. This will further facilitate the political growth of our community and make it a powerful and vibrant force in mainstream politics. Change comes from each one of us and if we all work together as a cohesive community we will be able to surmount this last frontier. My congratulations to Bobby Kumar in helping us realize our political dreams.
—Renee Lobo, Community news director / producer / host ITV & community activist, Human Rights Commissioner, City of New York

This is the greatest news that Bobby Kumar has become the Chairman of the Reform Party, USA. He is the one man I know in our community in general that can help everyone. It really doesn't matter what he looks like, is rich or poor, businessman or worker as long as what he does is legal, honest and moral. I spent some time in his office and watch him helping so many people in a day. God bless him. I'm proud to call him my friend.
—Eddie Malhotra, Businessman and community Leader

Bobby Kumar is a hard working individual; he has the gift of being able to bring people together. Bobby Kumar is a person who will never back out of a situation. Bobby Kumar has the ability it takes to attain his given goals. I have known Bobby Kumar for years; he is a promising individual who cares about the people. He has worked hard to get to where he is today. Bobby Kumar is a living example of the American Dream, and a friend you can always count on.
—Bhupi Patel, community leader and former president of Gujarati Samaj



For the first time in history, a boy from Punjab has become the national Chairman of a political party in USA. It is nobody else but our very own Bobby Kumar who always stands to help out the community.
—Manjit Singh Dasuha, Vice president, Akali Dal USA, NY

I know Bobby Kumar for the last 20 years. He has worked hard to reach this level, he is very humble, honest and a trustworthy friend. His friendship means a lot to me. He always stands for his friends. We are really lucky to have a person of this caliber in our community. I am very happy to learn that Bobby Kumar became Chairman of the Reform Party, USA. He is very much a community-minded person, he always stands for the people in need. God bless him.
—Mohinder Taneja, Community Leader, President, Sikh Alliance
We have known Bobby Kumar for the last 25 years. From the outset, he has been involved in the Indo-American community in the tri-state area of New York, New Jersey and Connecticut. Now his involvement is all over America. His activities have covered many different fields: political, social, educational and community enhancement. His efforts have been instrumental in helping Indians join and participate in activities previously carried out exclusively by the American mainstream. The entire community is aware of the work he has done.
—Inderjit S. Bindra, President, World Punjabi Organisation

I know Bobby since 1983 and have seen him grow along with the Indian community. The reason for his growth I feel is his true concern about the people as a whole and Indian community at large. Due to his sincerity and caring attitude towards the Indian community many people have benefitted including me in getting help from him while running a business or as an individual.
—Bobby Chhikara, Diwan Restaurants & Antuns Catering

I have known Bobby Kumar for the last 20 years. He's been in politics for a long time. He's like a brother to me. Bobby always stands by his people and always helps those who are in trouble, or facing hardships. He is always upfront in his action and he has worked hard to build his reputation. He has proven that he is the best.
—Shami Singh, former president of Nargis Dutt Foundation and social activist.

Bobby Kumar is like a son to me. He is among those few people whom you can trust and who will value your trust positively. Bobby is very much liked by everybody in the business community because of his helping nature. He is an individual who works hard and pursues his good work in people's interest. I am very happy to know that he has become the chairman of the Reform Party, USA.
—Shiv Das, chairman, Jackson Heights Merchant Associations, NY