Maxim Hot!
Maxim has named sun-kissed supermodel Marisa Miller—a California native—the hottest woman in the world. The lad mag hasn't conjured up the list based only on hot as in sexy, but as in talent, buzz and intrigue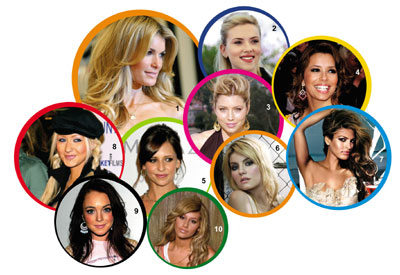 HOT LIST 1. Marisa Miller, 2. Scarlett Johansson, 3. Jessica Biel, 4. Eva Longoria-Parker, 5. Sarah Michelle Gellar, 6. Elisha Cuthbert, 7. Eva Mendes, 8. Christina Aguilera, 9. Lindsay Lohan, 10. Ashley Tisdale
She landed the coveted Sports Illustrated swimsuit issue cover in February and now supermodel Marisa Miller has been named the 'World's Hottest Woman' for this year by Maxim magazine. The American beauty beats out 99 other hot women including Scarlett Johansson to top Maxim's annual countdown of lovely ladies, reports Contactmsuic.

Johansson may be No. 1 with fiancee Ryan Reynolds, but the popular lad mag instead gave top honors to supermodel Miller. "Not since Cindy Crawford ruled the catwalk has a pinup born and bred on US soil so thoroughly captured the imagination of the American male," states the magazine.

This leaves the usual suspects like Johansson and Jessica Biel to follow in the model's long-legged wake. Also making the Top 10 are Eva Longoria Parker, former "Buffy the Vampire Slayer" star Sarah Michelle Gellar, Elisha Cuthbert, Eva Mendes, singer Christina Aguilera, the rehabbed Lindsay Lohan and Disney Channel star Ashley Tisdale with her new nose.

Other notables on the lengthy list include: MySpace sensation/bisexual Tila Tequila, "Dancing With the Stars" pros Cheryl Burke and Julianne Hough, " Harry Potter's" barely legal Emma Watson, pint-sized favorite Kristen Bell, "Gossip Girl" rivals Leighton Meester and Blake Lively (of course Serena scored better), Joss Whedon favorite Eliza Dushku, the scandal-free Hilary Duff, Ashlee Simpson and Vanessa Hudgens, whose spot was likely sealed when nude photos of her appeared on the Internet.

Magazine editor James Kaminsky said that Miller was his choice because "she represents the return of the great American supermodel".
The 29-year-old is known for her many appearances in the Victoria's Secret catalogs.
The list isn't based only on hot as in sexy, but as in talent, buzz and intrigue.