FRANCE COURTS INDIA
SOLAR PLANT
As soon as they landed, they were gifted a bright red chunri of Goddess Vindhyavasini, the presiding deity of Mirzapur. The two then inaugurated the biggest solar power plant of Uttar Pradesh in Mirzapur district. The 100 MW plant will be producing 75-mw electricity for the time being. Smiling all along and holding hands off and on, both Mr Modi and Mr Macron unveiled the inaugural plaque in the presence of Union Minister Anupriya Patel, Chief Minister Yogi Adityanath and French First Lady Brigitte Macron, besides others.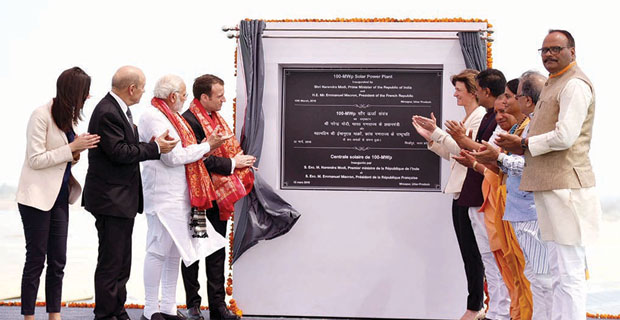 The French President and the Indian PM inaugurate the solar power plant at Mirzapur in Uttar Pradesh on March 12, 2018. Also seen is UP Chief Minister Yogi Adityanath
The power plant has been built at a cost of Rs 650 crore in Dadarkala over a stretch of 380 acres in the Vindhyan mountain range. The plant has 1.18 lakh solar panels and the power produced from here will be transmitted to the Jigna Power sub-station of the Power Corporation. The electricity produced will then be divided into two A and B sections of Mirzapur and the remaining electricity will be supplied to Allahabad. Officials of the plant informed Mr Modi and Mr Macron that the generation of power will begin with the first sun rays and the plant will shut down with sunset. The plant has 318,650 solar plates with each plate having a generation capacity of 315 watt. The plant was completed in 18 months flat according to officials. It can feed 1.5 lakh households every day.