FRANCE COURTS INDIA
BOAT RIDE ON THE GANGA
Back in Varanasi, Mr Macron and Mr Modi took a boat ride on the Ganga, animatedly talking on the flower-decked double-decker vessel. Mr Modi briefed Mr Macron about the history and significance of various ghats along the holy Ganga. The two walked to the Assi Ghat after visiting the Deendayal Handicraft Museum. The Prime Minister told the French President about various handicrafts on display at the stalls. They briefly halted to hear the locals playing shehnaai. The two retired for lunch at the Nadesar five-star hotel, belonging to the Taj Group.
While Mr Macron stayed back at the hotel to rest, Mr Modi drove to keep his other engagements.
INDO-FRENCH CENTRE IN BENGALURU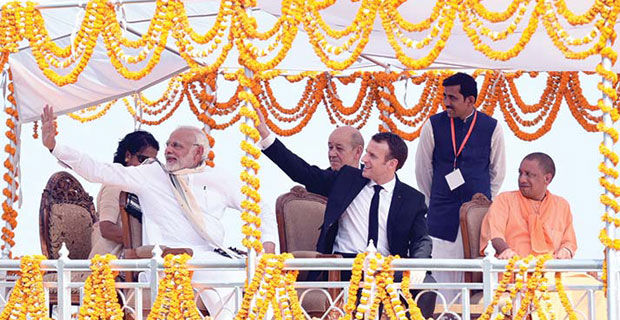 Mr Modi, Mr Macron and CM Adityanath during a boat ride on the River Ganga
Coinciding with the visit of French President Emmanuel Macron to India, an Indo-French Centre of Excellence (CoE) was inaugurated on March 12, 2018 in Bengaluru to impart vocational training to engineers in electricity, automation and energy management. Mr Macron and his wife Brigitte Macron were on a four-day maiden visit to India.
The centre has been set up jointly by the French government, French automation company Schneider Electric and the city-based New Horizon College of Engineering. "The CoE would help in strengthening and upgrading the knowledge and professional skills of teachers and students," Frederique Vidal, the French Minister of Higher Education, Research and Innovation, said on the occasion. For setting up the centre, the French government had deputed a full-time professor for three years to train the city-based college's professors on automation and energy management at Schneider Electric's labs and then designed the syllabus.
Through skill development programmes, the centre will also help in preparing students to leverage disruptive technologies to further national growth, said Shrinivas Chebbi, President (Eco-buildings)—Schneider Electric, India.