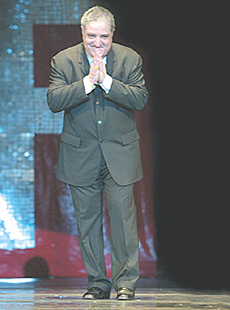 Kamal Blooms
Kamal Dandona has perhaps done more to bring India and the US closer than legions of diplomats and political hacks. Here's how he works his charm
By Arnelle Hartenstein
in New York
He has consistently defied the odds to accomplish what has been universally considered impossible. He has brought people to a world they did not know existed. He has opened the eyes and ears of a sleeping world. He has walked among a multitude of people. He has broken bread with the rich and famous. He has sat with heads of state.
Meet the amazing Kamal Dandona, who tries to test his limits and seems to always succeed in his endeavours. He wears several hats: businessman, entrepreneur, chairman, politician, gracious host, and most importantly husband and father. And when it comes to grits, Dandona doesn't hesitate to roll up his sleeves and jump headlong into his pet project.
Dandona attended school in Bombay until he was 16. Like most Indian youths he played cricket and enjoyed socialising and was even considered a 'party animal'. He then went to London, where his father was now posted and finished his A-levels. He received admission in an aeronautical engineering programme. He has a flying licence.
In 1979, at the age of 32, he landed in America. Kamal took root in Old Westbury, New York, an area best known for its excellent school system, prestigious location and closeness to New York City. Dandona certainly wanted the best for his family.
The amazing part of Dandona's life began with his first business venture. He took a risk by becoming a trader of branded electronics. In his first year of business in the US he posted a cool $25 million in sales. He held the honour of being Sony's largest distributor of tapes, earning the title of The Electronics King.
Not content with just one business enterprise, Dandona stuck his neck out in the movie world. A friend, Anupam Kher, dared him to start an awards show that would bring the Indian stars in the limelight, both in the US and the rest of the world. He accepted this bet, not knowing the challenges and pitfalls that lay ahead. "Anupam challenged me to do an awards function in the US and the crazy Punjabi that I am, took him on, not having an idea of what I was getting myself involved with," he says.