BOOM macha de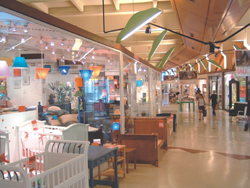 If you think land prices will not skyrocket in the coming months/years, you are most likely in the minority camp. Research indicates that the sale of two of Mumbai's textile mills at very high prices has once again driven up share prices of companies with huge real estate. Companies that own land in Mumbai or other major cities in the country have reported across the board buying in their shares. Housing complexes are coming up like there is no tomorrow and city landscapes are becoming unrecognisable. The growth is across all real estate segments and experts estimate that demand will remain steady at the currently high levels because the economic environment is improving. The real estate sector is expected to grow 30% every year. According to a leading merchant banker, urban housing sector alone will require Rs. 1.1 lakh crore over the next five years. Because of the strong upswing, prices will remain high despite increased supply.
However, some highly respected institutions have raised eyebrows on its sustainability and warn of a meltdown. The Reserve Bank of India (RBI) fears that foreign funds sourced at low interest rates could be used for buying real estate and create an asset bubble by rapid increase in prices. In some parts of the country, residential properties have risen 15 to 20% in the last two years. HDFC chairman Deepak S Parekh said, "Whether the escalation in demand and resultant up trend in prices been driven purely by low interest rates and rising levels of affluence, or whether the success story has a speculative angle attached to it." He cautioned "housing markets could be more prone to bubbles than stock markets". His logic was fairly simple. Rising property prices encourage banks and financial institutions to lend more since collateral values increase. But when prices fall, banks pull out, amplifying the burst.

Indian real estate group ties up with Dubai firm
Leading Mumbai-based Indian real estate group, Dheeraj Group, has announced its aggressive plans in Dubai's freehold real estate space including a maiden twin-tower semi-mixed-use residential-cum-commercial freehold project in Dubai Marina. Dheeraj Group's project in Dubai Marina is conceived as a semi-mixed-use development with residential and commercial components to it. The project comprises a 25 and 21-storey two tower residential component and an L-shaped three-story complex in front of it with commercial space on the ground floor.
Dheeraj & East Coast L.L.C. is now looking at launching projects in the freehold areas in Dubai, including in Business Bay and Dubailand. "We also look at Dubai as a springboard for our further expansion into other growth-focused real estate markets in the region."

Rathi realty fund garners Rs 50 cr
The recently launched Real Estate Opportunities Fund by the Anand Rathi Group has garnered commitment Rs 50 crore from investors in Kolkata. The initial target of the realty investment fund has been set at Rs 500 crore. "We have received very good response from the high net-worth individuals," said Anand Rathi, chairman of the group. "We have only taken a commitment money from investors. Once we sign up for real estate projects and start investing, we shall raise the rest," he added. The fund promoters exude confident of striking deals soon. "We are getting proposals everyday. But no deal has so far been finalised," said Rathi. The Real Estate Opportunities Fund will only pick up equity stakes in realty projects and not provide any loan. It also aims to acquire rental income yielding properties. ICICI Bank, HDFC and Kotak have also lined up funds for investment in the country's rising real estate sector.