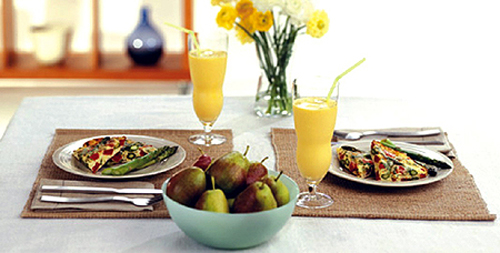 Would you try a bowlful of mushroom soup or is wine sipping your forte? India Empire fills you up on what's up next in the food and beverage scene
Flavours of Mushroom
September 9-18
At Ralphs. Uppal's Orchid, New Delhi
The timing will be 12 pm to midnight and the menu is a la carte.

Mushrooms make a very friendly ingredient to chefs, the world over. The flavour is unique; each variety has a specific taste, purpose as well as application. Mushrooms are also versatile and can blend well with other flavors like seafood, chicken, herbs and spices. Mushrooms also make a vegetarian's delight. The variety of edible mushrooms makes a very interesting subject and every place has its own distinct variety of mushroom to boast of.
French Foodies come to india
Sopexa's, the food and beverage marketing and promotion board of France, is launching its India office to help promote better ties between the food industries of the two countries. The New Delhi office would be Sopexa's 40th office abroad and India the 34th foreign country of operation. The French minister of state for agriculture, food processing, fisheries and rural affairs, Nicholas Forrisseur, will launch the office here with Jean Bosse, deputy managing of Sopexa's. The office in India would be hosted by Ritu Overseas, whose partner Rajiv Singhal, would be head of the mission here. With growing demand for French food and drinks in India, and an anticipated multi-fold growth in demand, the office would help integrate agriculture markets in the two countries. Sopexa's works to promote the interests of sectors like wines and spirits, fruit and vegetables, meat and dairy products, fish and processed foods as well as livestock.




Let's say cheers to wine
Union minister for agriculture Sharad Pawar wants Maharashtrians to drink more wine. He also wants the state government to lower taxes and allow wine bottles to share shelf space with soft drinks in grocery stores. And he doesn't like the name 'wine shop' for places that sell school (your regular rum, whiskey or vodka) preferring the name 'liquor shops instead'.

All of this, of course, will be good for the economic health of the state, said Pawar at the annual meet of the grape farmers association in Pune. Arguing that the restrictions on the sale of wine be lifted, Pawar said, "Wine should be available where we get Coca-cola." The Union minister also wants atax break for this growing agric-based industry. The state government has already adopted policy that encourages wineries, exempting wants an excise duty exemption as well. His reason are simple the industry has tremendous scope both in domestic and exports markets. And even if Chateau Indage and Sula are not the best wines in the world, they have gained acceptability in India in a fairly short span of time. "Wineries have the potential to change the economic of Maharashtra, Karnataka and Andhra Pradesh," said Pawar. But fro that to happen there has to be a change of attitude towards wine. "There is lot of misunderstanding about wine," which is different from liquor," said Pawar. The state government has decided not to describe liquor as wine. All this is very good news for grape growers who supply the raw material for wine. Their association has demanded that grape wine be excluded from alcohol category and sold without a liquor licence.
Coke loses fizz
The Kerala State Pollution Control Board (KSPCB) has ordered closure of soft drinks major Coca-Cola's plant at Plachimada in Palakkad district. In its order, the Board held that the reply given by the company to its earlier notice on pollution standards of the plant had not been satisfactory. The Board examined the sludge generated by the company and it was found that it contained the heavy metal, cadmium, at concentration of 200 to 300 mg per kg of sludge, which is 400-600 per cent above the permissible limit. The company had not implemented the directive to install reverse osmosis system. The PCB order had come as a setback to the company at a time when it was getting ready to resume production after remaining closed for about two years.
September 2005