The latest addition to the well-heeled Indian's shopping list is the urge to pick up Indian contemporary art. Having acquired a comfortable roof over one's head, and commonplace necessities like an elitist club membership and the latest in the line of cars on sale in the Indian market, several couples are looking at the possibilities of art as a viable investment. Some among them have been art buyers in the past, principally driven to this exercise to pick up whatever they fancied, and came home to hang it up on their walls , as an object of cheer. If friends and company happened to remark on their choice in a positive light, then the art buying spree seemed worth its while. At best, the picture remained hanging on the walls and came to one's notice once in a while.

Today, the shift in artistic parameters has been dramatic for art has ceased to be an object of mere pleasure and delightful viewing. For serious buyers Indian contemporary art is a financial proposition, holding as much financial muscle as stocks and shares, provided one makes the right choices of artists and their art works. Lacking both the time, the energy and sometimes the knowledge of the best buys, investors and art lovers have turned to other sources for help and guidance. This has led to a phenomenal growth of art resale advisors, who undertake the portfolio management of art for their clients and help them cut costs, limit dud sales and see their money grow.
In the secondary market, where the works of upcoming artists of sound potential are the rage, there are several investors. These newer buyers come to the sales fully equipped with knowledge about art trends, prices of artistic works and certainly outclass the unwary customer of yore. While catering to this group, the resale market has provided the best option for within their budgeted funds, the resale professional is capable of showing him a wide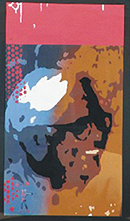 variety of artists. Thereafter, they can put their speculative skills to good measure by making their choice of purchase based on the inputs on offer. The final buy therefore is one which is then made after careful deliberation and after a number of parameters have been duly considered. Says Arunima Subramaniam, an art resale professional, 'There is a lot of demand for resale works particularly of the Progressive School of masters.

In any purchase, whether first hand or from the secondary market, the start point for the buyer is to lay down the budget he is likely to expend for an art work. Of course, the choices that will open up within the budgeted range are plentiful and across the entire spectrum, but resale professionals say there is no way of checking which artist is likely to move forward faster. "But the thumb rule is the more you invest the better your returns," says Arunima. Galleries are the ones that keep on pushing the sales of certain artists and the best buys are those that are being sold through galleries. Individual artists who have tried selling their own works are actually digging their own grave for the infrastructure of sales promotion and investment leaves such works on the fringe.

Says Praveen Upadhye of Pioneer Gallery: "The resale market has given buyers an attitudinal change. Several of them find it better to invest in art works rather then in jewellery and sums as modest as Rs 10,000 have become a start point for resale art buyers. Fortunately, it is the Indian buyer living in India who is creating this attitudinal change. Previously most of my clients used to be foreigners and NRIs . Now the Indian buyers have become much larger in size. They are the collectors of today."

While all this buying and selling of art is elitist in its character, the resale market is also an attractive proposition for the modest buyer with a limited budget. For such buyers too, the future is rosy and galleries like Pioneer in the capital have deliberately chosen to promote young promising art and offer works at a modest Rs 30,000. These figures grow substantially within half-year or two-year periods, and have proved highly popular with Indians at home, office decorators and even foreigners wishing to take back a keepsake from India.

Thus art buying for investment-cum-pleasure was never so easy. For the buyer in a hurry, who does not have the time and energy to scour galleries for bargains, there is the resale market, making a practical solution. For the art lover without a sound knowledge to back his desires. The resale world of art has provided an instant quickfix, the right artistic experience.