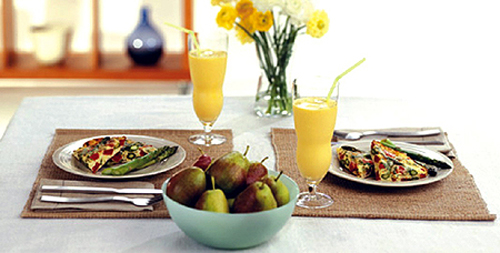 Italian food is more than just pasta and pizza; find out where to have the best Italian fare. And where did Irish coffee originate? India Empire fills you up on what's up next in the food and beverage scene
Irish Coffee
The origin of Irish coffee owes itself, as many Irish drinks do, to the cold yet "refreshing" Irish weather. In the 1930s and 1940s, Foynes a port town in the south-west of Ireland, was a major transfer point between the United States and Europe for passanger flying boats that made an often bumpy and chilly 18-hour-journey across th Atlantic Ocean. On one occasion in 1942, realizing that passengers were often cold and exhausted after the long flight and the short boat trip from the seaplane to the Foynes terminal restaurant, the caterers, managed by Bredan O'Regan, and the chef, Joe Sheridan, developed a drink with an Irish touch. One story has it that one of the passengers asked, "Is this Brazilian coffee?" to which Joe Sheridan replied, No, that's Irish coffee'. And so, Irish coffee was born.
Cooking: A Personal Affair
Chef Mitele Sbardelini of the Hyatt Regency and you'll reinforce your pre-conceptions about Italians. He's animated opinioned, flirty, humorous, and passionate and of course, constantly speaks with his hands. As the head honcho of Hyatt's landmark restaurant's he's had complete experience cooking Italian fare for desi clients. "I don't understand the food habits sometimes. Some vegetarians can eat eggs; some don't some can eat potatoes, some think even onion and carrots are non-vegetarian. I get so confused. But then it keeps me on my toes, and try and get as creative as possible when I have to work with limited options."
Sbardelini has been in India for just two years, but he's been cooking Italian in Asian countries for as long as he can remember, in countries as varied as Indonesia, Singapore and China. Sbardelini's mantra is creativity and innovation he started growing fresh greens in the kitchen on a whim one season when he relised a lot of vegetables and spices he required a Italian cooking were not available in the local market. This season, we'll be seeing strawberries cultivated in his kitchen garden.
He wishes he could change stereotyped notions that Italian cuisine is only about pastas and pizzas. The menu at La Piazza boasts of a liberal amount of seafood dishes and meat dishes that are a far cry from the hackneyed pasta fare. Constantly innovating Sbardelini periodically adds new dishes from various region of Italy to update the menu. His dishes are light and testy. As chef puts it: "Cooking is a personal affair and I love creating, and thinking up original recipes."
Christmas Carnival Just For Kids
December 25 at Royal Lawns Timings: 1100-2345 HRS.
Uppal¡¦s Orchid-An Ecotel hotel

A holiday gathering that includes rides, games and probably the tastiest buffet spread out that will leave everyone feeling merry as well as Knick Knacks such as Christmas Cake, Candy, Cookies, Jujups, Pizza, Milk Shakes, Fries, Noodles, Ice Cream Balloons. There will be plenty for the kids to do such as DJ for Kids, Santa Claus, Carols, Treasure hunt, Gifts, Prizes, Games, Puppet, Face Painting/Masks, Rides, Magician, and Bouncy etc.

Christmas is a day when all a person wants to do is, spend time with their family. Carnivals are festive and spirited so get set to brighten this year's Christmas with an unforgettable party for children as well as their parents. We at Uppal's Orchid bring to you the Christmas Carnival which will make sure that while the kids are being kids, the adults will forget for a while, that they are adults.
It's Time For City's Nightclubs And Bars
Change is only constant in life and nowhere is this truer than for Delhi's nightclubs, resto-bars, and lounges. Gone are the days when there was a solitary Ghungroo or Oasis. Today, the Capital's nightlife business is more skewed towards the needs of the suctomer as supply exceeds demand. And to hold the fancy of this very volatile segment it is imperative to improvise or renovate.
The latest to jump on to the bangwagon is Climax, formerly known as the F Bar. Once a happening, buzzy place, F Bar soon became dealer than a graveyard as the crowd moved to newer venues. F Bar has now been taken over, and now been taken over, and renamed, by industrialist Peter Punj who plans to open Climax in the first week of December.
January 2006