The government has already given the green signal to Air India's proposal for the acquisition of 68 new aircraft—50 for Air India and 18 for Air India's low budget subsidiary airline, Air India Express. For Air India Express, 18 aircraft (181-seater each B737-800W) are being purchased.

Keeping in view the intense competition, both from Indian carriers who are now allowed to fly abroad and from international airlines operating to India, Air India has appointed Alia Group as Brand Consultants. Their scope of work includes almost every aspect of airline functioning, particularly areas which have customer interface. This exercise will help Air-India in enhancing its brand identity in India and abroad. Simultaneously, Air-India has also undertaken a Rs 400 crore product upgradation programme for change of seats in the Economy Class of 14-owned aircraft — six B747-400s and eight A310s and introduction of digital inflight entertainment system for individual passengers in all classes. The task of reviving the Maharajah isn't as hopeless as it seems.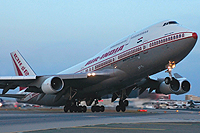 Air-India is trying to move away from its Mumbai-centric bias. So you can hop on a plane from small towns in various towns in the country and travel to destinations like London and New York . Amritsar and Kolkata are new centres. You also have the Ahmedabad-London non-stop operations.
The flights to Mauritius will be eventually extended to South Africa. Flights to San Francisco, Washington, Houston and Dallas-Fort Worth are also on the firmament.
Air-India has grown more than 100 per cent in three years in terms of capacity in seats. It is flying to Shanghai and Los Angeles for the first time, and after a gap of several years Birmingham and Toronto are back in the airline's loop.
The preceding three years have seen phenomenal growth in the European and US sectors. Since December 2002, not only has the network been expanded to cover Newark and Los Angeles in addition to New York and Chicago in U.S., the capacity has also been increased from 10 to 28 flights per week—a daily service to all the four destinations.
Likewise, flights to the UK have been increased from 10 to 24, 21 of these to London and three to Birmingham. Frequencies have also been significantly enhanced on the South-East Asian and Far-East routes.
There is no reason why Air-India should not be the best airline in the world. After all, in the fifties and the sixties, the Maharajah was a synonym for exclusivity. To attain those heights will require team effort. The Maharajah means business.

—Empire Bureau