Goa to go big on homestays to promote sustainable tourism
Panaji: Goa Tourism is in the process of formulating a 'homestay' policy, which the government feels would set an example for sustainable tourism that can be replicated worldwide. As per the official records, in 2019 about 71,27,000 domestic tourists arrived in Goa, while 9,31,000 were foreign tourists.
Goa's Tourism Minister Rohan Khaunte has said that the state plans to expand its tourism offerings by promoting lesser explored areas like spirituality, health and wellness, eco-tourism and traditional aspects.
Sources informed that tourist arrivals in Goa are picking up post COVID and the government is making efforts to attract more tourists to the state, as tourism plays a major role in the coastal state's economy. According to Khaunte, Goa has witnessed significant growth in its tourism infrastructure, with over 6,000 hotels accounting for more than 55,000 rooms.
"Through initiatives like the policy on homestays, which focuses on creating cluster economies and engaging the local community, Goa is setting an example for sustainable tourism that can be replicated worldwide," Khaunte said.
He said that tourism holds immense potential in shaping our global future. "The tourism industry, as a catalyst for economic growth, cultural exchange, and sustainable development, has the ability to transcend borders, forge friendships, and create opportunities like no other," Khaunte added.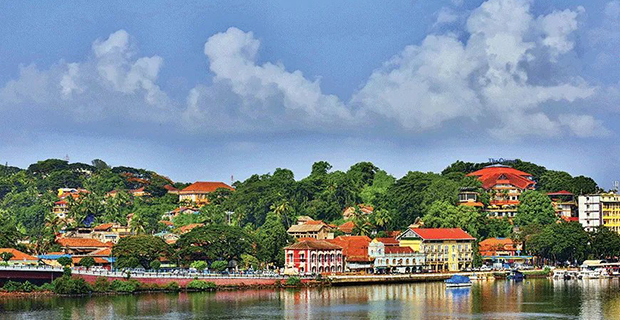 "Goa's vibrant blend of rich heritage, diverse culture, and breathtaking landscapes offers an experience that is both mesmerizing and enchanting. From its picturesque beaches and lush tropical forests to its vibrant festivals and warm hospitality, Goa embodies the very essence of a traveller who is seeking an immersive and experiential paradise destination," he said.
Goa's distinct attractions, such as its beautiful beaches, tropical climate, diverse wildlife, historical landmarks, lively festivals, water sports, Ayurvedic practices, and authentic cuisine, set it apart as a unique destination.
"By implementing targeted marketing campaigns and promoting experiential tourism, Goa aims to establish itself as a top choice for travellers worldwide, emphasizing its exceptional offerings and encouraging visitors to explore its rich cultural and natural treasures." Khaunte said.
"Goa is focusing on enhancing connectivity to support its tourism growth. While the state already has two active airports with domestic connectivity, there is a need to improve international air connectivity and we are exploring options such as 'Open Skies' and working with the Centre to seek the best option to get more international flights to the state," Khaunte added.
With a view to promote medical and eco-tourism in the state, the Goa government has also decided to develop a botanical garden at Salaulim Dam at Sanguem in South Goa by investing Rs 130 crore.
Chief Minister Pramod Sawant has said that it is the responsibility of the people of Goa to take the tourism area beyond the 'Sun-Sand-Sea' concept, for which the government can help by creating the infrastructure.
"Earlier the tourism concept was only 'Sun-Sand-Sea', now we have to take this concept beyond it. Only the government can't do it, people of the state will have to take responsibility for it. We can create infrastructure in remote areas, however the tourism activities will have to be created by the PPP model," Sawant said.