"SNAKES IN OUR BACKYARD RAISING THEIR HEADS"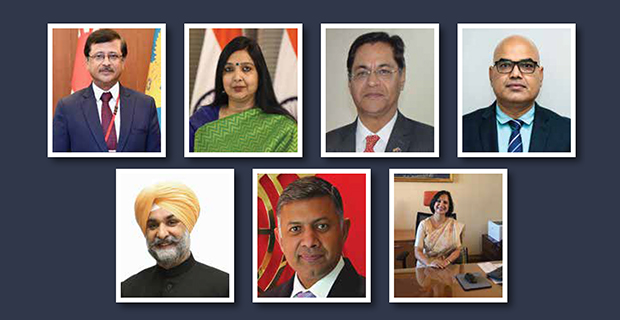 Threats have been issued by Khalistanis to Indian High Commissioner to Canada Sanjay Verma, Indian Consul General in Toronto Apoorva Srivastava, Indian High Commissioner to Australia Manpreet Vohra, Indian Consul General in Melbourne Sushil Kumar, Indian Ambassador to the US Taranjit Sandhu, Indian High Commissioner to the UK Vikram Doraiswami, Indian Ambassador to Italy Neena Malhotra
Toronto: Slamming the recent pro-Khalistan poster labelling Indian diplomats as 'killers", Indian-origin MP Chandra Arya warned on July 5 that snakes in Canada's backyard are "raising their heads and hissing", in an apparent reference to the rising Khalistani menace in the country.

"Khalistanis in Canada continue to reach a new low in abusing our Charter of Rights and Freedom by promoting violence and hate," Arya tweeted. "While it is good to see Canadian authorities are noticing, we should note the snakes in our backyard are raising their heads and hissing. It is only a question of time when they bite to kill," the MP, who originally hails from Karnataka, said.
The poster, announcing the Khalistan Freedom Rally on July 8, sparked outrage across India by calling India's High Commissioner to Ottawa Sanjay Kumar Verma and Consul General in Toronto Apoorva Srivastava as "killers" of Khalistan Tiger Force chief Hardeep Singh Nijjar.
It came a month after Khalistanis, marking the 39th anniversary of Operation Blue Star, put up a tableau of late Prime Minister Indira Gandhi with blood on her clothes and a poster that read, "Revenge of attack on Shri Darbar Sahib".
"Emboldened by non-criticism from elected officials of a recent Brampton parade portraying and celebrating the assassination of Indian Prime Minister Indira Gandhi by her bodyguards, they are now openly calling for Violence against Indian diplomats," Arya said.
After India raised the issue at the highest level in Canada, with External Affairs Minister S. Jaishankar warning that the ties will be hit, Foreign Minister Melanie Joly issued a statement on July 4 saying the "promotional material" is "unacceptable".
Joly said her country takes its "obligations under the Vienna Conventions regarding the safety of diplomats very seriously" and that the "actions of a few do not speak for an entire community or Canada".
India also summoned the Canadian High Commissioner Cameron MacKay on July 4 to discuss the issue.
Nijjar, 45, was gunned down outside a gurdwara in the parking area in Surrey. He had links with the banned Sikhs For Justice, led by a US-based designated terrorist. Similar pro-Khalistan posters have emerged in Australia, targeting the High Commissioner of India in Australia Manpreet Vohra and the Consul General of India in Melbourne Sushil Kumar. Threats have also been issued to Indian Ambassador to the US Taranjit Singh Sandhu, Indian High Commissioner to the UK Vikram Doraiswami and Indian Ambassador to Italy Neena Malhotra.