DUBAI BEYOND THE HORIZON
With the summer in full swing, what better way to spend our time than travelling to new places? Instead of dumb scrolling through our phones and catching up with friends and family, make this summer extraordinary by exploring a new destination and living like a local; experience their food, culture, and more.
Did you know that Dubai is known for more than just the tallest building in the world, where Tom Cruise ascended the Burj Khalifa for his film 'Mission: Impossible - Ghost Protocol'?
Facts You Should Know
The 'City of Dreams' is the second largest emirate in the UAE, following Abu Dhabi, with which it shares a border. One of the busiest cities in the United Arab Emirates (UAE), Dubai is much more than its fishing, trading, pearl diving, and oil business.
Fast forward, offering limitless adventures and thrills for children and adults, ranging from modern architecture, a stunning skyline, the world's largest shopping mall, and a range of Dubai culinary gourmet, Dubai's tourism sector has become unrivalled internationally and it has positioned itself as a family-friendly tourism and luxury hub.
Getting There and Places to Crash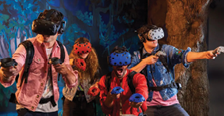 The first thing to consider while planning a trip is the budget. Well! Travelling to Dubai has become considerably easier for people with direct flights from all major airports in Kolkata, Delhi, Mumbai and Hyderabad. A minimum of Rs. 10,000/- is required for one round per individual.
With Dubai Tourism launching the "Kids Go Free" deal; it's now as simple as one-two-three to discover a place to live. Check out the Visit Dubai website, which allows you to save up to 10 per cent on stays and receive FREE cancellation, as well as complimentary kids' meals.
The Art of Language
Travelling to another country with a language barrier might be challenging at times. However, did you know that, in addition to Arabic, a majority of expatriates come from India, the Philippines, Pakistan, and Bangladesh? So there's no reason to be worried about language skills because most Dubaian speak Hindi, Urdu, Tagalog, and English, so you'll feel quite at home.