Pravasi Bharatiya Divas
Pravasi Bharatiya Divas (PBD) is celebrated once in every two years to strengthen the engagement of the overseas Indian ...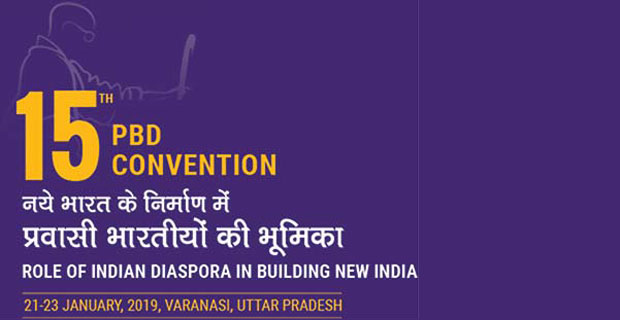 Pravasi Bharatiya Divas (PBD) is celebrated once in every two years to strengthen the engagement of the overseas Indian community with the Government of India and reconnect them with their roots. During the Convention, selected overseas Indians are also honored with the prestigious Pravasi Bharatiya Samman Award to recognize their contributions to various fields both in India and abroad.The 15th PBD Convention is being held on 21-23 January 2019 in Varanasi, Uttar Pradesh. The theme of PBD Convention 2019 is "Role of Indian Diaspora in building New India".
Special arrangements are also being made for participation in Kumbh Mela and Republic day parade.
As a run up to PBD 2019, Ministry has organized seven PBD Conferences (Panel Discussions) in New Delhi in 2017 & 2018 on issues importance to the Indian Diaspora. These Conferences are chaired by the Minister of External Affairs. Domain experts from the Diaspora, stakeholders and policy makers based in India and foreign countries are invited for day-long deliberations on various topics. Their recommendations are submitted to the concerned Ministries & Departments in the Government of India for consideration in policy formulation. At the 15th PBD Convention in January 2019, Action taken on the recommendation will be presented to PBD delegates for their suggestions and comments.
Pravasi Bharatiya Samman Award
The Pravasi Bharatiya Samman Award (PBSA) is the highest honour conferred on overseas Indians. PBSA is conferred by the President of India as a part of the Pravasi Bharatiya Divas (PBD) Conventions organized since 2003 on a Non-Resident Indian, Person of Indian Origin or an organization or institution established and run by the Non-Resident Indians or Persons of Indian Origin, who has made significant contribution.
Programme: Day #1, 21 January, Monday
Youth PBD & Uttar Pradesh State PBD
Joint inauguration of Youth PBD by External Affairs Minister and Minister of State (Independent Charge) for Youth Affairs and Sports. The event will bring limitless opportunities for the young Diaspora to engage with New India. Uttar Pradesh PBD is a unique opportunity for Pravasis from Uttar Pradesh to reconnect with the roots.
Day #2, 22 January, Tuesday
Inauguration of PBD Convention by Prime Minister
Inauguration of 15th Pravasi Bharatiya Divas Convention 2019 by Shri Narendra Modi, Prime Minister of India in the presence of Prime Minister of Mauritius, H.E. Pravind Jugnauth.
Day #3, 23 January, Wednesday
Valedictory Session & PBS Awards by President
Conferment of Pravasi Bharatiya Samman Awards and Valedictory Address by President of India.
Day #4, 24 January, Thursday
In Prayagraj (Visit to Kumbh Mela)
Participants would arrive in Prayagraj by bus (Volvo AC Bus). Arrangements for holy bathing at Sangam
Day #5, 25 January, Friday
In Delhi
After Kumbh Mela, participants would travel from Prayagraj to Delhi by train (two-tier AC coaches).
Day #6, 26 January, Saturday
Witnessing the 70th Republic Day Event
Special passes for foreign delegates of PBD 2019 have been arranged for the Republic Day Parade.
Information:
Varanasi
Varanasi, or Benaras, (also known as Kashi) is one of the oldest living cities in the world. Varanasi`s prominence in Hindu mythology is virtually unrevealed. Mark Twain, who was enthralled by the legend and sanctity of Benaras, once wrote : "Benaras is older than history, older than tradition, older even than legend and looks twice as old as all of them put together."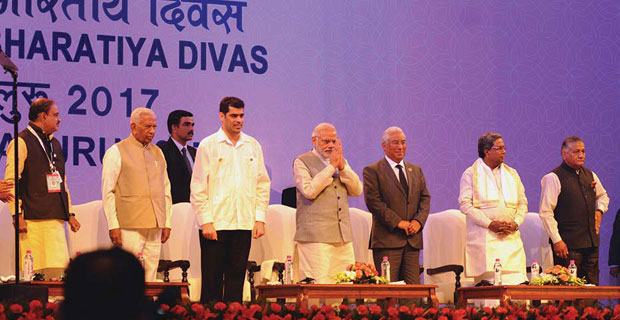 PBD 2017: Prime Minister, Mr Narendra Modi alongwith the Prime Minister of Portuguese Republic, Mr Antonio Costa and the Vice President of the Republic of Surinam, Mr Michel Ashwin Satyandre Adhin, at the inauguration of the Pravasi Bharatiya Divas celebrations, in Bengaluru, Karnataka on January 8, 2017
The land of Varanasi (Kashi) has been the ultimate pilgrimage spot for Hindus for ages. Hindus believe that one who is graced to die on the land of Varanasi would attain salvation and freedom from the cycle of birth and re-birth.
Varanasi has also been a great center of learning for ages. Varanasi is associated with promotion of spiritualism, mysticism, Sanskrit, yoga and Hindi language and honored authors such as the ever-famous novelist Prem Chand and Tulsi Das, the famous saint-poet who wrote Ram Charit Manas. Aptly called as the cultural capital of India, Varanasi has provided the right platform for all cultural activities to flourish. Many exponents of dance and music have come from Varanasi. Ravi Shankar, the internationally renowned Sitar maestro and Ustad Bismillah Khan, (the famous Shehnai player) are all sons of the blessed city or have lived here for major part of their lives.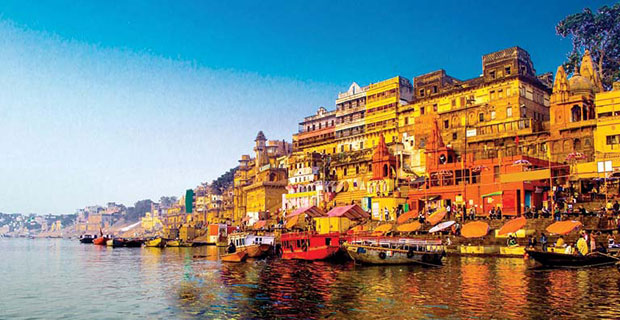 Kumbh Mela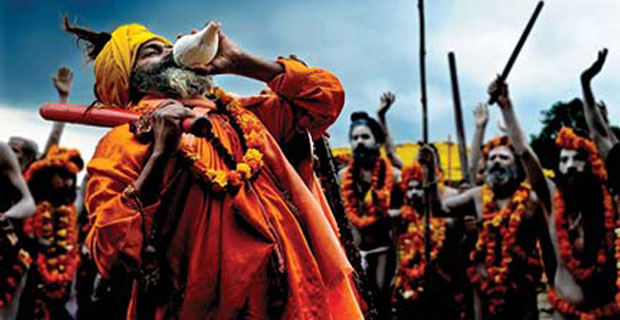 Kumbh Mela is the largest peaceful congregation of pilgrims on earth, during which participants bathe or take a dip in a sacred river. The founding myth of the Kumbh Mela—attributed to the Puranas (collections of myth and legend)—recounts how the gods and demons fought over the pot (kumbha) of amrita, the elixir of immortality produced by their joint churning of the milky ocean. During the struggle, drops of the elixir fell on the Kumbh Mela's four earthly sites, and the rivers are believed to turn back into that primordial nectar at the climactic moment of each, giving pilgrims the chance to bathe in the essence of purity, auspiciousness, and immortality.
The festival is held at Allahabad, Haridwar, Ujjain and Nasik every four years by rotation and is attended by millions of people irrespective of caste, creed or gender. Its primary bearers, however, belong to akhadas and ashrams, religious organizations, or are individuals living on alms. Kumbh Mela plays a central spiritual role in the country, exerting a mesmeric influence on ordinary Indians. The event encapsulates the science of astronomy, astrology, spirituality, ritualistic traditions, and social and cultural customs and practices, making it extremely rich in knowledge. Knowledge and skills related to the tradition are transmitted through ancient religious manuscripts, oral traditions, historical travelogues and texts produced by eminent historians. However, the teacher-student relationship of the sadhus in the ashrams and akhadas remains the most important method of imparting and safeguarding knowledge and skills relating to Kumbh Mela.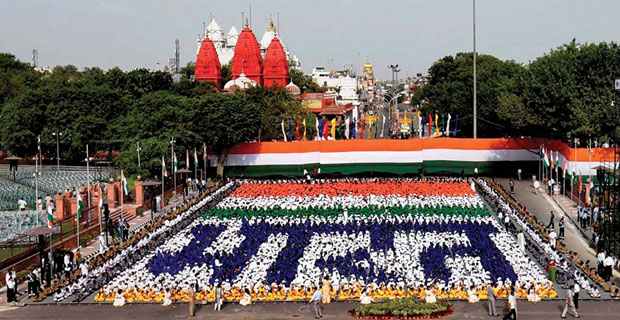 Republic Day Celebration
Though India became a free nation on August 15, 1947, it declared itself a Sovereign, Democratic and Republic state with the adoption of the Constitution on January 26, 1950.
A salute of 21 guns and the unfurling of the Indian National Flag by Dr. Rajendra Prasad heralded the historic birth of the Indian Republic on that day. Thereafter 26th of January was decreed a national holiday and was recognised as the Republic Day of India.
On Republic Day, flag hoisting ceremonies and parades by armed forces and school children are held in different parts of the country. The grandest and most important of these parades is held at Rajpath in New Delhi, which showcases a multi-hued image of the country's rich cultural heritage and military prowess.
Partner State: Uttar Pradesh
Uttar Pradesh, as the name suggests, is a state situated in the north-central part of the Republic of India. Uttar Pradesh (abbreviated as UP) is the fourth largest state economy of India as also the most populous state with 16.17% of the country's population. It is surrounded by Bihar in the East, Madhya Pradesh in the South, Rajasthan, Delhi, Himachal Pradesh and Haryana in the west and shares an international boundary with Nepal. Uttar Pradesh has been the cradle of civilization and culture, because it is around the Ganga river that ancient cities and towns sprang up.
Economy
Uttar Pradesh has traditionally been an agrarian state, which extracts 25% of its GDP contribution from food production. It is now changing and turning into an hub of IT, electronic manufacturing and Start-Ups. Uttar Pradesh has the highest number of MSMEs (Micro small and medium enterprises) in India and is the largest exporter among the land locked states. The handloom woven textiles from Varanasi (zari,chikan and brocade embroideries), khurja pottery from Bulandshahr, brass work from Moradabad, sports and musical equipment from Meerut and leather products from Kanpur and Agra have acquired a rising share of the international market.
Industrial Climate & Infrastructure
Uttar Pradesh has developed a very vibrant industrial climate, with the Industrial Investment and Employment Generation Policy 2017 and other 20 sectoral policies to attract investment. The State provides an investor friendly environment with ICT enablement and simplification of existing procedures. It has one of the best single window clearance mechanisms in the country, the Nivesh Mitra. To complement the enabling policy environment, the State offers safe and secure environment for industrial development. In terms of infrastructure, UP is fast on the road to progress with two international airports, and a metro network coming up in its capital city of Lucknow. It has one of the largest bus services in the country with around 10,000 buses in operation.
Tourism and heritage
Uttar Pradesh is home to some of India's most visited sites, the most famous being the Taj Mahal in Agra. The state's religious significance has been a major contributor to its tourism industry. While Jhansi, Lucknow and Meerut are historical cities famous for their monuments, Mathura, Vrindavan, Varanasi and Ayodhya are some of the holiest cities of the Hindu religion. Uttar Pradesh also hosts the largest religious gathering of the world, the Kumbh Mela every 12 years.
This parade is presided over by the President of India. One of the main functions of the Republic Day Parade is to pay tribute to the martyrs who have sacrificed their lives for the country and to confer bravery awards on military persons, citizenry and children for showing courage in the face of adversity.