SOLAR ENERGY IN THE TRANSFORMATION OF THE ENERGY MATRIX IN CUBA
The use of Renewable Energy Sources (RES) is the future of electricity generation in the Republic of Cuba. It is urgent to promote projects with the use of RES, since currently 95% of the electricity generated comes from fossil sources.
In 2014, the Government of the Republic of Cuba approved the Policy for the prospective development of RES and their efficient use until 2030. Within this policy, solar energy has a leading role, due to its easy installation and high potential in Cuba, equivalent to 1800 kwh per square meter per year.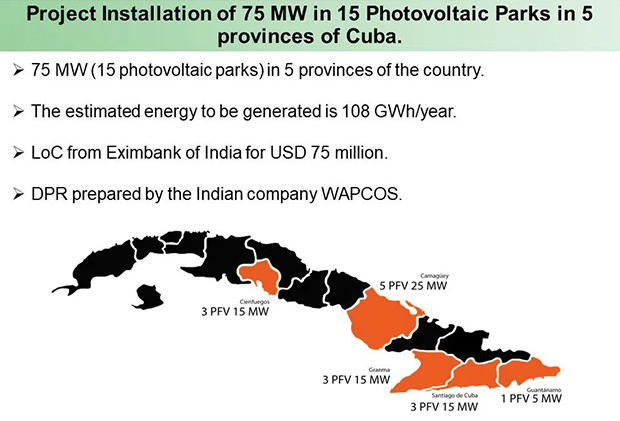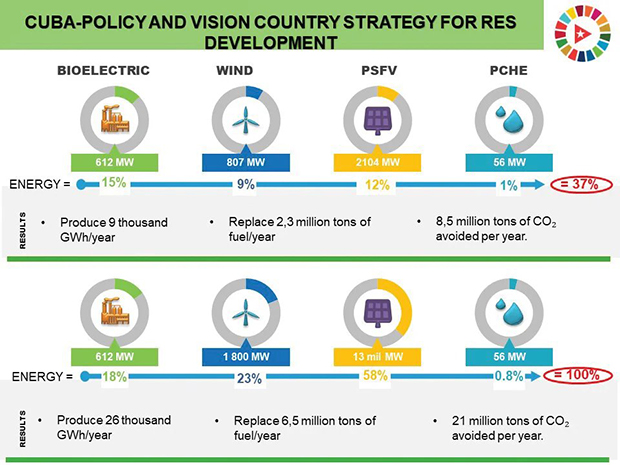 The vision is to generate 100% of the Power with RES, for which 11 GW of photovoltaic solar parks are planned to be installed, with 2 GW in energy storage systems. The goal is to have at least 2.1 GW of solar photovoltaic parks in operation by 2030.
In that endeavor the consolidation and development of the presence of foreign companies in the sector are crucial. There are already different projects related to solar being executed in Cuba by companies from different regions of the world, but this needs to be boosted and diversified. There is a huge potential for Indian companies.
Cuba has a favorable environment for Foreign Investment, which offers the possibility of executing projects related to photovoltaic solar technology, in different modalities, such as: Totally Foreign Capital Companies, Joint Ventures, Commercialization of equipment and resources on Consignment, among others.
There is a secure and transparent legal framework, as well as several tax and infrastructure facilities, among them:
Law 118 on Foreign Investment and its complementary legislation, which provide guarantees to foreign investors.
Decree Law 345 "On the development of Renewable Sources and the efficient use of energy".
A single window mechanism for foreign investment (VUINEX).