"We have finalized mega plans to undo 10 years of neglect"
Interview with Mr Ananth Kumar, Union Minister for Chemicals and Fertilizers, Government of India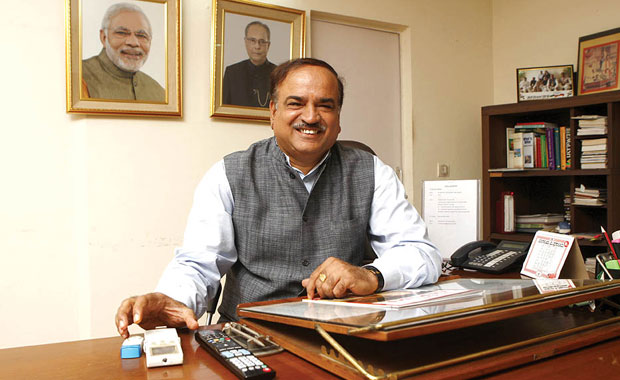 AT HOME: Minister Ananth Kumar who has a keen sense of history is at home while fielding questions on his ministry
As another initiative under Make in India you have decided to ramp up production and building capacity in domestic manufacturing of urea and NPK fertilizers and fast-tracked revival of various fertilizer units. Please talk us through this…
Hon'be Prime Minister has given a direction to us that India should be self reliant in urea. To do so we need to have revival of plants, add new plants. Already initiatives to start plants in Gorakhpur in Uttar Pradesh, Barauni in Bihar, Sindri in Jharkhand, Talcher in Odisha and Ramagundam in Andhra Pradesh, and in Maharashtra have been taken up. Besides, MP and Karnataka will have one fertilizer plant each. You can see, therefore, there are around 9 fertilizer plans on the anvil, each one with a capacity of 1.3 million metric tonnes and each involving investments ranging between Rs 5,500 crore to Rs 6,000 crore. The total investment, therefore, is whopping—between Rs 50,000 crore to Rs 60,000 crore over the next five years. India, therefore, will become self reliant in urea in the next five years, and will become an urea exporter in the next 10 years. Right now we require about 31 million metric tonnes of urea per year. While 22 million metric tonnes are indigenously produced, 9 million tonnes are imported. With each of the upcoming plants capable of producing 1.3 million metric tonnes, we will be self sufficient. This will be "Make in India" in urea. These plants will not be stand alone plants, they will produce NPK and other fertilizers as well.
To read further kindly click below
Proceed to Pay
(Please pay Rs 120 or USD 1.6 to read this story).