REVAMPING INDIA'S INFRASTRUCTURE
Mr Nitin Gadkari, Union Minister for Road Transport and Highways, Water Resources, River Development and Ganga Rejuvenation, Shipping is tasked with bringing about a visible and sea change in India's infrastructural capabilities at all levels—surface, river and ports. He conveys to India Empire Magazine's Editor and Publisher Sayantan Chakravarty his views on a range of issues hold the key to India's growth and development into an infrastructural superpower
Interview with Mr Nitin Gadkari, Union Minister for Road Transport and Highways, Water Resources, River Development and Ganga Rejuvenation, and Shipping
Please tell us about the On Bharatmala Pariyojana, a lasting legacy, and an impactful programme of the Government.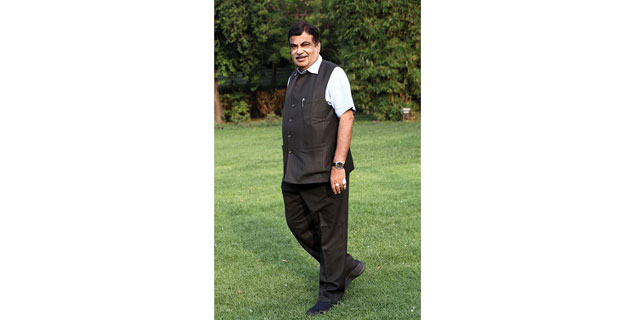 This is a new umbrella program for the highways sector that aims to optimize the efficiency of road traffic movement across the country by bridging critical infrastructure gaps. Special attention has been paid to fulfilling the connectivity needs of areas of economic activity, places of religious and tourist interest, border areas, backward and tribal areas, coastal areas and trade routes with neighboring countries under the programme. Multi-modal integration is one of the key focuses of this programme.
A total of around 53,000 kms of national highways have been identified to improve National Corridor efficiency, of which 24,800 km are to be taken up in Phase-I, which will be implemented over a period of five years i.e. 2017-18 to 2021-22 in a phased manner. This includes 5,000 km of the National Corridors, 9,000 km of Economic Corridors, 6,000 km of Feeder Corridors and Inter-Corridors, 2,000 km of Border Roads, 2,000 km of Coastal Roads and Port Connectivity Roads and 800 km of Green-field Expressways. Total likely fund provision for Bharatmala Phase-I is Rs 5,35,000 crore. Bharatmala will be a major driver for economic growth in the country. It is estimated that more than 35 crore man-days of employment shall be generated under Phase-l of the programme.