Indian Diaspora in Paris An Introduction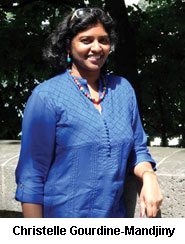 The French East India Company was formed in 1642 and it's only in 1668 that an expedition reached Surat and established the first French factory in India. The Company established other factory at Masulipatam in 1669, and acquired Pondicherry in 1673 and Chandernagore in 1692.
From their arrival until 1741, the objectives of the French, like those of the British, were purely commercial. During this period, the French East India Company peacefully acquired Yanam in Andhra Pradesh in 1723, Mahe in Kerala in 1725 and Karaikal in Tamil Nadu in 1739.
However, France and Great Britain were always in competition to acquire more lands and control the region. As soon as he arrived in 1741, Governor of French India, Joseph François Dupleix wanted to expand within India, which was against the French government strategy as it meant interfering in British affairs.
India became the theatre of wars between both countries, as it was the case everywhere in the world. Pondichery became alternatively British and French depending on who won the military battles. In 1816, Pondichéry, Chandernagore, Karaikal, Mahe and Yanam and the trading cities Machilipatnam, Kozhikode and Surat were returned to France.
When troubles started in British India, French India became a shelter for the freedom fighters and activists, the most famous being Sri Aurobindo and Bharatiyar who changed the face of Pondicherry. France never expected that the independence of India would affect its position in the country. However, many activists in Pondichery and Chandernagore followed the freedom movement and asked for their independence. Besides, the new Prime Minister Jawahar Lal Nehru wanted all the remaining foreign governments to leave India.