Business Engagement with India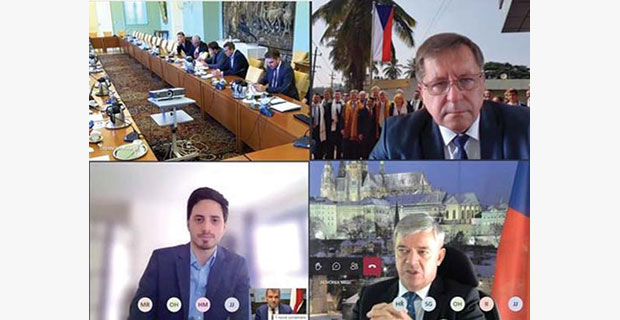 Export Opportunities
The Embassy of the Czech Republic in India presented export and economic topics to the Czech public on Wednesday, September 22, 2021, during a territorial seminar organized by the Department of Economic Diplomacy of the Ministry of Foreign Affairs of the Czech Republic. Ambassador Milan Hovorka and Commercial Counsellors Milan Dostál and Jakub Jaroš spoke on behalf of the Embassy, complemented by Ivan Kamenik, Director of CzechTrade foreign office in Bengaluru, Marek Pyszko, Chief Economist of the Ministry of Foreign Affairs, and Stefano Guardati from Indie IP SME Helpdesk.
Representatives of the Czech companies, who were present both in the Czernin Palace and online via a virtual platform, had the opportunity to learn over 2 hours of information about the specifics of entering Indian market, growing opportunities, promising sectors, but also about the support which we provide in order to ease the process of entering foreign markets.
Seminar was attended by almost a dozen companies across sectors such as mining, machinery and extraction, rail transport, the defense industry, the chemical industry and in the field of state administration and export financing.
Ambassador Milan Hovorka spoke at the beginning of the seminar, acquainting those present with his experience in supporting the smooth entry of Czech companies in the Indian market and advising the present business representatives to persevere in their efforts to enter the Indian market. The introduction was followed by the economic diplomats of the Czech Embassy in New Delhi, Mr. Milan Dostál and Mr. Jakub Jaroš, who acquainted the seminar participants in detail with business opportunities in the Indian market, but also with cultural specifics during business dealings.
The end of the seminar was marked by a discussion, when visitors were given a space to exchange views and questions on current issues of the Czech-Indian trade relationship.